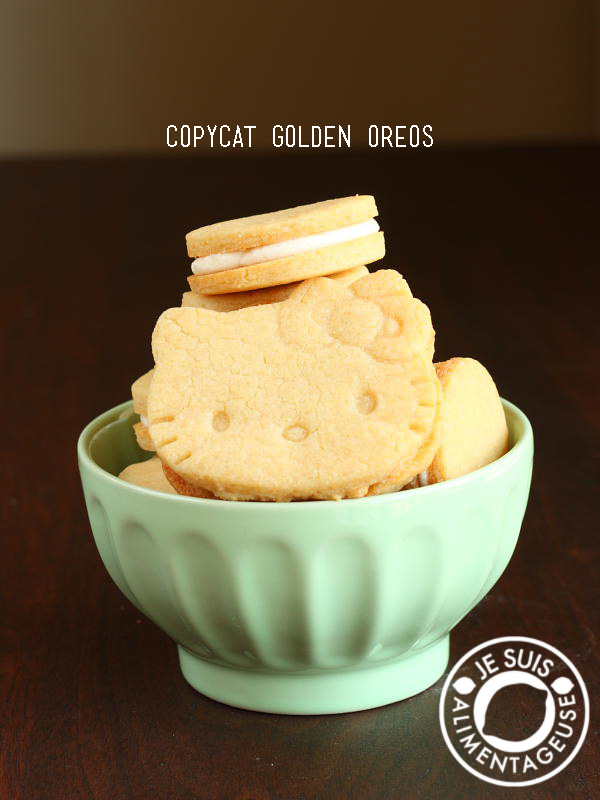 Did you know that Oreos are vegan? No eggs, no dairy! Although they are chock full of sodium, so maybe that's the catch of Oreos. Somehow, I can't help but polish off an entire row of Oreos whenever I have them, especially when I have a glass of milk nearby. And don't even get me started with Oreo cheesecake crusts or Oreo McFlurrys. Gawwwwww I love them. So much. Now I've made copycat Oreos before, but I didn't get a chance to blog them. They were too delicious and I didn't have time to photograph them. That batch wasn't vegan, unfortunately, and neither are these copycat Golden Oreo cookies. But it's okay. They're still SO good.
Now I'm not sure if you've noticed lately, but my past few blog posts have been fairly health oriented. Not very many sugary treats because I've been trying to slim down and I actually prefer making savoury food. However, I had my little cousin stay with me for about 2 weeks and we had a bunch of things we wanted to try and make. Oreos being one of them, among watermelon agua fresca, potato pancakes, and Nutella fudgesicles.
I actually originally made my copy cat chocolate Oreos for her, and she loved them! Unfortunately, she lives in close proximity to Hershey, PA, so chocolate is pretty much rampant where she lives. She is faiiirly sick of chocolate. So I decided to give golden oreos a try. But no matter where I googled or searched, I could NOT find a decent Golden Oreo cookie recipe to work with. Super frustrating. I even searched with "copycat golden oreo" in quotes to make sure I didn't get the chocolate oreos.
No cigar.
So I took an existing Oreo recipe (actually the original one I used to make the chocolate Oreos) and replaced the cocoa powder with skim milk powder. I could have replaced it with regular flour and added vanilla to give it more flavour, but for some reason, I was convinced that Golden Oreos were regular oreos but had milk powder. But I know that Oreos are vegan, even the Golden Oreos. So, clearly my logic was flawed.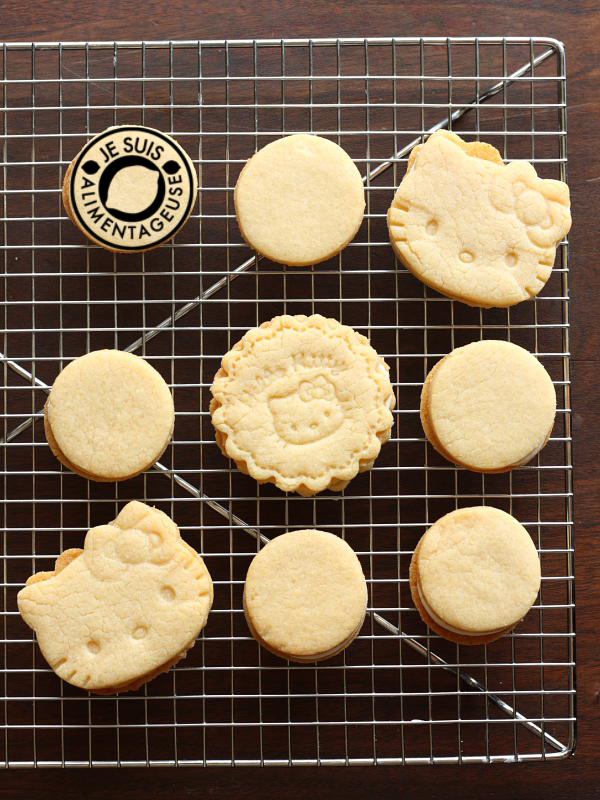 But these cookies are not for the faint of heart. They are suh-weeeeet. Especially with the smooth, buttery frosting in between. If you have a sweet tooth, you will eat many a cookie. Although I'm warning you, these cookies are MUCH better cold/room temperature than they are warm. They were almost too sweet when the were warm. You have been warned. Now as you may have noticed, there are some Hello Kitty cookies in there. Now, I don't know if you know, but…
I.
LOVE.
HELLO KITTY.
It's possibly the most stereotypical Asian thing about me. That and the fact that I am much more adept at using chopsticks than forks and knives. It's actually a little embarrassing when I go out to eat with non-Asian friends and I'm failing hardcore at using a fork.
Salad. You elude me with your unforkableness. To eat you without embarrassment requires a level 6 proficiency. I am but at a low level of 5. But I digress.
Hello Kitty. My secret obsession. I dislike pink. And sparkles. And cutesy cartoony things. But the combination of those things that equals Hello Kitty? Oh man. I want it all. I used to have pens, pencils, plushies, sketchpads, notebooks, backpacks, purses, wallets, even jewellery that was Hello Kitty themed.
I am not going to lie, I still own a lot of those things.
So when I saw these cookie cutters in Chinatown in Ottawa, I HAD TO HAVE EM.
Because I'm still 5 at heart.
Anyway, I hope you enjoy these cookies, they didn't last too long chez moi!
These cookies have been submitted to the EatInEatOut Christmas in July Cookie Contest