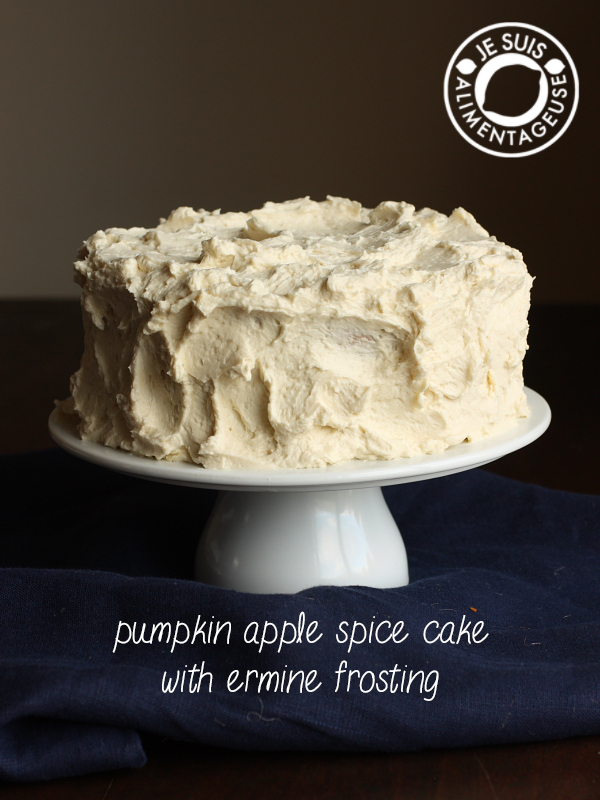 It's Weight Loss Wednesday, and I'm celebrating with pumpkin apple spice cake. Yup. This week's theme is about healthy substitutions, and while this cake is still pretty heft on the fats, there are other substitutions in the cake that make it a little bit healthier than your average cake. The cake itself is vegan, so no eggs, no dairy. I reduced the amount of sugar by using naturally sweet applesauce, so it's great for people who don't like overly sweet desserts. My family liked it because it wasn't too sweet, but as Vietnamese people are, they all took super thin slices so there was still half the cake remaining. They were saving room for all the persimmons and rambutan that my dad had bought. *sigh*
But if you've been around JSA long enough, you've seen me move away from the excess of butter and sugar and move more towards natural sweeteners like agave, maple syrup, and honey. I've stopped eating Kraft Peanut Butter and opted for natural peanut butter. I actually prefer whole wheat to white bread and pitas now, which is weird because I used to -hate- whole wheat.
I don't know what it is between the age of 22 and 23, but I'm super into the "cardboard" that I hated to look at when I was younger. I guess the difference is that now, it's better to taste the whole ingredients and their natural sweetness instead of stuffing it full of refined sugars and topping it with cloyingly sweet frostings.
Don't get me wrong, some days those are delicious. But not everyday.
So let me break down the different substitutions I use everyday to live a little healthier. You don't have to follow every single one, but even just one of them is a start.
Disclaimer: I am by no means a nutritional expert. I'm just a paranoid student who's working towards veganism and a healthier lifestyle.
Fats in Cooking and Baking:
Everyone loves olive oil. It's a wonderful oil for cooking because of its robust flavour and its health benefits. But even when you're cooking with olive oil, make sure that your olive oil is ACTUALLY 100% olive oil. So many companies that sell cheap, $5 bottles of olive oil can do so by cutting it with 80% canola or other vegetable oils. And they're not always transparent about it on the bottles. I opt for small dark bottles or metal canisters because olive oil is highly perishable and sensitive to light and air. The smaller bottles mean that I use the fresh olive oil faster before it can sit in a bottle full of air.
For more information about buying olive oil, check out Truth in Olive Oil
Another fat that's great for baking is coconut oil. I've touted the benefits of coconut oil around JSA before, but basically Vietnamese people LOVE coconut oil. It's great for your skin, your immune system, your hair, and a bunch of other things I'm not qualified to guarantee. The downside is that it's high in saturated fat, but I find with coconut oil, you can use less of it and whatever you're cooking/baking turns out pretty good. It's really good if you're cooking things in high heat because of its high smoke point, whereas other oils like olive oil aren't as stable in high heat.
Do your own research and check out this article from the Huffington Post.
There are other fats that are good for your body as well, but with so many conflicting answers out there, I really recommend doing your research and supporting them with tested facts.
Sugars:
More and more people are becoming aware of different types of sugars. There's turbinado, refined white granulated sugar, brown sugar, unrefined cane sugar, date sugar, stevia, xylitol, erythritol, blah blah blah. It's overwhelming.
Here's some hard truths for you:
Brown sugar is not healthier than white sugar. It's usually white refined sugar with molasses added back into it.
Just because a sugar is 0 calories, does not mean it's better for you. Sometimes it makes it harder for your body to digest and break down, and there can be health problems related to that.
Pretty much all food has sugar in it. Fruits. Veggies. You name it. Doesn't mean it's bad for it, it's just essentially how we fuel our bodies. Carbohydrates are sugar.
What kind of sugars do I use?
I try to use unrefined sugars when possible. Unfortunately as a student, I can't always afford it. But when I can, I stick to maple syrup, agave nectar, honey, raw dates as a paste, and turbinado or unrefined cane sugar.
For more information about different sugars, visit the Canadian Sugar Institute's website for details of about a bajillion types of sugar. For natural sugars, see websites like Fit Day.
What else do I use for healthy substitutes?
Flax seed + water for eggs: I use it as a binding agent in sweet and savoury foods and it has tons of fibre and vitamin E, whereas I avoid the excess cholesterol from the eggs. I'm not saying that eggs are unhealthy, but I used to eat eggs SO much, it was probably not good for my heart. For those wondering what I do for protein, I eat lots of lentils, beans, quinoa, and soy. I actually still probably eat too much protein.
Drinking water over juice or carbonated drinks. I've actually stopped craving sweet drinks as much, now that I've been primarily drinking water. It's also way cheaper. My water bill is included in my rent so I basically have free, unlimited water, whereas juice and pop can be really expensive. If you are bored of plain ol' water, spruce it up with some infused water.
Whole wheat or unbleached white flour instead of the enriched all purposed bleached flour. Mix it up sometimes by using quinoa or almond flour for protein, or even coconut flour for a change of flavour.
Cook your own food instead of going out to eat. When you're at home, you can control what goes into your food, be it sugars, fats, salt, etc. It will be cheaper, you'll probably make healthier food, and you'll learn about your tastesbuds in the kitchen =)
On a side note, I'm super super frustrated with my host server right now because my blog has been up and down like sugar high children still eating Halloween candy. I'm really sorry if you haven't been able to access JSA because of this! I'm hoping to switch servers in the new year, but right now that's just not in the cards.
This cake is loosely adapted from my vegan pumpkin spice cupcakes, with ermine frosting instead of cream cheese, and applesauce to reduce the amount of sugar and as an egg replacer. It's a little bit more dense but it's nicely complemented by the clouds ermine frosting.
To see what my WLW friends wrote this week, click below!
Pumpkin Apple Spice Cake with Ermine Frosting
Ingredients
⅔ cup vegan butter (like Earth Balance)
1 cup white granulated sugar
¾ cup pumpkin purée
¾ cup applesauce
1 tbsp vanilla extract
2 tsp pumpkin spice
4 tsp baking powder
2½ cups all purpose flour
¼ tsp salt
½ cup almond milk (or other milk alternative)
1 batch of ermine frosting
Instructions
Preheat oven to 350F.
Cream together the butter and sugar until it's pale and smooth.
Add in pumpkin purée, applesauce, and vanilla extract and mix until incorporated.
Sift in pumpkin spice, baking powder, flour and salt and mix, gradually adding almond milk until you get a thin yet viscous batter.
Divide the batter between two greased and lined 8" cake pans. If you have heat strips, soak them and place them around your cake for even baking and flat tops.
Bake for 30-40 minutes, check to see if the cake is done by poking the middle of the cake with a cake tester or toothpick. It should come out either with moist crumbs sticking to it, or clean.
Remove from oven and let cool on a wire rack. After about 5 minutes, remove the cakes from the pan and let them rest on the wire rack.
Meanwhile, whip up the ermine frosting (see link in ingredients). Once the cake is cooled, begin to ice.
Start with a cake stand or cake board and add two thin smears of batter. This will act as a glue.
Place the first layer of the cake on the board, right side up. (I forgot to do this when I took the photos. Whoops). Add about 1-2 cups of icing and spread around in the middle.
Place the second layer, upside down so that the edges of the cake will be the sharp and clean sides from the cake pan.
Add a crumb coat of icing around the cake to seal in the moisture (a thin layer of icing all around the cake).
Ice the rest of the cake as desired. Keep in fridge, remove from fridge 30 minutes before serving.