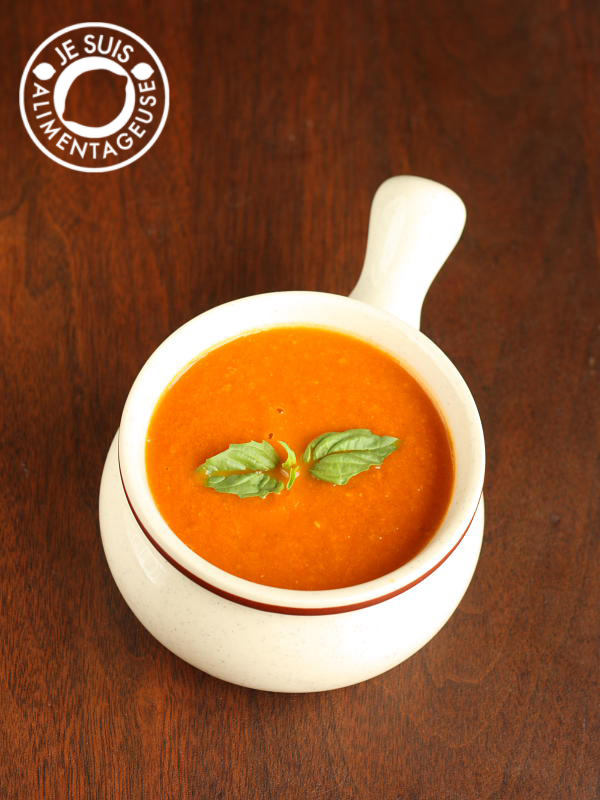 If you've been following my blog at all, you may have been made aware that soup is pretty much my favourite form of food. Not just any soup though, I have a weird preference for puréed soups. Minestrone? Bleh. "Chicken" Noodle? (well, veg broth noodle) On occasion, sure. But creamy butternut squash, cauliflower, or kale and spinach? Oh yes please.  This creamy, roasted tomato and mushroom soup is the perfect consistency of your childhood favourite. Creamy and flavourful with a robust umami flavour from the roasted mushrooms, this soup is full of of nutrients and minerals that are a great remedy for the common cold, a rainy day, or just a day where you crave something hot and delicious. And the best part of this soup is the fact that it's totally vegan! You wouldn't know it based on the pale, orange colour and the creamy texture, but there is no cream whatsoever!
I've made tomato soup before, and it was great, but being made with canned tomatoes, it didn't quite capture the pure, deliciousness that the locally grown tomatoes created. Don't get me wrong, canned tomatoes, especially from San Marzano, can be delicious and taste of Napoli, but there's nothing quite like the taste of locally grown tomatoes. I'm not sure what it is about locally grown food, but it ALWAYS tastes better.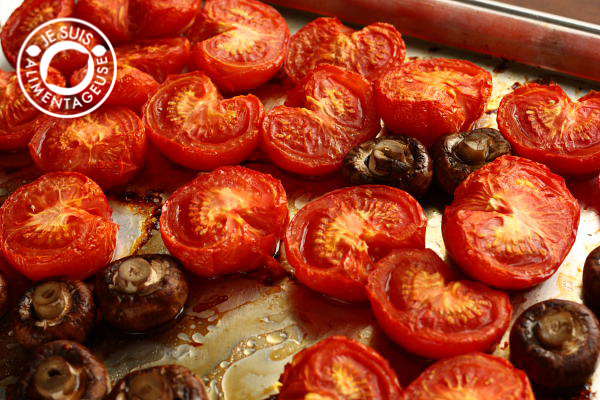 And the beautiful thing about this tomato soup is that it doesn't need to go with anything else to be delicious. Tomato soup is usually served with grilled cheese sandwiches, but this soup does not need some hot processed cheese between bread, it is delicious on its own. Velvety and creamy with every spoonful.
Normally people spoon out the seeds when roasting tomatoes, but I wanted to keep all the sweet tomato juices, so I kept the seeds in. If your blender (stick or Vitamix-style) is strong enough, it'll blitz all the seeds into oblivion and you won't even know they existed. It just means you have less water to add and more delicious tomato-y flavour to eat up!
Enjoy!