I recently finished watching the entirety of Star Trek Voyager. All seven seasons of a crew of Star Fleet officers and a crew of Maquis rebels working and living together to get back to the Alpha quadrant. If this sounds like gibberish to you, it's okay. But these whole wheat banana pancakes were inspired by an episode where B'Elanna Torres, a half-Klingon half-human engineer, really really really wanted banana pancakes. And whenever I hear banana pancakes, all I think of is Jack Johnson and his ridiculously catchy song. And because I like to make things healthier, I made it with whole wheat and vegan. Voilà, vegan whole wheat banana pancakes that you'll feel good about.
Recently I asked on my facebook page how many people you feed in your homes. Since I'm a student and I live with a roommate who eats meat, I typically cook for myself. Sometimes I have guests over, but usually I'll cook things in batches so that I have some lunch/dinner to take to school (and work, but I work at school so it's the same thing). But there are some things that I can't always cook in batches and save for later. Like smoothies. Or oatmeal. Or pancakes. Note that these are all breakfast foods.
All these things are best made fresh. Reheated pancakes? Bleh. No thanks.
So this recipe is a single serving of pancakes. It's a good chunk of them, and while the whole wheat will fill you a bit more, the healthiness factor is a bit evened out if you're like me and you like to drown your pancakes in some maple syrup.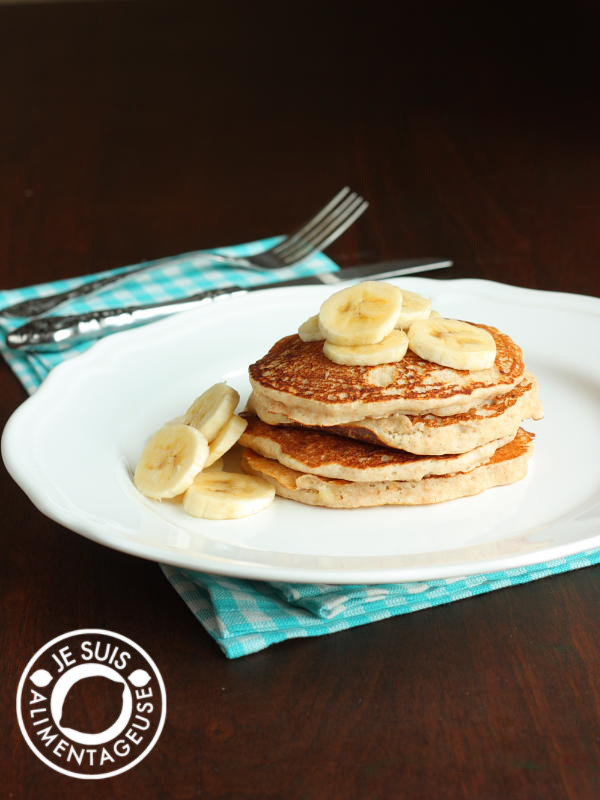 You can feel free to double, triple, or quadruple this recipe for your family, but the single serving is exactly the stack of pancakes depicted above, topped with some banana slices and a good drizzle of maple syrup.
I hope my fellow Canadians had a good long weekend, and that everyone is getting ready to go shopping for Back to School season. Did I mention that Back to School season is my favourite season? It's weird. I have a lust for pens and notebooks that can only be satisfied with the cheap sales of Back to School season.
What can I say, I like school so much that I've been in school straight from high school for the past 5 years. This year may be my last year for now, but I think I'll be coming back to do my PhD not too far off in the future.
For now, I need to catch up on the much needed work on my Master's thesis. Boy have I been slacking.
Enjoy the pancakes!