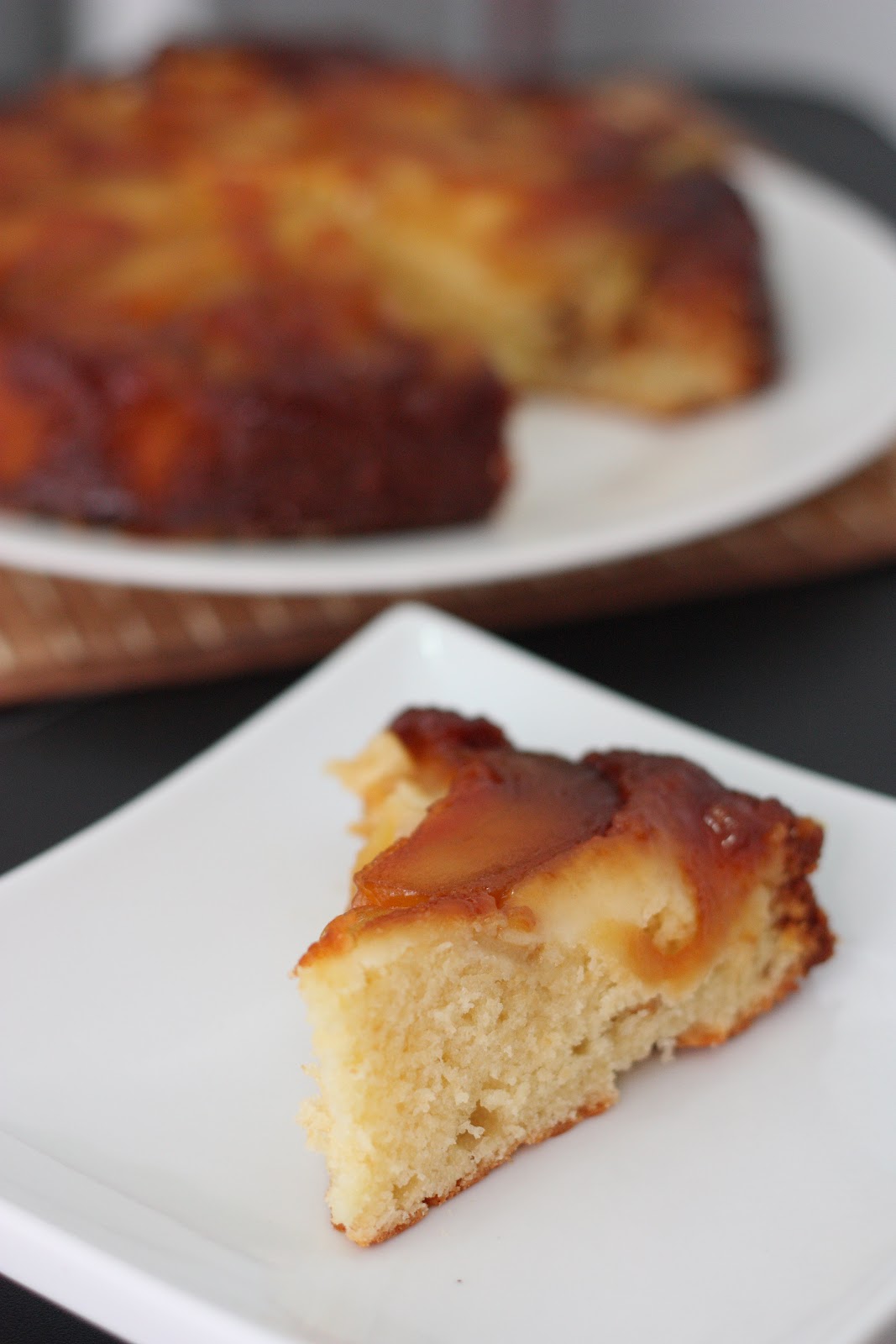 So to move away from things with excessive amounts of icing, I decided to go towards a more classic cake. This adventure was brought on by the amount of apples in my fridge (thanks Greg!) and my inability to eat them raw because I'm allergic. Who can be allergic to apples you say? Well, me. As well as peaches, apricots, pears, cherries, kiwis, and blackberries. Though if these are preserved or cooked in any way, I can eat them, which I attest to some sort of chemical change. I must be allergic to some enzyme that goes away with heat.
I kind of took two recipes and mashed them together, I took the caramel from Canadian Living, and the cake recipe (and instructions) from David Lebovitz. I used the caramel from CL mostly because I tried making it la Lebovitz, but for some reason, once it started to "bubble" as the instructions said, it promptly burnt as I took it off the stove. Burnt caramel has this sharp, carbon-y, black and sooty smell, which I'm not a fan of. Also for some reason, the butter I had originally melted with it kind of separated and it was just a weird consistency all over. I tried the CL caramel and it was more familiar to me (
see: caramels
).
Weirdly enough, I didn't use a candy thermometre for this. I just judged by colour and from past experience with botched caramel.
But this cake is -phenomenal-. Like seriously. The apples are perfectly caramelized, the cake is so moist it's unreal, and the edges of the cake have this perfect little crisp from the caramel bubbling over the edges in the pan. I highly recommend it.
Caramel Apple Upside-Down Cake
Ingredients
[Bottom layer (Caramelized apples)]
2/3 cup sugar
1/4 cup water
1 tbsp lemon juice
1/4 cup vegan butter
2 granny smith apples, peeled, cored, and sliced
Sponge
115 g vegan butter (around 1/2 cup)
3/4 cup sugar
1 tsp vanilla
2 flax eggs (2 tbsp flax meal + 6 tbsp warm water, let gel)
1 1/2 cup flour
1 1/2 tsp baking powder
1/4 tsp salt
1/2 cup soy milk
Instructions
Prepare the flax egg by combining flax seed meal and water and let sit for about 5-10 minutes.
Preheat oven to 350F.
In a heavy bottomed over medium heat, dissolve the sugar and water together. DO NOT STIR. If you do, it'll crystallize and you'll get chunks of hard gross sugar in your beautiful caramel. Let it bubble until it turns into a nicely browned caramel.
Take the caramel off the heat when you see it turn the perfect caramel-ly colour. Add the butter and stir it to melt in.
Add lemon juice and stir. Then pour into a round baking pan (I used an 8-inch round pan, but next time I'll use 9-inch). Set aside while you prepare the apples.
Arrange your cut apples in a spiral pattern.
Now prepare the cake batter. Cream together the butter and sugar until smooth.
Add vanilla, and flax eggs. Mix until incorporated.
In a separate bowl, sift together flour, baking powder, and salt. Alternate mixing in the milk and the dry ingredients into the butter/sugar mixture until incorporated.
Pour into the pan and spread evenly over the apples and caramel.
Bake for 45 minutes, or until the cake pulls away from the sides of the cake pan. The top will be a deep golden brown.
Take out of the oven and let it rest for about 15 minutes. You don't want the caramel to drip out when you turn it over and burn you.
Place a plate over the top of the pan, and turn over. I suggest wearing oven mitts or something in case any caramel drips out. Scrape off any of the apples that stick to the pan and eat them up, or put em back on your cake...but who wants to do that?
Cut and enjoy that lusciousness.
7.8.1.2
33
https://thevietvegan.com/caramel-apple-upside-down-cake/
Chris' verdict? He had 4 pieces of cake.
'Nuff said.