Cosmic Treats
Address:
207 Augusta Ave,
Toronto, ON M5T 2L4
Ever since I moved out of Toronto (I live about 20 minutes west of the city now), I keep hearing about these new vegan eateries popping up in the city. This summer, Cosmic Treats opened up and blew minds of vegan Torontonians. I had the pleasure of meeting up with Elliot, the owner and vegan dreamer behind this amazing place.
Kensington Market has become the vegan mecca of Toronto: filled with some of my favourite vegan joints like Hibiscus Café, Bunner's, Sweet Olenka's, Samadhi Tea House, Kings Café… just to name a few. (Also RIP Hot Beans, how I miss you so). Cosmic Treats adds colour and variety to the already amazing Kensington Market with their unique veganized dishes and desserts that vegans forgot they missed so badly.
Cosmic Treats is by no means a health food joint. You will not walk out feeling like you had a bowl of organic, fresh greens and fibre-rich dishes. To quote Elliot, "This is not a kale and chia seed kind of restaurant." However, what you will find are your favourite childhood foods veganized for your eating pleasure. Pot pie, chicken noodle soup, banana splits—to name a few.
Walking into Cosmic Treats is like walking into a space-age diner. Unique abstract lamps, bright orange seating, metal tables, and window-esque space decals that make it feel like you're in outer space… it reminds me of the Jetsons and that's totally awesome.
As I sat down with Elliot, a vegan since 2001 and a vegetarian for 10 years before that, he told me about how Cosmic Treats came to life… all while we chatted over some epic chicken pot pie and the best effing chicken noodle soup (vegan, of course) I've ever had.
When Elliot went on disability for chronic pain, he had an idea of opening up a restaurant that would fill his days and surround him with his favourite things: cookies, cake, ice cream… to name a few. Combined with his love for sci-fi and delicious vegan food, Cosmic Treats became a place where vegans can come together, have a few drinks and enjoy bold, flavourful and unique vegan fare. The vibe of the restaurant is fun, friendly—great for friends to hang or families to come and enjoy some delicious, plant-based foods.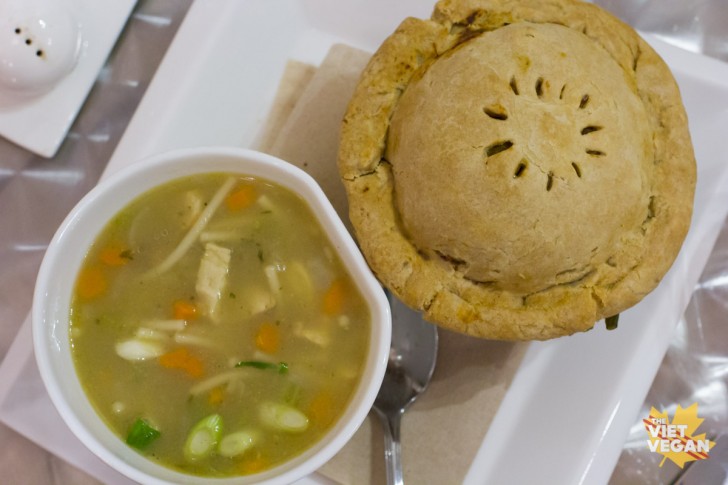 The kitchen and front staff are all super fun people who contribute their own ideas to the restaurant—you can thank the creativity of the team for jalapeño poppers and the bombtastic vegan chicken noodle soup. Even though I love me some delicious, vegan grub, Cosmic Treats is becoming legendary in Kensington Market for their sweets. After being vegan for two years, I missed the customizeable and epic DQ Blizzard. Cosmic Treats has their own vegan version, called the Polar Vortex, made with soy-based soft-serve and an array of vegan add ins.
They also have epic, creamy, cashew-based ice creams in various flavours that are traditionally dairy-based. Chocolate chip cookie dough, birthday cake, chocolate-covered cherries in vanilla ice cream, double chocolate mint Oreo… while I can't have any myself (curse you cashew allergy!), my friends who've visited have said it is by far the creamiest and luscious vegan ice cream they've ever tried. Burrito Boy tried the banana split on one occasion, and on another, a cupcake split. That's right. CUPCAKE. SPLIT.
And finally, Cosmic Treats features some delicious vegan candies that will awaken the inner kid-in-a-candy-store rush that you haven't felt in years because frankly, vegan candies are a little hard to come by in this abundance. Caramels, chews, brittles, there are amazing candies that will make your sweet tooth swoon.
If you haven't come by Cosmic Treats yet, do it. Your tastebuds will thank you. The vegan community has been buzzing about Cosmic Treats ever since they opened. The response has been phenomenal and business has been booming. But ever since the close of Grasslands (RIP, Burrito Boy and I will miss you), I'm wary of my favourite vegan joints closing doors. Be sure to come out, visit Cosmic Treats and let the inner kid in you come out and play.
Disclaimer: This isn't a sponsored post, I had come to Cosmic Treats a couple times and loved getting to know Elliot and the restaurant so well that I wanted to share it with you. Elliot fed me the meal pictured above, but all opinions are my own.