I can now safely say that I know enough movie production jargon to survive on a set, because I just finished a weekend of cooking for my friend's student film, Gertie the Great! Gertie, an 83 year old woman, rebels against a society that constantly infantilizes her the only way she knows how – by turning to a life of crime. It's an awesome story and the lady who plays Gertie is so awesome, there's one point in the film where's she's sitting in a lazyboy just rocking out to some rap music. Unfortunately, this song is solely financed by  the four students who are making it and really need your help financially to make this movie. If you could even spare a dollar or two, just a bit goes a long way. If you can help out, please click on this link! You could get your name in the credits =)
I volunteered to prepare the food to feed the crew and cast members of the film provided that they pay for the ingredients. It was actually really fun. Cooking for a big group of people is so much more fun than just cooking for myself. I can use recipes that would normally feed a family and just double/triple/quadruple.
 Here was my menu:
 Field Greens with Apples and Sugar Snap Peas with Avocado Cilantro Citrus dressing (based on this recipe)
Creamy Cucumber Salad (3 cucumbers (salted then drained), Â 1/2 tub greek yogurt, 3/4 cups sour cream, 1/4 cup dill, 1/2 lemon juiced)
Butternut Squash Macaroni and Cheese (Recipe to come)
Lemon Crisps (Same with this recipe)
Chocolate Ganache Cupcakes with Fleur de Sel
These cupcakes are little morsels of dark chocolate sin. It's not very sweet and it's so dark and luscious. The chocolate ganache is smooth in your mouth and the fleur de sel just adds little bursts of lightly salty goodness to cut through the chocolate. The black coffee brings out the chocolate flavour even more and I felt that I was eating a fluffy, dark chocolate cloud.
You need to make these right meow.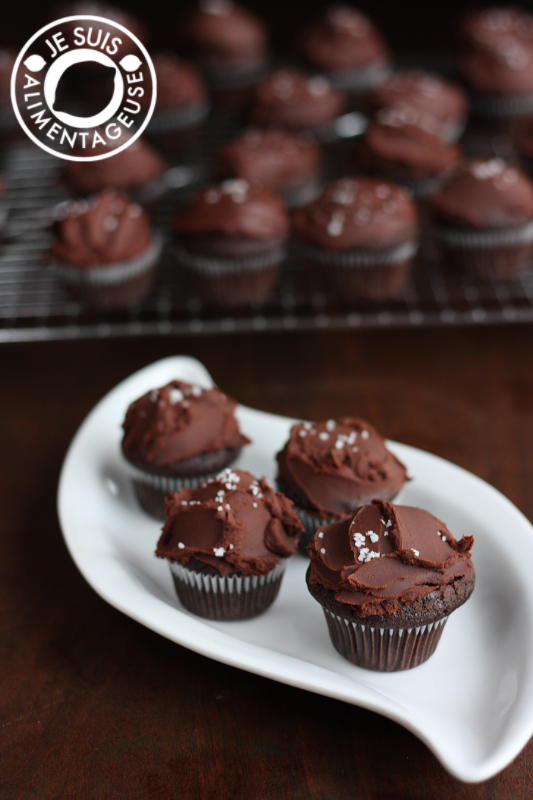 Recipe adapted from design. bake. run.
OIL SUBSTITUTES: You can substitute the coconut oil with any other type of oil. Vegetable oil, olive oil, and canola oil will all yield the same cupcakes texturally, but I thought the subtle flavour of the coconut oil would go best with the chocolate. You'll notice the olive oil if you use it because olive oil has a pretty distinct flavour, but canola and vegetable oil are pretty neutral tasting oils so it won't affect the flavour of the cupcakes too much.
GANACHE: I actually let the ganache sit in the fridge for too long so it firmed up more than I wanted to and it was really hard to pipe. If you let it sit out for about 10-20 minutes, pipe it as soon as you can so the ganache will set on the cupcake instead of inside your piping bag =P Alternatively you can just frost them like I did. Either way it's delicious.
EGG-FREE: These cupcakes use the oil to stay together, but they are a fairly crumbly cupcake. Q: Where's the baking powder? How are your cupcakes so fluffy? A: These had baking soda and vinegar to make the batter rise and bubbly. What I can deduce is that because cocoa is basic (it's processed with alkali, which is opposite on the pH scale from acidic, yay science!), the basic ingredients need to be countered by some acid: baking soda and vinegar. These cupcakes were surprisingly fluffy!
 
Yields ~24 mini cupcakes

Dark Chocolate Ganache Cupcakes

These cupcakes are so heavenly dark and bittersweet, with a little sprinkle of fleur de sel on top. Perfect for dark chocolate lovers.

Ingredients
For the chocolate cupcakes

1/2 cup coconut oil
1 cup granulated sugar
1 tsp vanilla extract
1 tbsp vinegar
1-1/2 cups flour
1 tsp baking soda
1 tsp salt
1/3 cup cocoa powder
1 cup black coffee (I used Tim Horton's)

For the chocolate ganache

12 oz chocolate, chopped into small pieces (use vegan chocolate if you want to keep it dairy-free)
1 cup heavy cream (35%) (Use coconut milk or almond milk to make vegan)
Optional: Fleur de sel to sprinkle on top
Instructions
To make the ganache, heat the heavy cream on medium low in a heavy bottomed pot until the edges start to foam. Do not let it break out into a boil.
Pour heated cream over the chopped chocolate and let sit for 2 minutes.
Stir until the chocolate and cream form a shiny ganache.
Let set for about 30 minutes, then set aside until you pipe/frost the cupcakes.
Mix the coconut oil and sugar until incorporated. Add vanilla, vinegar and vanilla extract.
In a separate bowl, mix the dry ingredients together, and then alternate adding the dry mix and the coffee into the oil and sugar mixture.
Fill mini cupcake tins lined with paper liners 3/4 full. They'll puff up a lot, promise.
Bake at 350F for 15-18 minutes (until a toothpick/cake tester comes out clean when you poke it into the middle of the cake)
Let cool on a wire rack completely before frosting the cupcakes.
Pipe/frost the cupcakes, then sprinkle the sea salt on top.
7.6.4

135

https://thevietvegan.com/dark-chocolate-ganache-cupcakes/