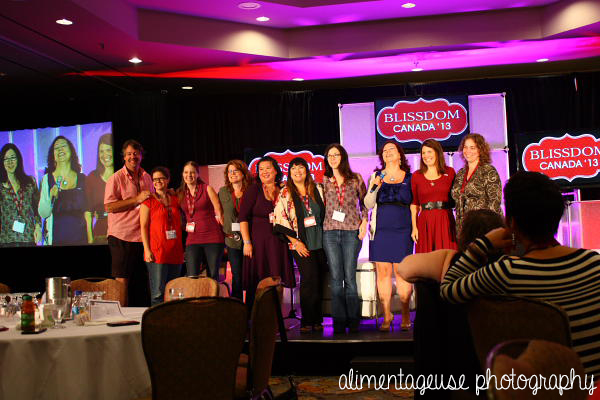 Today is not going to be a recipe post like I anticipated. It's taken me a couple extra days to recuperate from just the sheer exhaustion from Blissdom Canada, so I haven't been able to crank out a decent recipe. I had made some Brazilian rice and beans, but I haven't quite perfected the recipe yet, so I'll have to make it again sometime before I can share it with you. Although I still have about 8 servings left in my fridge. That should last me for a few days, that's for sure.
Blissdom Canada has been a very eye-opening experience in some aspects, and more or less repetition in others. While Blissdom was the first blog conference I attended, I've also attended Online Blog Con last year, which has totally changed my blog and taught me so many things over the past year. Things like SEO, Pinterest, Social Media, and networking were already part of my blogging repertoire so a lot of the things covered at Blissdom were a bit of repetition.
Here are the things that I took away from Blissdom:
Finding my voice at Blissdom Canada 2013
I came into Blissdom with a couple goals: 1) to meet new people and network with other Canadian bloggers; 2) to learn how to talk with brands and work with them; and 3) find my voice. It's almost been an unending journey on my blog. I can never seem to decide how I want to write. Sometimes I write really goofy and quirky posts, where I'm a little scatterbrained but I somehow connect a random anecdote with a recipe, while other times, I'll feel so inspired and I'll write something really personal, or just talk about how enthralled I am by whichever ingredient is ever so inspiring in my recipe that day. At Blissdom, there were so many speakers who had various approaches to finding your voice, but all boiled down to basically be you. Read what other people write, pick and choose what you want to emulate, but all in all, just be you.
How to break into the publishing world
Julie from Dinner with Julie and Caroline from Parent Club were speaking at one of the first sessions at Blissdom about going from Blog to Book. They talked about the different writing styles, how to format and write a pitch and what the best practices are for the writing and publishing process. I realized about 10 minutes into the session who Julie really was (I didn't recognizer her at first) but I was suddenly so excited to see that she was indeed the Julie behind Dinner with Julie. I've been following Julie's blog for a while and I love her recipes and her writing style. Julie and Caroline also gave us a bunch of resources that would help out in the pitch/writing/publishing process, so if you want to check that out, go have a click over here.
"If you're not kind on the Internet, then you're not kind." – Drew Dudley
The idea of being aware of your social media presence and what you say on the Internet was a huge aspect of Blissdom. We had absolutely amazing speakers who all had different aspects of being a good person and a good role model online and offline. Personally, I try not to say anything negative about anyone or anything online because I know it will be there forever, but I also am working on trying to be less negative about everything and everyone in general. As a lifelong realist and perfectionist, that's easier said than done. But like I said, I'm working on it.
There were moments of heartbreak, moments of total awkwardness that I wanted to crawl under the table and hide, moments of just total awe. The speakers at Blissdom have really inspired me to be a better person, and aspire to inspire others to do the same.
Everyone has a story
I have met an amazing amount of people at Blissdom. I have about 100 business cards in my little case, and I know that for every business card I got, I gave one back. I'm probably one little card in a midst of other business cards, but for me, every business card in my case holds the memory of a person I met, and Blissdom is full of amazing people.
I connected with people over veganism, Lord of the Rings, Star Trek, lentils, being Vietnamese, family, translation, video games, Pinterest, heck, I met one of the strongest women I think I've ever met, and yet she is still so positive and optimistic about life, it's truly inspiring. Wow. Just wow.
Things I hope Blissdom Canada improves for next year:
Downloadable Programs
I love that Blissdom went green this year and didn't print out 400 programs that would be discarded after the conference. I loved that there was WiFi access everywhere. But I didn't like that we couldn't download the program. Having to open my browser and load the program was not the best way of accessing it, and I would have loved to have downloaded the program to my tablet for easy and offline access (yay conserving battery).
Vegetarian/vegan options
Holy cow. I thought awareness for vegetarians was getting up there, especially at a blog conference full of people with different dietary needs, but I have to say, I was pretty unsatisfied in terms of food. As someone who's trying to transition to a vegan diet, I have to say that it was so difficult to eat vegetarian, let alone vegan at Blissdom. So many foods didn't have any labels, and nobody knew whether or not the yogurt had gelatin, or if the main dish was vegetarian. There was a big event outside at night where tons of hot food was served, but it was a meal sponsored by Maple Leaf, so naturally it was really meat heavy. There was a vegetarian option, but it was cold pasta salad with tons of cheese.
That's one of my pet peeves as a vegetarian. When someone finds out that I'm vegetarian, one of the first things they'll say is, "So…what do you eat? Salad?"
Hold up.
*breathes deeply*
Real talk.
First of all, I have tons of delicious -HOT- vegetarian food that is not salad and it's amazing. Soup. Casseroles. Lasagna. Stir fry. Heck, there's even vegetarian roast out there, I just haven't made it yet.
Second of all:Â I REALLY DISLIKE SALAD.
It's cold. It involves so much preparation to make. It goes bad so fast. You have to CHEW FOREVER. And it's mostly water so I'm hungry again in 20 minutes.
So when you feed me cold salad when it's cold outside and everyone else is eating hot food, I'm going to be upset. And hungry. And superbly gassy because I'm 90% sure I'm lactose intolerant.
Do you really want that to happen?
I'm sure I wasn't the only one who was upset. And I'm not even 100% vegan yet.
But I'll have to say, Canadian Lentils helped Blissdom redeem themselves in the food department with the lunch. Mmmmm hot lentil split pea soup and curried lentils. I was in vegetarian heaven. And then I got to take a huge jar of lentils back home with me. You got yourself a happy vegetarian that day.
But I'm still not over the cold salad fiasco.
All in all, it was a great weekend. Lots of free swag. Lots of people to talk to. Heck, we even got to hear Jully Black perform. Whaaaaat! When I told Chris he couldn't believe that she performed at Blissdom Canada 2013.
Check out my Flickr slideshow of some of the photos I took from that weekend, and stay tuned for a recipe post on Wednesday for Weight Loss Wednesday, and Online Blog Con starts tomorrow, which is super exciting because I'm a panelist! EEE!