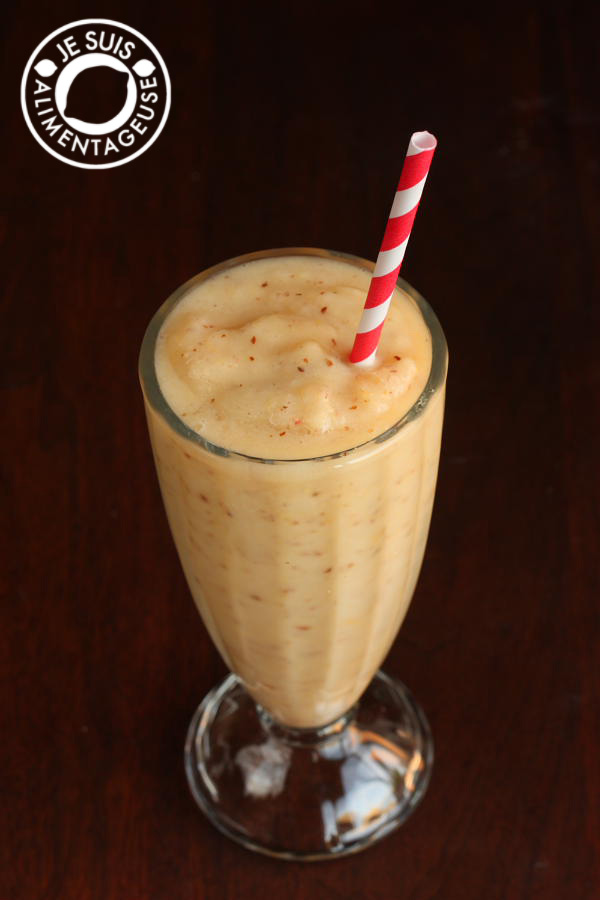 There are three things you need to know about this peach banana breakfast smoothie. 1) It has tons of fibre. 2) It has no added sugar, and 3) It is delicious. Now if you're an avid milkshake lover, the healthiness of this smoothie may not convince you to try this. You may choose to substitute the coconut water with ice cream. Or yogurt. Or omit the bananas and add something else entirely. It is totally and ultimately up to you. But this smoothie is a great treat for breakfast, as a dessert, or post workout for some quick energy and electrolytes.
Today is another Weight Loss Wednesday post! Although after 4 months of being diligent with daily yoga and exercise, I fell off the wagon when I went to Brazil. With very limited vegetarian options, I had to eat mostly rice and beans or deep fried vegetables. Or tons and tons of cheese, which to my surprise are in very cheap and ample abundance in Brazil. And having tons and tons of brigadeiro probably wasn't that great for my diet either. However, I walked on average about 3 hours a day while I was there, so there was lots of exercise, but not any strength training.
It's unrealistic to expect that I would be able to do my intense yoga all year round, especially with more work, school, and life-stuff than what I had in the summer, but I will get back on the wagon and try to incorporate at least 30 minutes of yoga per day.  Also, I would take a progress photo, but I don't feel comfortable with it. I don't want to say that the weight or shape I am in now is in good or bad shape, I just know that with daily exercise and a healthy diet, I will improve into better shape. So no progress photo for me.
To see my other WLW friends, visit their posts this week about their progress by clicking on the links below:
If you guys are at all trying to incorporate more exercise into your life, let me know how you're doing that. I'd love to hear what different programs or regimes you're using!
In other news, this week I'm at Blissdom Canada for a blog conference and I'm so excited! I'm super excited to meet other Canadian bloggers, because it seems like we're so few among Pinterest and gawker sites. I'll have a great food post coming to you on Thursday as regularly scheduled, and I'll post a recap post of Blissdom on Sunday.
I'MSOEXCITEDANDSCAREDTHERE'SGOINGTOBESOMANYPEOPLE!!!!!!!
Breathe, Lisa. Breathe.
Have a peach banana breakfast smoothie.
Yields 2 smoothies (or 1 jumbo smoothie)
Peach Banana Breakfast Smoothie
Ingredients
- 1 1/2 cup frozen peaches (10-12 peach slices)
- 1/2 frozen banana (add more if you want)
- 1 cup coconut water
- 3/4 cup almond milk (or other milk alternative)
- 2 tsp flax meal
Instructions
In a blender, add frozen peaches, frozen banana, coconut water, almond milk and flax meal.
Blend until everything is incorporated. Adjust by adding more peaches or more coconut water if you need to change the consistency.
7.8.1.2
113
https://thevietvegan.com/peach-banana-breakfast-smoothie/