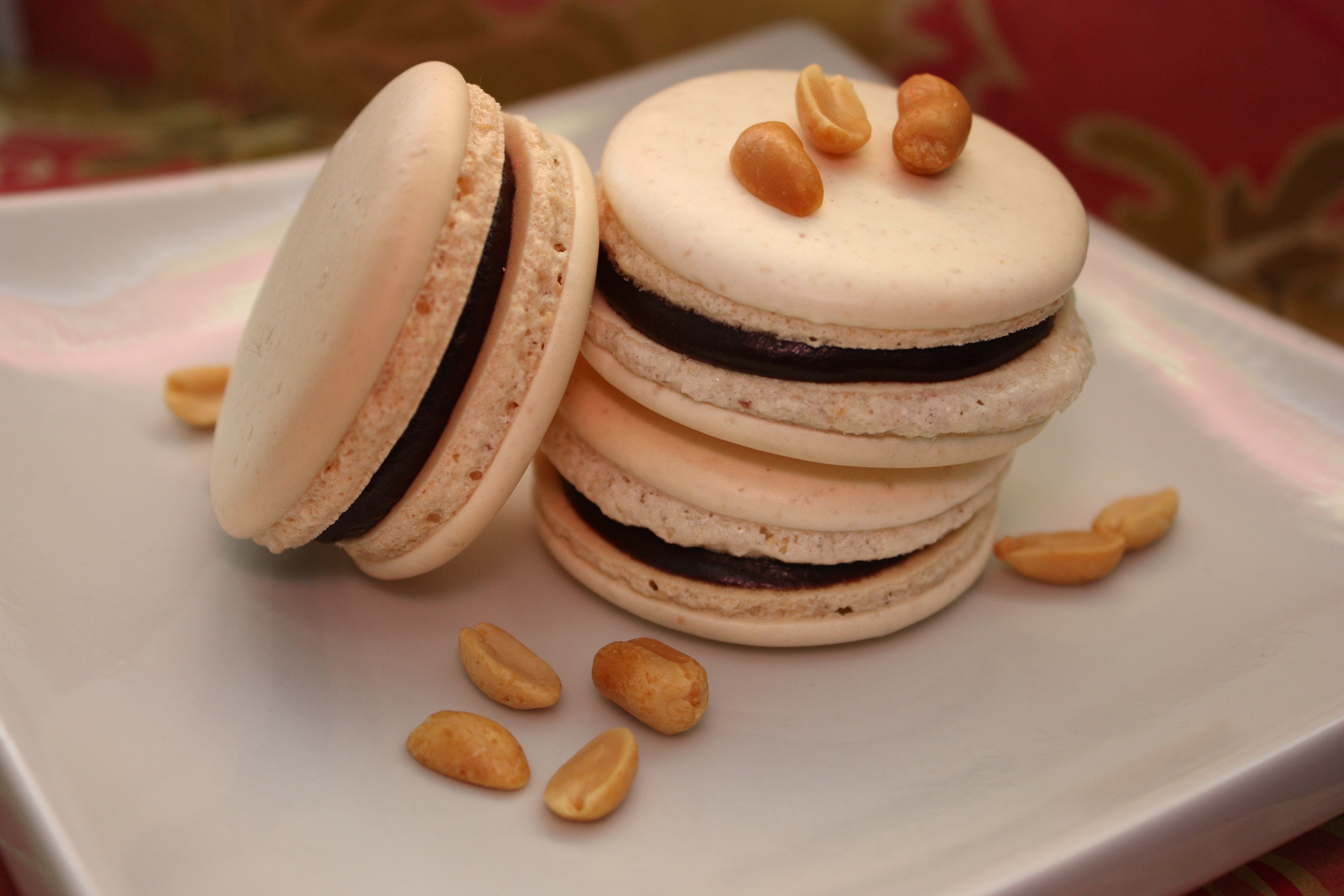 These macs were a bit of a disaster. I noticed that more and more of my batches were getting cracked, so I decided to lower the temperature to 300 instead of 350, and boy oh boy was that a mistake. Check out the fail:
The meringue didn't set even though it didn't "wobble" when I poked it and the bubbles kind of pooled to the bottom of the macs. On the outside, they seemed lovely, but when you bit into it, it had a completely hollow dome. Very sad. But they were still tasty, albeit wrong. So lesson learned: Do not lower the temperature to 300. The outsides will cook but not the insides.
Despite lowering the temperature, the macs STILL cracked. I've been told that if you let them dry a bit, they don't crack as easily. Maybe I shall try that out, but that requires patience =/. They were also lopsided, and I have no idea why that is. Some of the meringue even exploded out of the cracks (as seen in the picture). Sooo confused. I shan't be changing my method again, that's for sure.
But all in all, the mix of half peanut, half almond meal was excellent! I didn't go 100% peanut because peanuts are fairly moist, so they wouldn't be the same dry powder that the almond meal becomes. All in all, pretty darn tasty.
Peanut Butter Chocolate Macarons
Ingredients
Ingredients:
75 g almonds
75 g peanuts (no salt!)
150 g icing sugar
150 g granulated sugar + 35g
120 g egg whites (divided 60g and 60g)
50 g water
Peanut Butter Chocolate Ganache
225 g semi-sweet chocolate (I used the wafers)
3/4 cup whipping cream
2 tbsp butter
2 tbsp peanut butter
Instructions
To make the ganache, heat the whipping cream until the edges start to bubble. Pour over the chocolate in a bowl. Let stand for 3 minutes, then mix until incorporated.
Add the peanut butter and butter and mix to incorporate. If the mixture is runny, refrigerate for 5 minute intervals until you get the desired consistency (just a bit runnier than buttercream icing). Transfer to a piping bag and set aside.
For the macarons, process almonds with icing sugar until you get a fine powder. Sift into a bowl (you may need to process it multiple times to get all the lumps out) and mix 60g of the egg whites with it until you get a paste. Set aside.
Whip the remaining 60g egg whites with 35g of sugar until almost stiff peak stage. (See picture below). Meanwhile, heat 150g sugar with 50g water until 230F, then slowly stream the sugar syrup into the meringue with the beater running. Whip the meringue until stiff peak or until the meringue stays inside the beater when you pull it out.
Add a dollop of the meringue into the almond paste and mix to loosen it up. Then incorporate the remaining meringue, folding until you get a lava-like texture that flows in thick ribbons that'll sink back into the batter within 20-30 seconds.
Transfer to a piping bag fitted with a Wilton 12 round tip, pipe 1 1/2 inch circles on a parchment-paper lined baking sheet and bake for 12-14 minutes (you'll know it's ready when you touch the domes of the shells in the oven and they don't wobble much).
Once baked, let cool on a wire rack for about 2 minutes, then gently remove from the baking sheet and let cool completely before filling.
Fill with a little mound of ganache and gently sandwich together.
Let mature in fridge for about one day before eating for better permeated flavour.
7.8.1.2
46
https://thevietvegan.com/peanut-butter-chocolate-macarons/