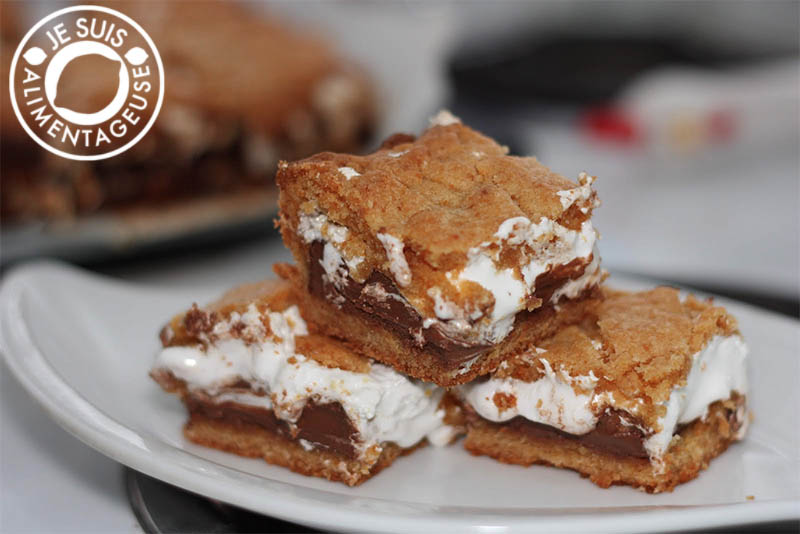 I know it's been over a week since I posted, but I have an excuse! I've literally been spending 90% of my awake time on campus flashing shiny promo things in first year's faces, or making sure they get home safe when they're drunk from going to Hull. I don't know what it is about this year, but my impatience for first year university students has seriously gone over the edge. I just don't understand how some of them got into university. I'm actually astounded.
But more about s'mores.
I know it's fall time now, and the time for s'mores is over. But I think I just wanted that final taste of
summer before we can't enjoy the summer fruits and iced tea on patios anymore. Also I wanted to bake so badly and this is all I had. Because I bought the stuff to make this months ago.
XD
Lisa @ je suis alimentageuse
Yields 16
S'more Bars
Bring the summer campfire fun into your house without the ash and smoke! These are vegetarian (no gelatin in the Marshmallow Fluff) and are delicious!
15 minPrep Time
30 minCook Time
45 minTotal Time
Ingredients
1/2 cup butter (omit 1/4 salt if you used salted butter)
1/2 cup white granulated sugar
1/4 cup brown sugar
1 egg
1 tsp vanilla extract
1 tsp baking powder
1 1/3 cups flour
3/4 cup graham cracker crumbs
1 of those gigantic chocolate bars from the grocery store
1 normal sized chocolate bar
most of a jar of marshmallow Fluff
Preheat oven to 350F
Instructions
Cream together the butter, brown sugar and white sugar until its smooth.
Mix egg and vanilla extract in until incorporated. Don't overmix. Eggs are finicky lil buggers.
Add flour, (salt if needed), graham cracker crumbs and baking powder and mix until evenly incorporated
Press half of the dough into the bottom of a greased/lined 8x8 pan.
Set up a layer of chocolate =) I didn't anticipate having that empty space in the corner cause I thought it was a huge chocolate bar, but luckily I had a spare Aero bar kicking around. Random, but convenient.
Spread the marshmallow Fluff on top of the chocolate.
Gently press the remaining dough on top of the bars.
Bake for 30 minutes until it's lightly goldened and delicious looking.
Let cool on a wire rack until completely cool. If you don't way the fluff will both burn you and ooze everywhere. You have been warned.
7.8.1.2
270
https://thevietvegan.com/smore-bars/