Welcome to Day #1 of Appetizer Week, a multi-blogger event co-hosted by Kim of Cravings of a Lunatic and Kristen from Frugal Antics of a Harried Homemaker. With the big football game coming up, we wanted to make sure you had plenty of ideas for your game day spread. Each day we will be dishing up a different set of appetizers. We hope you enjoy this fabulous group of recipes. Tune in each day starting with Monday, January 20 and ending on Saturday, January 25. Lots of great prizes will be up for grabs so you do not want to miss one single day. Follow #AppetizerWeek on Twitter to keep up to date with all our amazing recipes and giveaways! Today we've got tamari roasted chickpeas, perfect for some healthy, protein-packed snacking amidst those slightly, less healthy apps.
***Disclaimer: This giveaway is being provided by OXO. #AppetizerWeek bloggers have not received product or been compensated as a part of this giveaway.***
Now, I don't play football, or that many team sports sports in general (I'm more of a yoga/swimming/solo-dance-party-in-my-room kinda gal), but I am a huge fan of appetizers.
At parties or social shindigs, I'm most commonly found lingering by the food. Something about stuffing my face full of chips and dip is comforting in social situations. And when watching sports? Being totally clueless to the rules of football and trying to understand why people are shouting or favour or against whatever just happened on TV is a terrible experience, unless you have great appetizers.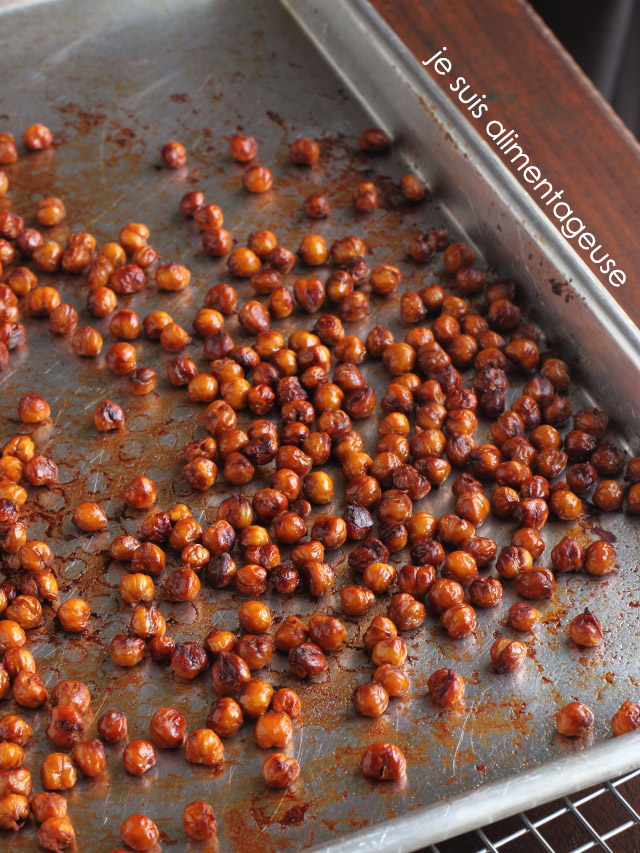 At first I didn't like roasted chickpeas. The ones I first tried were weird tasting, and crunchy in a stale, unappetizing sort of way. I had some from my local health food store and they were definitely way more enjoyable. I guess that's what happens when I try to cheap out.
These tamari roasted chickpeas are light and great for quelling those little pangs of hunger that happen before dinner. Unlike soy sauce, tamari is gluten-free (double check your brand, good quality tamari should be GF), and has a deeper, soy flavour that makes these roasted chickpeas crunchy with a bold yet not overpowering flavour.
To make sure that they're crunchy, do frequent taste tests near the end of the baking process, stirring frequently to prevent them from burning. You may get some velvety-textured ones here and there, but they're delicious too.
But I know what you're thinking, time for the giveaway already!!! (U.S. only, sorry my fellow Canucks)
Our sponsor for Day 1 of Appetizer Week is OXO. We are so happy they joined us today. OXO is dedicated to providing innovative consumer products that make everyday living easier. Their tools are designed with everyone in mind, they are not only efficient but they are also comfortable to use. As food bloggers we spend a ton of time in the kitchen. We need our tools to not only stand the test of time, but to be as user-friendly as possible. OXO tools meet all those requirements. You can follow OXO on Facebook, Twitter, YouTube, Pinterest, and Instagram.
Today's OXO Prize Pack valued at over $256 includes:
I'm so jealous that you're able to win these! I don't have any of these, but I have 3 OXO cookie scoops (different sizes) and I love using their pop top containers for my baking essentials like flour and sugar. I also recently got two more for my dried beans and quinoa =) Slow but surely building my collection of matching containers! But I digress…
***Giveaway is open to U.S. residents only. Winner must be 18 years of age or older. No substitutions or cash value will be given***
Visit all the other Appetizer Week participants for more Football Munching Temptations:
Tamari Roasted Chickpeas
Ingredients
1 can chickpeas (19 fl. oz), rinsed and drained
3 tbsp tamari
1 scant tbsp grapeseed oil (or other oils with high smoke point like coconut or canola)
Instructions
Preheat oven to 400F
After rinsing and draining chickpeas, marinate in tamari and grapeseed oil for about 10 minutes.
Spread onto a thick-bottomed baking sheet (for even heat distribution). Bake for 30-40 minutes, flipping/mixing every 10-15 minutes for even browning. At the 30 minute mark, check and stir around every 5 minutes. Depending on how hot your oven runs, they might get a little browner than you'd normally allow. Taste test for crispness, but I had a few that were crispy on the outside, but that had that chickpea-velvet texture on the inside.
Let cool on a wire rack, and nosh away!
***Disclaimer: This giveaway is being provided by OXO. #AppetizerWeek bloggers have not received product or been compensated as a part of this giveaway. Open to U.S. Residents only***