You heard me. Raisins don't belong anywhere near a butter tart. Either give them to me plain, or give them to me loaded with pecans, but raisins are mushy, sad, hidden jerks that lurk at the bottom of your butter tart and hit you when you least expect it.
But first, rewind.
Have you ever heard of a butter tart? I've grown up with these, despite my Vietnamese up-bringing. I don't really remember where I had them. They were around for potlucks, and sometimes at the grocery store bakeries in trays of six.  They're basically tarts that are filled with almost a sticky, gooey caramel filling. Traditionally they have little hidden raisin gems at the bottom of the sticky filling, but I never liked those (clearly.)
Raisins belong in trail mix. That's it. They're acceptable in oatmeal raisin cookies ONLY when I'm expecting them.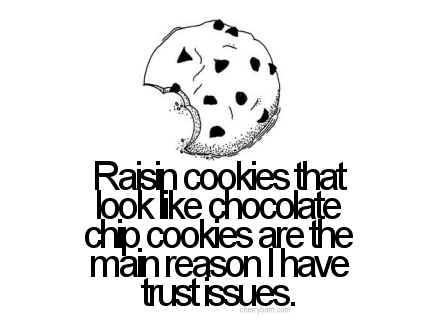 Image from: Second Floor
If I'm expecting a chocolate chip oatmeal cookie, those raisins are nothing but LIES AND DISAPPOINTMENTS. If I wanted the empty, soul-less shells that are raisins, I would have just eaten a grape. Get out of my baked goods, raisins. Carrot cake, butter tarts, and cookies are better without you.
I like to load up my butter tarts with pecans. You can keep them whole, half the amount of pecans I put in, or be rad like me and keep it pecantastic. They are ridiculously addicting and perfect for holiday parties (I know I'm a few months too late, but hey, I don't like following trends.)
I used the remaining pie crust from my pecan pie recipe, but I've halved my pie crust recipe below so there's less clicking involved for you. The filling isn't as gooey and solid as my pecan pie, since these are typically a bit runnier. The added butter and increase of pecans make these slightly different but so delicious. Again, no tofu, no corn syrup. Mostly just sugar and pecans. More crust to filling ratio = happy Lisa. I mean, I love maple and sugar, but how can you resist perfectly flaky crust?

Yield: 16
Vegan Pecan Butter Tarts
Prep Time
1 hour
10 minutes
Total Time
1 hour
45 minutes
Ingredients
For the tart shells:
Half a stick 1/4 cup vegan buttery sticks, cold and cut into cubes
Half a stick (1/4 cup) vegan shortening), cold and cut into cubes
1 1/2 cups all purpose flour + flour for rolling
1/2 tsp salt
1 tbsp white sugar
5 tbsp (75 mL) ice water
Pecan Filling:
1 tbsp flax meal
3 tbsp warm water
1/2 cup sugar
1/4 cup maple syrup
1/3 cup pecan pieces
3 tbsp vegan butter
1 tsp vanilla extract
Instructions
For the tart shells:
In a food processor (or if you don't have one of those, a large mixing bowl and a pastry knife), blitz butter, shortening, sugar, flour, and salt until the butter and shortening is about pea sized. Pour in ice water and mix until just combined. Transfer to a clean countertop and shape into a disc. Wrap with plastic wrap and let chill in the fridge for at least an hour.
Once chilled, remove from fridge and roll out until Â1/4 inch thick, thinner if possible. Use a glass or cookie cutter to cut circles to fit into your cupcake pan. Use a fork to poke holes in the bottom to prevent air bubbles. Bake at 325ºF for about 10 minutes. The crust will shrink a little bit, depending on your pan, so give it about Â1/2 inch to shrink down to. Remove from oven and set aside.
Pecan Filling:
In a small pot, combine white sugar, maple syrup, flax mixture, butter, and stir over medium low heat until sugar is dissolved (about 5 minutes). Turn off heat, stir in vanilla extract and pecan pieces, and spoon mixture into to the par-baked tart shells. Be careful to not overfill and give the mixture room to bubble up without overflowing.
Bake for about 20-25 minutes, until the edges of the tart shells are lightly golden. Remove from oven and let cool on wire rack. If any of the pecan sugar mixture leaked out, you might have to gently separate the tarts from the pan using a knife.