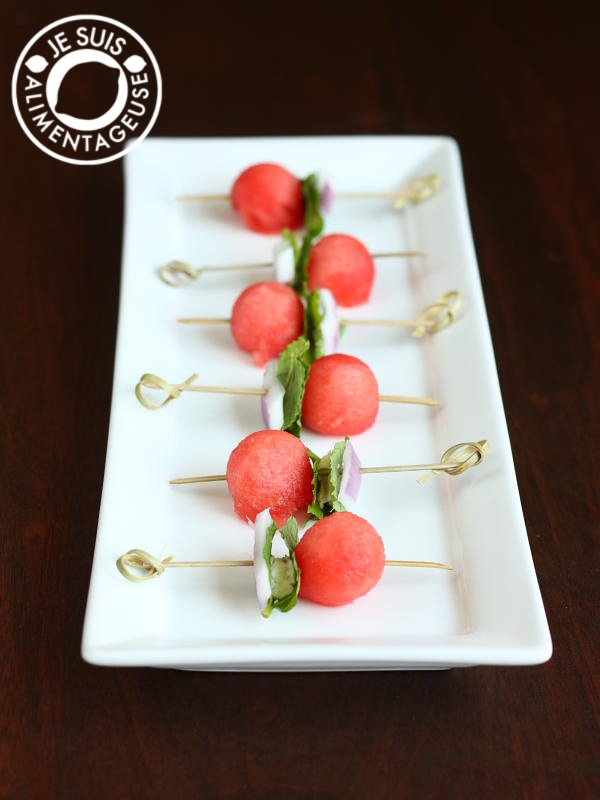 There's something about summer and watermelon that is just so magically refreshing. Any other fruit doesn't quite quench my thirst or satisfy my craving for something crisp and sweet. Watermelon brings me back to the summer days of beaches, BBQs, or just sticky hot days that beg for the cool crunch of watermelon that drips down your elbows. As an graduate student, the novelty of those carefree summer days are far and few between and a day at the beach in the city of Toronto doesn't quite cut it.
Lately I've been seeing savory watermelon salad with mint, goat cheese or feta cheese, and red onion, and the combination of such strong flavours mixed together made me hesitant at first. However, I recently bought this MASSIVE watermelon that yielded far too much fruit for me to eat. I made some watermelon agua fresca (coming soon) but then I was watermelon beveraged out. No moar plz. I was thinking of blogging some watermelon margaritas as well, but lately my teenage underage cousin has been staying with me so I thought against introducing tequila to her. Her time will come.
So after a little foodgawking and Pinteresting research, I finally decided to experiment with this salad. While I am not the greatest fan of feta cheese, its close cousin, goat cheese, is another tart cheese that pairs so beautifully with the zingy red onion, mellowing it out and adding a smooth texture to contrast the crunchy onion. When you add mint, another strong flavour, it adds another complexity and freshness to the palate that is carried on a fresh and sweet piece of watermelon. Combining all of these strong flavours together with the watermelon enables your mouth to explode with fresh, zingy flavour but its immediately softened with the watermelon and goat cheese.
There are two ways this salad can be prepared: you can either make savory watermelon goat cheese mint salad skewers, which are great as an appetizer for a BBQ, party, or potluck, or you can serve it as a lovely salad for your family. For individual servings, I recommend using about 15-20 watermelon chunks with the same number of onion slices, mint leaves and chunks of goat cheese so you can eat all the ingredients together. This salad is truly a refreshing appetizer, because although the watermelon is filling, it hydrates you and almost cleanses your palate for whatever is coming next. Your body and system almost feels rejuvenated after eating this because you feel full but light.
Alternate serving methods include using an Asian-style soup spoon instead of a skewer, or cutting the watermelon in a crudo thin slice, and layer the ingredients to be either eaten on a plate, or picked up by hand or with a toothpick. Use the onion on the bottom as a stopper to keep the watermelon from sliding off the toothpick as your guests pick it up off the plate.
As someone who doesn't usually enjoy raw onion, I was also hesitant to make this salad, but the zingy punch from the onion is so essential to the amazingness of this salad. Onion-dislikers, you will not regret eating this salad. Although if you plan on a romantic encounter at a party, you may need a toothbrush shortly after because while it leaves your mouth minty fresh, the onion breath is inevitable.
Enjoy!
Yields about 2 dozen skewers or 2-4 salads
Watermelon Skewers with Goat Cheese, Mint, and Red Onion
Ingredients
- 2 cups ripe, watermelon either cut into cubes or melon balls
- 1/4 cup soft, unripened goat cheese
- 24 mint leaves, washed and dried
- 24 slices of red onion, cut into small slivers (unless you love onion. Then by all means cut bigger chunks)
- Salt and pepper
Instructions
First skewer the red onion pieces to act as a stopper
Wrap the goat cheese in the mint leaves, then spear them onto the skewers.
Use the watermelon to act as the second stopper to keep the mint and goat cheese pinned in the middle.
Sprinkle a bit of salt and pepper over all the skewers for flavour.
You can also serve this as a salad on a plate without the skewers. The skewers just make them a cute appetizer for a party =)
7.8.1.2
155
https://thevietvegan.com/watermelon-goat-cheese-mint-salad-skewer/