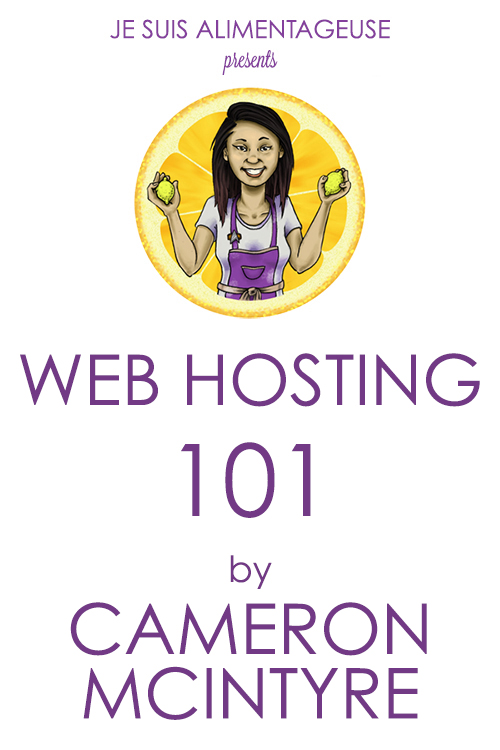 It's day 3 of the blog design series week, and I have a great web hosting 101 guest post from my favourite tech guy, Cameron! He's probably the most tech-savvy, resourceful, and helpful guy ever. I was with Bluehost for about a year with numerous problems: my site was ridiculously slow, switching from WP.com to their servers was an ordeal, and my site went down at least once every two weeks. Not cool. Cameron offered to host me for a super affordable price, transferred me with little to no hitches, and my blog has been running smoothly and growing traffic ever since!
Since so many bloggers are making the move from Blogger.com or WordPress.com, I thought it'd be a great opportunity to nudge growing bloggers to Cameron because he's just doing such a great job! So today, he's got a post about web hosting 101 for people who are looking to go self-hosted but are totally confused by the different types of hosting available.
Web Hosting 101 by Cameron McIntyre
Picking the right hosting is one of the most important factors in the success of a website, but it is often overlooked. Even though you have might the nicest design and the most user friendly website, if your website is always down because poor web hosting, you will never become successful.
With every update of Google's search algorithm, more and more emphasis is placed on the speed and reliability of your website. This doesn't mean that a super-fast, reliable website will gain you any points from the search giant, but it will certainly help you keep them. The more downtime a website has, the lower Google will rank it in their search results because people want to be able to access your content any time they want, not when your server feels like it.
In the world of web hosting, there are three distinct levels of service:
Shared hosting costs very little and allows you to get your website up and running sometimes in a matter of minutes;
Dedicated hosting gives you your own server and all the perks and resources that comes with that. This option is usually very expensive and is viable only for very high-traffic websites; and
Virtual Private Servers (VPS) offer something in the middle with a "virtualized" server experience. Think of multiple web servers running on one physical machine – each with guaranteed resources. This is often the most cost-effective option for websites.
Unless you are just starting out with a blog or website, there is almost no reason to recommend shared hosting. These are the plans that you see all over the internet for as low as $3 a month. While these plans are very cheap, the old adage "you get what you pay for" comes into play here. Shared hosting means that the servers resources get shared with all the other sites hosted on that same server, sometimes with up to a thousand other sites! Think about your own computer, when you ask it to do too many things, it slows down. The exact same goes for a web server. This means that if another website experiences a traffic site, your site will slow down. Even worse is if your site experiences a traffic spike, the hosting company might throttle your speed, or take you offline all together. All of these reasons add up to why it is very hard to recommend shared hosting for a website that is expected to have any real amount of traffic.
On the other end of the spectrum, dedicated servers are very expensive and require enough knowledge to run the server. In recent years, with all the advances in technology that we have seen, the virtual private server has become increasing popular. Essentially several virtual servers run off of one physical server, with each one having dedicated resources that don't take away from the others like shared hosting.
Now that you know the three types of hosting, hopefully this table will give you a quick run-down on the pros and cons of each.
Pros
Cons
Shared

Slow

Cannot handle high-traffic websites

VPS

Guaranteed resources
Strong price-to-performance ratio

Still requires some technical ability to run

Dedicated

Very expensive

Requires technical knowledge
Over the past few months, I have been able to purchase several VPS plans and offer them to people looking for a better solution to host their blog or website. Instead of paying $50 a month for a VPS, which might be overkill for a single blog, I offer cheaper plans that combine the speed and power with some of the cost savings of a shared hosting plan. By hosting only a few websites on each VPS, you can achieve high performance with only minimal investment into a hosting plan for your site.
I hope that this helps everyone from the newbie writer to the seasoned blogger help understand the different types of hosting, along with the pitfalls of choosing the wrong kind. If you have any questions about the content of this article, or your own blog, please feel free to send me an email at [email protected]
——
So that wraps up today's post by Cameron, he has another great tutorial for blog domain emails later on this week =)