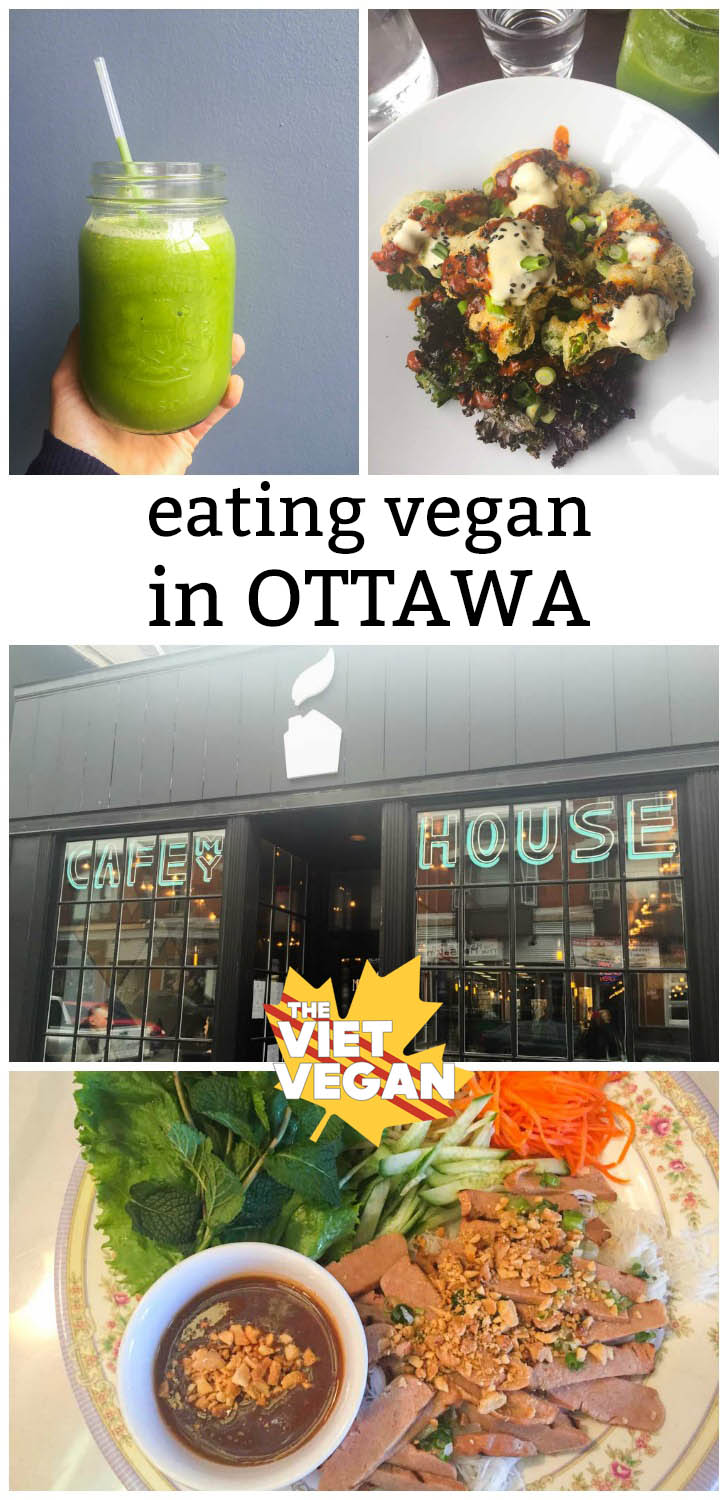 Over the last couple of years, I had been making monthly trips to Ottawa, extending up to a week thanks to the flexibility of my schooling and work. I've only been vegan for two years, but I was always on the prowl for finding plant-based foods. When I did my undergrad there (I graduated in 2012), there were not a lot of vegetarian options, let alone vegan options. Some establishments would have vegetarian dishes but there were only a handful of fully veg places in the downtown Ottawa area.
Like any other city that's not super veg-friendly, there were key restaurants that always had plant-based options: Indian (watch for ghee), Mexican (beware of sour cream in guac but that's not typical), and Thai (keep an eye out for fish sauce though). Nowadays it's a little easier for eating vegan in Ottawa, but here's a compilation of my favourites.
Since I used to live in Ottawa I didn't think to take photos because I'm daft. The next time I'm there (probably in February) I'll take photos, but in the meantime, you'll have to harness your focus and read through this huge post.
My Fave Vegan-Friendly Eats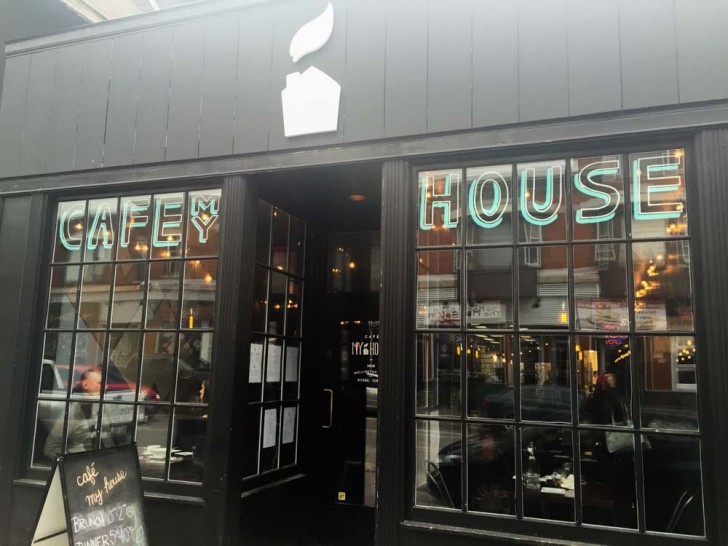 1015 Wellington St W, Ottawa, ON K1Y 2Y1
(613) 733-0707
All plant-based, seasonal, with GF and a -few- nut-free options
Price: $$
Rating: 10/10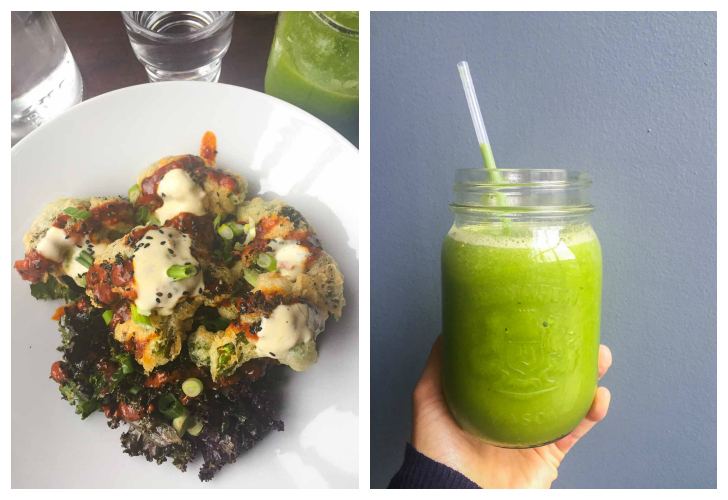 I went here with Burrito Boy and oh my god it blew my MIND. I had a broccoli tempura bowl, which was nearly an entire head of broccoli battered and fried on a bed of beautiful kale salad. Brassica to the max! It was drizzled with a chili-ginger Korean sauce with vegan mayo, and a lime dressing (there was a nut-based one originally but they gave me a different dressing cause I can't have cashews). It was delicious. Burrito Boy had a waffle coconut bacon BLT that was hearty and delicious. He ate it all up even though it was HUGE (atta boy BB).
He had some apple cider that was crazy sweet but still delicious, and I had a mango-pineapple-cilantro smooothie that went perfectly with my bowl. Definitely will be coming back because that was unreal.
370 Elgin St, Ottawa, ON K2P 1M9
(613) 231-2070
Always at least one fantastic vegan option on their small menu, small venue, great atmosphere
Price: $$
Rating: 9/10 (lost a point for service)
Every time I'm in Ottawa, I make it my mission to come here for dinner at one point. It's always super popular because they have great beer and fantastic food, but it's every bit worth the wait. The service is kind of meh (they're super busy) so once you get your first round of drinks and food, you often get forgotten. But you can't blame them really, its a pretty cramped space and crazy busy.
I always get the BBQ pulled tofu with half salad and half potato wedges. It's always super delicious and I'm totally okay with eating the same thing over and over (because it's that good and that's how I roll)
Pancho Villa
361 Elgin St #8, Ottawa, ON K2P 1M7
Okay so oddly enough, there aren't a TON of vegan options, but I've happily eaten veg tacos (no cheese or sour cream), guac, salsa, and the best black bean soup of my life. Every time I got to Ottawa, I have a tradition of coming here with one of my favourite couple friends just for the black bean soup. My friends eat non-veg food which I'm told is fantastic, but there are TONS of vegetarian options, and a few vegan ones. But the vegan ones keep me coming back. Just get the black bean soup without sour cream and you will never want for another black bean soup again. Their guac is unreal, their hot sauce is super hot and delicious, and the service is also awesome.
380 Elgin St, Ottawa, ON K2P 1M9
(613) 422-2800
It's gotten pricier and pricier, but damn they make good tacos.
Price: Used to be $$, but now it's leaning towards $$$
Rating: 8/10
Okay so the only vegan option is their fried eggplant taco (hold the mayo, and I actually didn't ask if they fry it separate from their meat, but I don't imagine they do. You decide if you're up for that), and you have to order the tacos individually. The tacos used to be like $3.50 each, but every time I go it keeps climbing up. I think now it's at $4.50 per taco, which is a little steep, but I gotta hand it to them, they're awesome tacos. I only ever go to the take-out window and it's always a crazy long wait on top of their kind of sporadic hours. I've heard that the wait for the sit-down portion is nuts so I never bother. Just take my money and give me tacos.
819 Somerset St W, Ottawa, ON K1R 6R4
(613) 238-6758
A whole page of vegetarian options, but beware of their soup and fish sauce. Viet people aren't that great at veg food honestly.
Price: $$
Rating: 8/10
Their service is actually pretty great, and I've gone there so often but only spoken Viet to them once or twice so I don't think they realize that I'm actually Vietnamese because I keep bringing a bunch of Canadians there, rarely other Asians. Their soups are not vegetarian even though they say they are, they're totally made with chicken broth. So don't eat soup there. But I always get the wrap and roll (C23 on the menu) with the peanut sauce because it's filling, traditional (reminds me of home) and super good. There are tons of other options too (I'm the type who'll find one dish that blows my mind and I'll stick to it until the day I die), but I haven't really ventured out of my comfort zone.
Some of my vegetarian favourites based on memory and nostalgia:
373 Somerset St W, Ottawa, ON K2P 0K1
(613) 233-0303
Definitely vegetarian options, I can't remember if there are vegan options but I'm 80% sure there are
Price: $$
Rating: 8/10
I used to get this delivered to my office when I was working late nights. The vegetable biriyani is the BOMB. I haven't tried anything else honestly (the whole one-dish-rules-them-all kind of philosophy here), but just ask about ghee or cream in any of the curry dishes. Lentil dal is usually a safe bet, but ask to make sure.
Horn of Africa
364 Rideau St, Ottawa, ON K1N
(613) 789-0025
Tons of vegan options, dirt cheap hole-in-the-wall kinda place. Don't be alarmed, the food is BOMB.
Price: $
Rating: 9/10 (only way it could improve was if it looked a bit less sketchy haha)
I used to live down the street from this place and I'd probably go every other day. My favourite thing was the spicy red lentils (mesir watt) with injera, and one massive serving was just $5, so you bet your bottom dollar I took advantage of that. It's super spicy but OH SO GOOD. There are plenty of other non-spicy vegan options, and if you ever want to try making your own injera at home, maybe the cook will offer to give you some of their starter culture like he offered me. Get a vegetarian platter for two, it's super cheap and you can try a little bit of everything.
Don't be an Ethiopian food n00b like I was and only scoop one type of filling in your injera. Mix and match to get a different bite of deliciousness each time. I learned the hard way—I was eating at an Ethiopian restaurant in Toronto and the owner was watching me eat and then insisted on showing me how it was done. She plucked a piece of injera, and started scooping it like a boss. It turned into a colourful pinch of deliciousness and I started to wonder how she'd transfer it into my hands to eat. When she has shown me her masterful handful, I held out my hands to take it from her and she just shook her head and said, "No this is not how it works. Open your mouth." My friend Michael just laughed at me as I uncomfortably let her feed me.
I'm saving you this hilarious and awkward experience friends.
212 Somerset St E, Ottawa, ON K1N 6V5
The first time I ate here, I didn't realize that you were supposed to take off your shoes. It was wintertime and I had super squeaky boots, and like a fool I awkwardly entered the super silent restaurant with my squeaky wet boots. It wasn't until about 5 minutes of me waiting in silence that I noticed nobody was wearing their shoes. I then freaked out and started to clean the floor apologetically. So learn from my mistakes, kids. Take off your shoes when you get to a Hare Krishna restaurant.
It's all vegetarian, but you'll have to ask to double check that there's no eggs or butter. I think the only thing I had to worry about was the banana bread that day. It's super cheap, delicious and comforting.
167 Laurier Ave E, Ottawa, ON K1N 6N8
(613) 234-7299
Also at the north end of campus, all vegetarian, some vegan options too
Price: $$
Rating: 7/10
I only went here a couple times on the way home from class, but everything I've had there has been delicious. A friend told me once that it's run by a weird cult/conspiracy group, but I don't know much about it. Investigate as you will. The food is pretty good.
601 Cumberland St, Ottawa, ON K1N 6N5
(613) 562-5800
On campus, veg-friendly, cheap.
Price: $
Rating: 6/10
I used to go here a TON when I lived in Ottawa because I worked on campus. It's run by the Graduate Students Association (GSAED) and they have a new patio now which is great for the summer. Good beer, alright service, and decent options. The food has kind of gotten downhill since they renovated and reopened, but for I still like to come back for nostalgic (ha!) reasons.
Veg-Friendly Places to Try
The Green Door
198 Main St, Ottawa, ON K1S 1C6
(613) 234-9597
Weight-based buffet, all vegan I'm pretty sure. Definitely all vegetarian.
Price: $$$ (if you like to eat as much as I do, $$ for a normal person probably)
Funny enough, I used to live a block away from this place, but that was also the year I never was at home because I was always working until the wee hours of the morning. I've never been, but I've heard the food is fantastic, albiet pricey, and that they have the best brownie many of my friends have ever tasted (vegan brownie too!). I'll have to go at some point, I remember one day I was going to go, but they were closed because it was Monday. Uber disappoint. Oh well. Sometime I'll make it out there.
1230 Wellington St W, Ottawa, ON K1Y 3A1
(613) 729-5973
All vegan (I think). Definitely vegetarian.
A bunch of my friends recommended this place, but I opted for Café My House instead. Next time I visit I'll try to make it out to this place because I've heard nothing but good things.