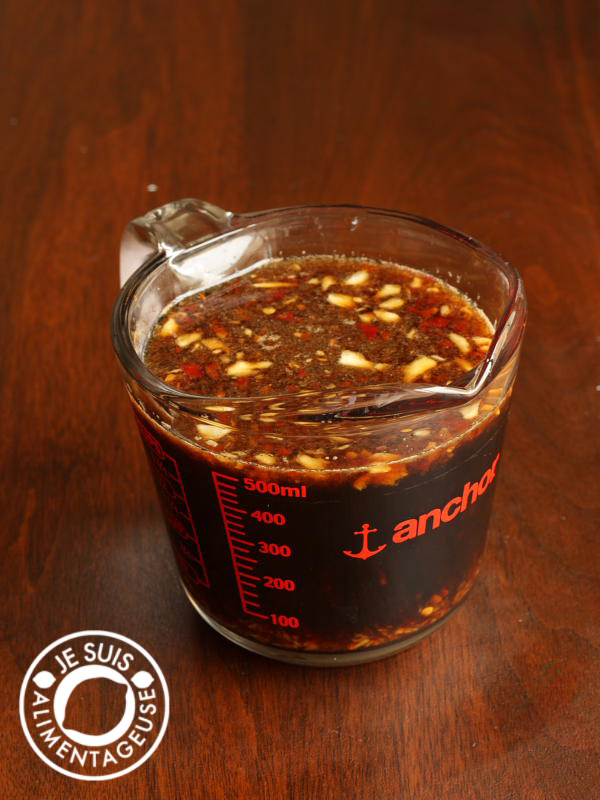 My friends always forget that I'm vegetarian because I'm not necessarily vegetarian for ethical reasons. The primary reason is allergies. Yes, ultimately, what I've found out is that I'm allergic to meat. People who know me in person know me as the person who is allergic to everything. This was BEFORE my meat allergy. Let me sing you the song of my people.
By people, I mean those whom are allergic to life like me.
I am allergic to the following:
All animals with fur (especially cats and dogs)

Dust and pollen
Trees (yes. I know)
Pretty much all weeds
Grass (yup. No joke)
Most flowers (I still love them though)
Most sprouts (I love alfalfa, but sprouts make my throat itchy)
Tree fruits, especially kiwis and cherries (they make my throat swell)
Pen ink
Add in meat and my diet and lifestyle had to be seriously changed to accommodate my allergies. It's been really tough going to restaurants with friends, and cooking for my friends and family who are not vegetarian.
Vietnamese food is mainly centered around seafood, pork, and beef. Vietnamese people love their meat, and who can blame them? With the amazing street food, and the entire country being almost one massive beach, fresh seafood is so easy and cheap to fill your bellies.
Of course, there is a huge vegetarian community as well. With homeopaths and Buddhist communities, vegetarian food has to be somewhat available and accessible to the public. With tons of tofu and beans, being vegetarian isn't impossible in the Vietnamese community, it's just hard.
The first thing that makes it easier, is this sauce, nuoc mam chay [vegetarian salted fish sauce] . Vietnamese cooking often has fish sauce or dipping sauce with a fish sauce base (nuoc mam[salted fish sauce]), and having this vegetarian dipping sauce makes it so much better.
Yield: 2
Nuoc Mam Chay Vietnamese Vegetarian Dipping Sauce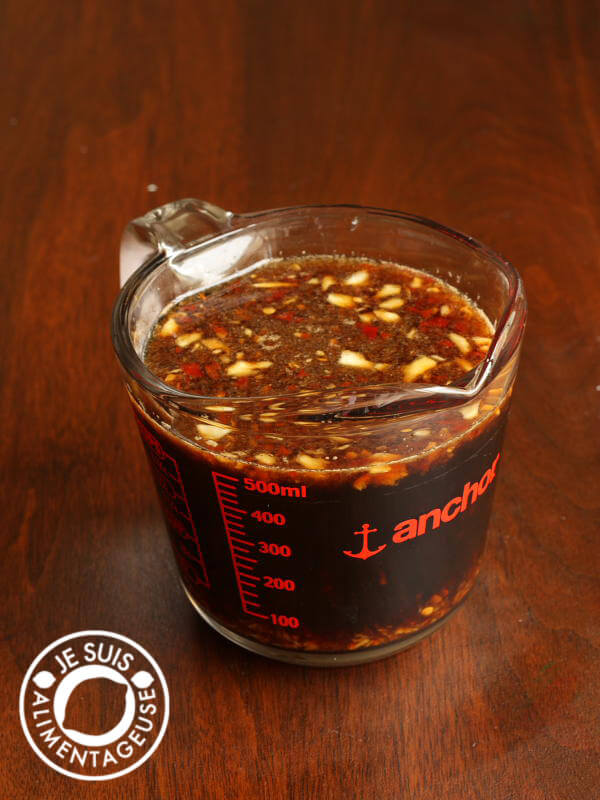 Ingredients
5 garlic cloves, mashed or minced (I used a mortar and pestle)
2 tsp chili paste OR 1-2 whole red chilies, mashed with some of the sugar.
1/2 cup soy sauce (Golden Mountain brand)
1 1/4 cup hot water (I tend to boil my water)
1/2 cup sugar
2 limes, juiced
Instructions
Mash together garlic, chili, and sugar with a mortar and pestle. The sugar helps absorb the oils from both the chili and garlic so you don't leave any behind in the mortar. If you don't have a mortar and pestle, press or finely mince the garlic and then finely dice the chili. It won't be quite the same in the end but it'll do.
Transfer the sugar paste into a large jar and add the boiled water. Stir to dissolve sugar.
Add the soy sauce and lime juice and mix.
Adjust if you like it saltier (more soy sauce), spicier (more chili paste), etc.
Store in the fridge and enjoy with a variety of Vietnamese dishes :)
Notes
If you really like garlic, use 5 cloves, if you don't love it, just use 2.