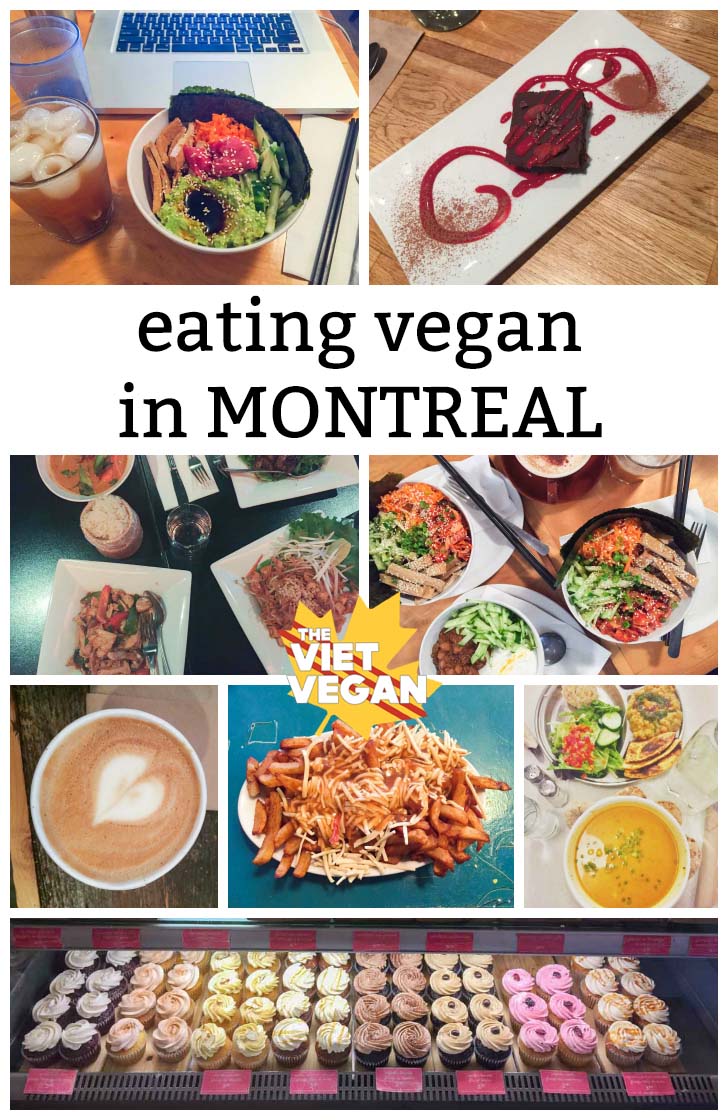 Despite the love the Quebecois have for their smoked meat and cheese curds, Montréal is a very vegan-friendly city. With plenty of veg options at most omni restaurants, and exquisite completely vegan eateries, Montréal's vegan scene is booming.
The last time I was in Montréal, I was 17 and just learning how to eat. I don't mean how to physically put food in my mouth, chew, and swallow, but really savour what I was eating. The first time I became exposed to the joys of savouring your food, I was doing my summer exchange in Cagnes-sur-Mer, in the Côte d'Azur in the south of France. There's something about the passion of Francophones that makes you really experience the wonders of food.
Much to my wallet's chagrin, I took every opportunity I could to experience what Montréal had to offer in terms of vegan dining so I could share it with all of you if ever you decide to visit Montréal. If I'm missing any of your favourite veg-friendly joints, please leave your suggestions in the comments. I only had a few short days to explore Montréal but I definitely intend to come back.
545 Rue Milton, Montréal, QC H2X 1W5
(514) 287-9337
Vegetarian, some nut-free options
Price: $$
Rating: 7/10
TL;DR: Pretty good when you're hangry.
I was so hungry after a long train ride to Montréal that I was ravenously hangry as soon as I arrived. I was supposed to meet my friend at McGill for an event but I couldn't wait to eat. Tired, hungry, and annoyed with my heavy bags, I hiked what seemed like the biggest hill in Montreal to Lola Rosa. In retrospect, the hill was significant but not quite the Mt. Everest I thought I was experiencing at the time.
Their menu is all vegetarian, with some vegan options. It wasn't very clear how they would veganize certain things, but the server I had reassured me that I could have Daiya cheese on my hemp burger. I placed my order, was given the option of adding avocado for $1.50 (which I think is outrageous), and observed the other tables as I waited for my meal. The atmosphere is very rustic and casual. Students from McGill were chatting away over loaded nachos, mothers and daughters were enjoying each other's company with some delicious looking burritos, and I even spotted a few lone diners like myself, busying themselves with textbooks and readings.
My burger came with the avocado (which a little to my annoyance, I did not order but they ended up giving to me and charging me for anyway), a small colourful salad, and a handful of chickpeas. I was too hungry to mention anything about the avocado and I devoured the hemp burger. The bun was chewy and delightful, the hemp and lentil burger was surprisingly very stable and structurally sound, and the avocado indeed added a pleasant creaminess to the entire experience.
From what I've heard from the Toronto Vegans Facebook group, Lola Rosa is a great veg-friendly place. According to some of the people who suggested Lola Rosa, their nachos are the bomb, but some of the servers are not knowledgeable about which items are vegan-friendly.

994 Rue Rachel E, Montréal, QC H2J 2J3
(514) 525-2415
Veg-friendly, nut-free (I mean it's fries and gravy, people)
Price: $$
Rating: 7/10
TL;DR: Classic, artery-clogging poutine.
 If you're ever visiting Montréal or Quebec for the first time, you'll often be told to try the poutine there. I've PLENTY of poutine in my life—traditional with your squeaky cheese curds and all different types of gravy. I haven't had a lot of vegan poutine that's blown my mind, but they've all sort of hit the spot. I had La Banquise poutine when I was 17 and working just outside of Montréal (in St. Bruno) and it was as poutine can be: a heart-stopping experience with cheese curds doused in gravy.
The vegan variety was no different: piping hot, fresh-from-the-fryer fries with mushroom gravy and Daiya cheese. The fries are bit more limp and greasy than I like them to be, but they're all the better to mop up every drip of gravy and melted cheese. My first poutine had a giant hair in it, which made me debate whether or not I wanted to just pull it out or send it back. I sent it back, feeling weird and embarrassed because I hate doing that, but the second poutine that came my way was thankfully hair-free and pretty good.
Would I eat it again? Probably not. I didn't love the fries, and I felt uncomfortably full for the following few hours, but La Banquise is renowned in Montréal for their poutine so you should probably try it at least once for the experience.

167 Ave des Pins E, Montréal, QC H2W 1N9
(514) 823-5865
All vegan, some GF options, some nut-free options
Price: $$$
Rating: 10/10
TL;DR: Best cupcakes, best scones. Great atmosphere.
 I don't think I can sing enough praises about this bakery. I like cupcakes plenty but I'm super picky about them. I love a rich, but not too sweet frosting that isn't piled too high on the cupcake. I love flavourful and tender cupcakes that again aren't too sweet and are fluffy.

Emily from This Rawsome Vegan Life met me at Sophie Sucree and we shared a ginger RISE kombucha with brownies and a rosewater and pistachio cupcake. It's a beautiful space—with delicate and ornate china, beautiful décor, and a very elegant and cheerful atmosphere. I had the pleasure of getting to know Emily as a person outside of the blog, and I'm honoured to have made their acquaintance! They are a very optimistic and enlightened being and I'm so happy to have made a new vegan blogger friend.
I'm happy to report that Sophie Sucrée's cupcakes are the best I've ever tasted. Their frosting is thick and rich, but not too sweet. They're made with a coconut oil and cocoa butter base, instead of a shortening or vegan margarine base. It's a very flavourful and tasty frosting that I'm going to try really hard to replicate because it's the best frosting I've ever tasted.
I had the rosewater and pistachio cupcake, chocolate mocha (or espresso?) cupcake, and the dulce de leche cupcake. The rosewater and pistachio was lovely—light, creamy, while still very decadent. The chocolate mocha was probably my favourite cupcake ever. It was bitter in the perfect way dark chocolate should be, and the frosting had that little hit of coffee flavour that makes my tastebuds swoon. The dulce de leche was actually a little sweet for my liking, but I loved the caramel flavour.
Before I caught my train back to Toronto, I came back to have their spinach scone, which was absolutely wonderful—fluffy inside, crisp outside, and very flavourful. It had just a hint of sweet while being savoury at the same time. I also will be trying to replicate this because it was one of the best scones I've ever had (easily rivaling the ones from Sconewich in Ottawa!). Along with the scone, I bought a coconut bacon BLT sandwich for the train ride and two chocolate brownies (one with white chocolate drizzle and chili, the other with a decadent layer of coconut on top) to share with Burrito Boy once I got home.

4631 Boul St-Laurent, Montréal, QC H2T 1R2
(514) 842-3479
All vegan, GF, some nut-free options
Price: $$
Rating: 6/10
TL;DR: A little overrated, but pretty good.
Aux Vivres was highly recommended to me by a lot of people. I think they might have built up the place to such amounts that it kind of fell short in my books. I was hungry but not too hungry when I went, so I only had their Tom Yum soup. It was thin, not as creamy as it seemed to have been described, but it was very flavourful and just the right amount of filling that I wanted.
It was dark, crowded, and very busy when I went, but my friend who is very allergic to peanuts was very pleased with his meal (I forget what exactly he ordered, but it was an Indian platter of some sorts with some flatbread). So for anyone who has nut allergies, I'm happy to report that the kitchen staff is very accommodating and my friend ate reaction-free!

5175 Av du Parc, Montréal, QC H2V 4G3
(514) 360-9629
All vegan, some GF options, some nut-free options
Price: $$
Rating: 9/10
TL;DR: Really great atmosphere, delicious food.
I didn't expect to love Café Resonance as much as I did. I met Emily and another blogger named Marie-Eve at CR for lunch, and the super chill environment and all-vegan menu pleasantly surprised me. The staff are really happy and cool, the food is amazing, and there are outlets EVERYWHERE for you to work for hours in an artistic space.
I had the Victoria Bowl and a tamarind soda. The rice bowl had marinated tofu strips, a hefty pile of shredded kimchi, cucumber, carrots, and some crunchy strips of nori. The bowl overall was a little salty for my taste, but I think I'm pretty sensitive because I tend to undersalt my food. The tamarind soda was UNREAL. It had that delicious tamarind flavour with hints of lime and a natural sweetness. I totally want to make this when I get back, it was seriously addicting.
My stay was longer than I thought it would be, and I ended up getting another rice bowl a few hours later. The avocado roll bowl was similar to the Victoria Bowl: swap kimchi for avocado mash with a little puddle of soy sauce and I added some marinated tofu for extra protein. It was even more delicious than my Victoria Bowl, especially with another glass of tamarind soda.

105 Rue Rachel O, Montréal, QC H2W 1G4
(514) 510-9299
Raw vegan, GF options, some nut-free options (but not very nut-safe)
Price: $$$
Rating: 9/10
TL;DR: Small portions for the price, but very satisfying and VERY well prepared.
Raw vegan eateries are typically very nut-heavy, so I was a little apprehensive about going there since I discovered my allergy to almonds, cashews, and hazelnuts. I can eat walnuts and pecans though, so I wasn't totally out of luck, but this is definitely not a place where you take a nut-allergic friend.
I went with my omni friend, who got the burger on a chapatti bun alongside a very colourful salad. I got the pumpkin curry soup that was warm (so not completely raw) with buckwheat pita triangles and some myserious but delicious croutons, and a walnut brownie with raspberry coulis.
My friend was very satisfied with his burger and he devoured the entire thing as I slowly savoured my soup. The care taken in the preparation and presentation of the food is very impressive. They take into consideration the experience of eating: there were varying textures and little explosions of flavour. The brownie was by far the best brownie I've ever had in my life. I was so sad when it was over. It was a dense, creamy base with walnuts to add some crunch, with a bittersweet and creamy chocolate topping, with some more crunch in the form of goji berries and cacao nibs. The raspberry coulis brought a brightness in flavour to it that had me scraping every last drop off my plate. It was unreal.
Everything was served with a big bottle of water spiked with an entrancing splash of chlorophyll that seemed to enhance the flavour of everything. You could barely taste the chlorophyll at first, but as it settled to the bottom and we hit the bottom of the bottle, it got a little stronger.
Will definitely be coming back. The BEST raw vegan restaurant I've ever been to.

1735, St-Denis Street, Montréal – 514 303 1313 (there are multiple locations, this one was closest to me)
Vegan, some GF options, some nut-free options (not super nut-safe for those with allergies though)
Price: $
Rating: 9/10
TL;DR: Fast and tasty.
Green Panther reminds me slightly of Fresh in Toronto, except it's more sandwich-focused rather than rice bowl focused. The vibe is kind of similar and even has a cocktail bar to the side the venue. I brought my laptop to work over lunch and they were really friendly and were totally okay with me working there for several hours.
I had the Falafusion sandwich, which was falafel-stuffed pita with some sort of spiced mayo and some alfalfa sprouts. I actually don't know what the other "fusion" was, but it was unbelievably delicious and I was really sad when my sandwich was over. It was so delicious but really filling.
Alongside the sandwich, I ordered the St. Basilic smoothie—which was a strawberry smoothie with balsamic reduction, rice milk base, and sweetened with dates. It wasn't my favourite smoothie but it was pretty good. Emily recommends the Balooberry smoothie—which is blueberry and coconut. I should have listened haha.
I later had a slice of Viramisú (vegan tiramisú) cake, which was okay. A little too sweet for me, and was more expensive than my sandwich. I wish I got the brownie instead because it looked really delicious.

4088 Rue Saint-Denis, Montréal, QC H2W 2M5
(514) 843-4194
All vegan, some GF options, some nut-free options (my nut-allergic friend ate here safely)
Price: $$$
Rating: 10/10
TL;DR: AMAZING vegan fine dining—even omnis will love it.
Everyone who I asked about the Montreal vegan scene RAVED about ChuChai, and boy was I ever glad I went here. I was NOT disappointed in the slightest. The entire menu is vegan, but they list the menu with the animal product names. There was no unchicken, phish, or beefless markings, it was all labeled as shrimp, duck, chicken, beef, and fish. It was kind of cool, but also really weird at the same time. I felt kind of uncomfortable calling my order "chicken chili curry" but I felt reassured that everything was vegan.
Everything tasted absolutely amazing. Emily and I split the green papaya salad and the fried dumplings and spicy sauce. The dumplings were delightfully crunchy and the green papaya (som tum) salad was very spicy (for the average person, I could eat it fine) and addictive.
My omni friends ordered the shrimp green curry (nut- and soy-free, no reactions!), beef panang curry, and black pepper duck and they were all LOVING their meals. Everything was delicious with the sticky rice. Emily had pad thai that they really enjoyed, and I liked my chicken curry (saying it's chicken is so weird to me). My omni friends were impressed at how convincing the mock-meats were, and the flavours of their dishes were astounding. I kind of wish I ordered the black pepper duck or the panang curry because I enjoyed those more than my own dish, but my dish was very good too.
We all left very happy and satisfied, but it is quite pricey. It's definitely a place to go to for special occasions—worth every penny though! I'm still weirded out by the animal names, but maybe that's just me.
Other Vegan Eats in Montreal:
While I tried to eat at someplace different for each meal, I still wasn't able to visit every vegan eatery there. Here are some other places that were recommended:
2115 Rue Saint-Denis, Montréal, QC H2X 3K8
(514) 848-0513
All You Can Eat style Asian-Fusion food with dumplings
Price: $
1114 Boulevard Curé-Labelle, Laval, QC H7V
(450) 505-8181
Only vegan restaurant in Laval
Price: ?

From a reader:
57 cals is a bit out of the way and the restaurant is ugly but the food is delicious. It's greasy though, but the shawarma tastes exactly like what I remember a good shawarma tastes.

Plus, it's family owned too and staff is friendly.

– Marie-Hélène A.
1245 Rue Bishop, Montréal, QC H3G 2E2
(514) 303-1800
More of a lunch stop from what I could tell. All vegan.
Price: ?
84 Rue Saint Paul E, Montréal, QC H2Y 1G6
(514) 765-3456
Kitsune Espresso Bar
19 Rue Prince Arthur O, Montréal, QC H2X 1S4
(514) 507-2055
Soy milk available for vegan lattes!
Reader Restaurant Suggestions:
There's

Le Petit Marché Végé

where they prepare awesome vegan banh mi. Everything is vegan there, even the mayo. It's a family owned business and there are really sweet. I highly recommend it.

– Marie-Hélène A.
Sata Sushi – Not vegan, but they have a vegan sushi menu
And for a local Montreal opinion on where to eat vegan, check out Vegan à Montréal. It's in French, but for those who aren't French-speaking, the pictures speak plenty for themselves =)
So there you have it! All the vegan eats I tried in Montreal! If I come back, I'll be adding to this list for sure. If you have any other suggestions or places you think I should add to this list, please leave a comment below or send me an email at
[email protected]
. Happy eating, everyone!