If you're not a frequent baker, you may have a bag of sad, dried out and crunchy brown sugar lying in your pantry somewhere. While I bake pretty often, I almost rarely use brown sugar, so during my move, I kept coming across these random bags of dark brown sugar and light brown sugar that were sitting, sadly desiccated in my pantry. I felt like it was such a waste just to throw out the bags of sugar so after some experimenting, I figured out how to rehydrate brown sugar to make it as fluffy and moist as it was the day you bought it.
One of the biggest issues is that you get those rock-hard clumps of sugar that are impossible to work with. The big clumps can often be broken up, but the extra dense, darker chunks of brown sugar are of no use to anybody, so just be sure to toss those before you start this.
The most important tool you'll need is a strong food processor to break up all the sugar chunks so all you have is dried, brown sugar. Then the magic happens.
If you're processing at least 2 cups of brown sugar, blitz in water, 1/2 tsp at a time, until you get the soft, luxurious brown sugar from yesteryear. I used between only 1 tsp to 2 tsp depending on how much I had, or how dry my brown sugar was. If you accidentally add too much water, don't fret. Simply add white sugar back in to get it back to the same consistency. You might notice a little less of the classic brown sugar flavour, but it won't make a huge difference in the end. That's all that was missing! A tiny bit of water.
Now go forth and make those deliciously soft brown sugar baked goods, dear readers.

How to Soften Hard Brown Sugar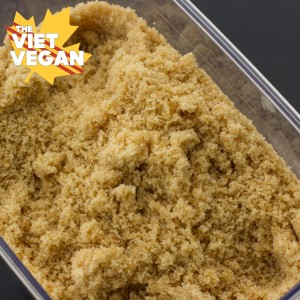 Ingredients
4 cups of hard brown sugar
1 1/2 tsp water (increase in 1/2 tsp increments until you get the texture you want)
Instructions
In a food processor, blitz the hardened brown sugar until the larger chunks have been broken up. You may need to discard the really stubborn hard chunks.
Adding 1/2 tsp at a time, add water and blitz until you get the desired brown sugar texture. That's it! Store in an airtight container and if it gets hard and dry again, just repeat the process!