Last week, I was lucky enough to be invited by Natural Delights to visit their date farms in Yuma, Arizona. You might have seen copious updates from my snapchat and instagram. The entire area used to be a riverbed—meaning the soil is rich in nutrients—making it perfect for farming. Flying over Arizona, the landscape reminded me of the way water would trickle through sand on a much larger scale. Vegetation grew naturally where the remaining streams used to be, making it look like veins of green throughout the desert. While we were driving around Yuma, we saw fields upon fields of produce: celery, to lettuce, to cauliflower and broccoli… Yuma is constantly growing food that is shipped all over for the world to enjoy.
But in particular, Arizona has the perfect climate for Medjool dates: sunshine 365 days a year, dry heat, and lots of water from the Colorado River, which means that the date palms are free to happily grow 1-3 feet per year. The older the palm tree, the taller they are. We saw so many adorable short palms bearing fruit, but we were also fortunate to visit the towering Big 6, the original Medjool date palms from Morocco that grew offshoots to populate the rest of the Medjool groves.
Many people are familiar with Deglet dates—those are the dates you find in Bulk Barn or in packages that grandmothers tended to turn into date squares—but those dates have less moisture and are better suited for chopping and blending. In comparison, Medjool dates are sweeter, more plump, and are perfect for snacking, cooking, and baking.
I've been a long-time fan of Medjool dates. Of all the date varieties, they are the juiciest, the most plump, and the most caramel-like dates. Full of potassium, fibre, energy, and more, I always keep a tub of dates in my fridge for a snack, especially when I'm craving something sweet.  I, along with 13 other bloggers, gorged ourselves on fresh dates in nearly every form: date sugar in our coffee; stuffed with peanut butter, coated in chocolate and sprinkled with sea salt; date syrup over our waffles; date sauce over tofu; dates baked into a berry crisp; or roughly torn or chopped in salads…to name a few.
We definitely learned about the infinite versatility of dates, but moreover, I just learned so many more reasons why I love Natural Delights Medjool dates.
Reason 1: All of Natural Delight Medjool dates are completely grown organically. While only a few groves are USDA Certified Organic, they're all non-GMO certified and grown without any pesticides. That means even though you're buying a tub of conventional dates, they're technically organically grown anyway!
Reason 2: The growers, the retailers, and the production managers are all equally invested in the entire process. They all are so passionate about dates and just want to share their wonderful, sweet fruits with the world. There is so much care taken to the growing, maintenance, harvest, and packing of the dates so that in the end, we get only the most delicious dates possible. They were all so interested in our readers to learn how they can understand why we love dates and how we can get more people to fall in love with dates as much as we did.
Reason 3: The dates are all hand-picked, hand-sorted, simply washed, and tested to ensure consistent and quality dates for us to enjoy. There is so much care from start to finish that it's evident in every bite of what I call nature's "caramels". They harvest 3-4 times per year, shaking the bunches of dates and only letting the most ripe fall to the harvest trays.
Reason 4: There is virtually no waste! Any of the not-so-beautiful dates or aesthetically damaged dates that are still perfectly delicious are ground up and turned into the date rolls. The date rolls come in 4 different flavours: coconut, almond, pumpkin spice, and chocolate orange. My favourites are the coconut ones, closely followed by pumpkin spice. I love how simple they are: pitted, spit out through a grinder, rolled in whatever coating (be it almonds, coconut, or pecans). Then they're cut and packaged. That's it! And it takes advantage of all of the dates that otherwise would have gone to waste.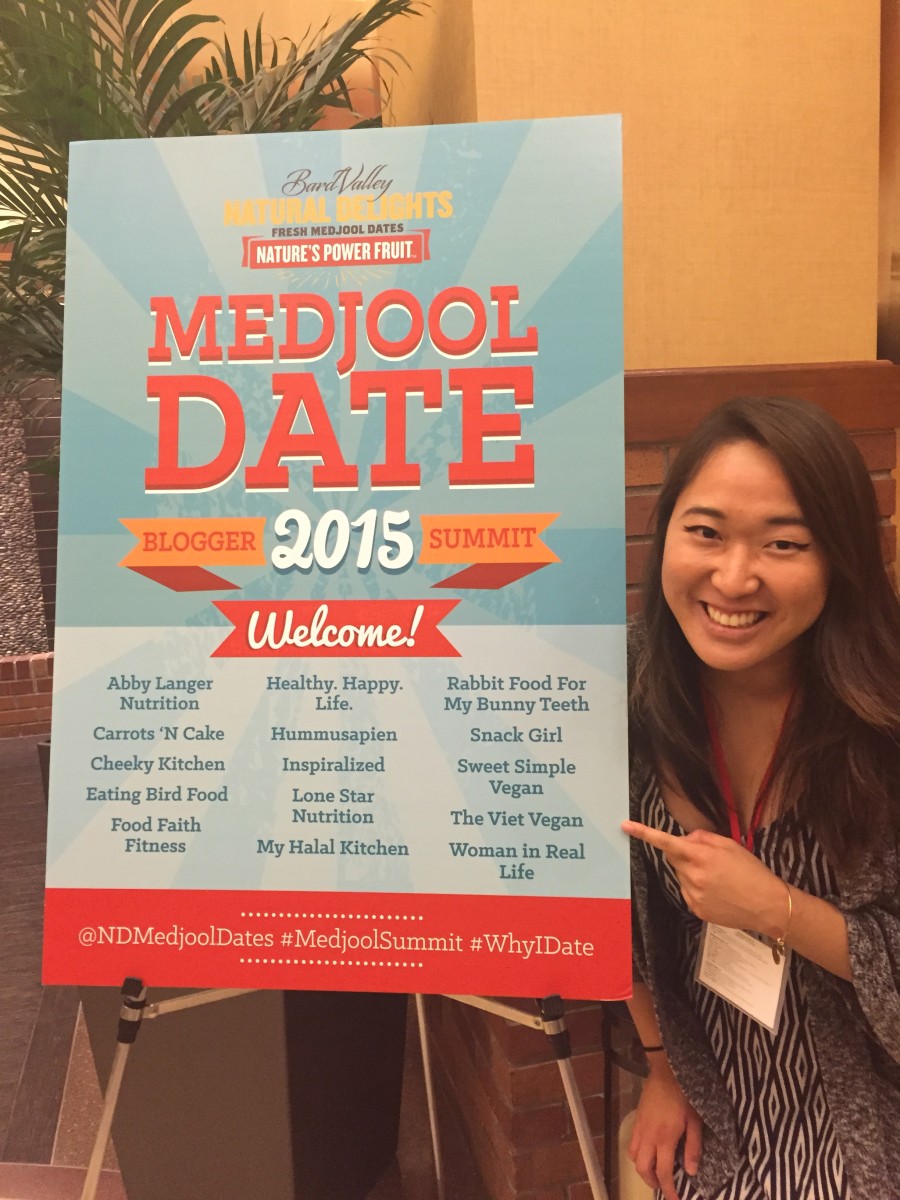 Reason 5: They invite a fantastic group of bloggers who all share the love of food, health, and dates! I met amazing bloggers that I've followed for ages! Kathy Patalsky from Healthy. Happy. Life. and Jasmine from Sweet Simple Vegan are two people I've followed for a while, but I loved meeting and getting to know Catherine from Rabbit Food For My Bunny Teeth, Abby from Abby Langer Nutrition, Joann from Woman in Real Life, Tina from Carrots N Cake, Brooke from Cheeky Kitchen, Brittany from Eating Bird Food, Taylor from Food Faith Fitness (who I actually met last year at BlogHer Food),  Alexis from Hummusapien, Shannon from Lone Star Nutrition, Yvonne from My Halal Kitchen, and Lisa from Snack Girl.
Reason 6: They made us feel like royalty. They literally thought of absolutely everything. Water bottles to keep us hydrated in the hot Arizona sun, an adorable work-out shirt, a USB cable and adapter for all types of chargers because we're bloggers and we burn through phone batteries like nobody's business, and not to mention, vegan food for all of us veg-heads and allergy-friendly stuff for us allergic folk.
It was an incredible trip and I'm armed with a bazillion date-recipe ideas! Stay tuned for some awesome date-y recipes and here's a video of the lifespan from tree to tub! Be a doll and subscribe to my channel. I have more videos to come =)
Disclosure: Natural Delights paid for the travel, accommodations, and expenses to Yuma, Arizona. This post was not required in exchange for the trip, but I wanted to post it anyway because I learned a lot about dates and I want to share the knowledge! This is not a sponsored post. All opinions are my own, thank you for reading and supporting The Viet Vegan!