Use those sweet summer peaches in this sparkling peach limeade…
You can make it boozy or enjoy as is!
I love Ontario summer peaches. They're so sweet and juicy, and I'm finally able to eat them without breaking out in hives (thanks a lot allergies). For some reason, I can eat peaches now, but nectarines and plums still give me a reaction. Sad panda. While I love eating peaches on their own, there's nothing quite like sipping a peachy drink until there's nothing left and picking out slices of fruit from the bottom of a glass.
Especially BOOZE-soaked fruit. Sangria is by far my favourite alcoholic drink. I don't even care that it's made out of crappy wine, I want to drink it and then eat all the boozy fruit. I am the happiest drunk if it's by eating booze-soaked fruit.
But for days where I need to actually do work (which nowadays is everyday, hence the lack of activity on JSA), I need something without the kick because I'm a lightweight (blame my asian genes).
Enter sparkling peach limeade.
I guess my infrequent drinking also makes me tolerance for alcohol quite low as well. Oh well. It's cheap for me to have a good time at the bar (lol jk I don't go to bars. Pubs are where it's at.)
So kick back, enjoy the rest of those late summer nights, and enjoy it with some sparkling beverage (boozy or otherwise) and pick out some delicious summer fruit from the bottom. Next week I leave for National Music Camp, which is a camp I've worked at for the past 6 years because I am a hardcore band geek and all of my friends are musicians. I get to walk around nature, do yoga by the docks, teach little flautists how to trill from C to C#, and listen to amazing musicians play in exchange for being a counsellor for 2 weeks. It's not much pay, but it's like a vacation for me. It's my favourite place in the world. =)
Yield: 2 glasses
Sparkling Peach Limeade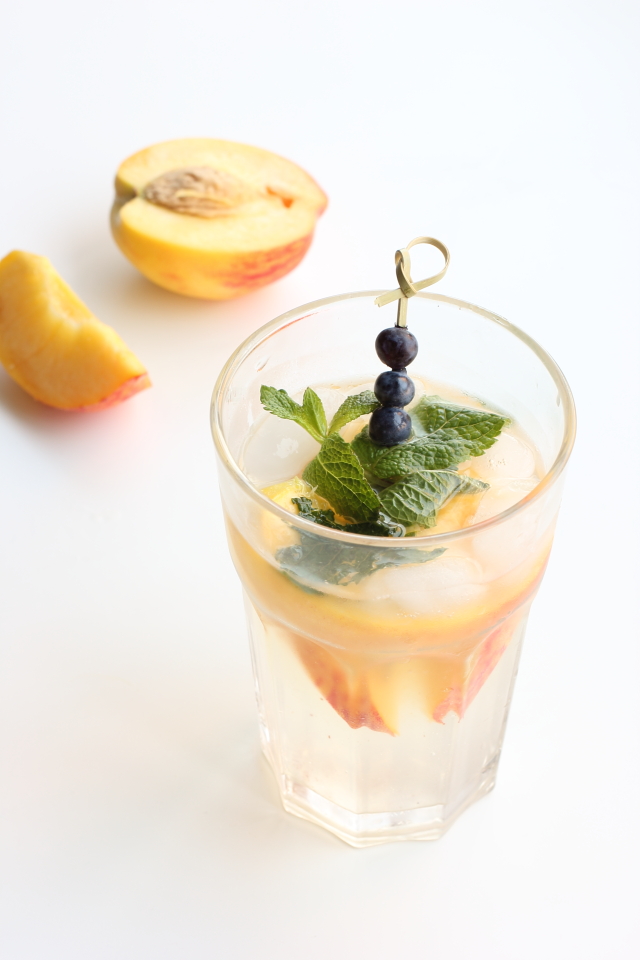 Ingredients
1/4 cup lime juice
1 sprig mint (6-8 mint leaves)
2 tbsp simple syrup
2 cups lemon-lime soda
1 fresh peach, sliced
8 ice cubes
Instructions
Muddle lime juice, simple syrup, and mint leaves using a cocktail muddler or the back of a wooden spoon to get the mint oils and flavour out of the leaves. Divide between to glasses, add peach slices, ice, and pour lemon-lime soda over to fill both glasses.
Add some booze if you like, but it tastes great on its own! Garnish with some more mint or other fruit you have on hand.