Vegan travel tips for eating all the vegan food in Paris! This was my first time travelling Europe as a vegan and it definitely won't be my last!
If you follow me on Instagram or Facebook, you might have known that I just came back from Paris and London (London post coming soon). For a long time, I hesitated to travel because I really didn't want to feel denied or feel frustrated with a lack of vegan options abroad. Little did I know that a lot of places out there have TONS of vegan options, and all you need to do is a little research ahead of time.
I'm not really a planning kind of person. When I get really stressed out, I plan, but I rarely follow that plan. Even though that plan gets sort of ignored, it at least gives me a sense of preparation or an idea of how to tackle things, even if that's not exactly how things pan out in the end. A couple weeks before this trip, I had some personal things come up that put me in full on escape mode. Luckily we had already booked this trip, so planning for it was just a good excuse for me to escape my problems, even if only for a couple hours.
Tons of people on Instagram and Facebook gave me lots of ideas for places I wanted to visit (aka eat at) in Paris, and there are also plenty of online resources/travel blogs/etc to give you more details, lists, and ideas for vegan travel. We didn't have a huge budget to work with, so we couldn't eat out at EVERY single place we wanted to, but we still covered some decent ground when it came to eating vegan in Paris. We're also not big on touristy things, so most of our time was spent walking in and around the neighbourhoods of the restaurants we wanted to eat at.
Vegan Travel Tips:
Before I get into the places we ate at, here are some of the bigger lessons I learned about vegan travel: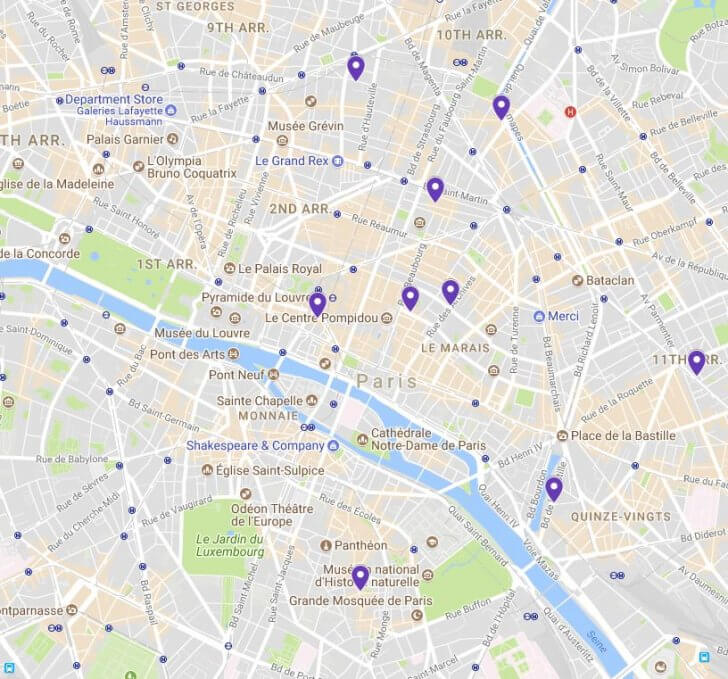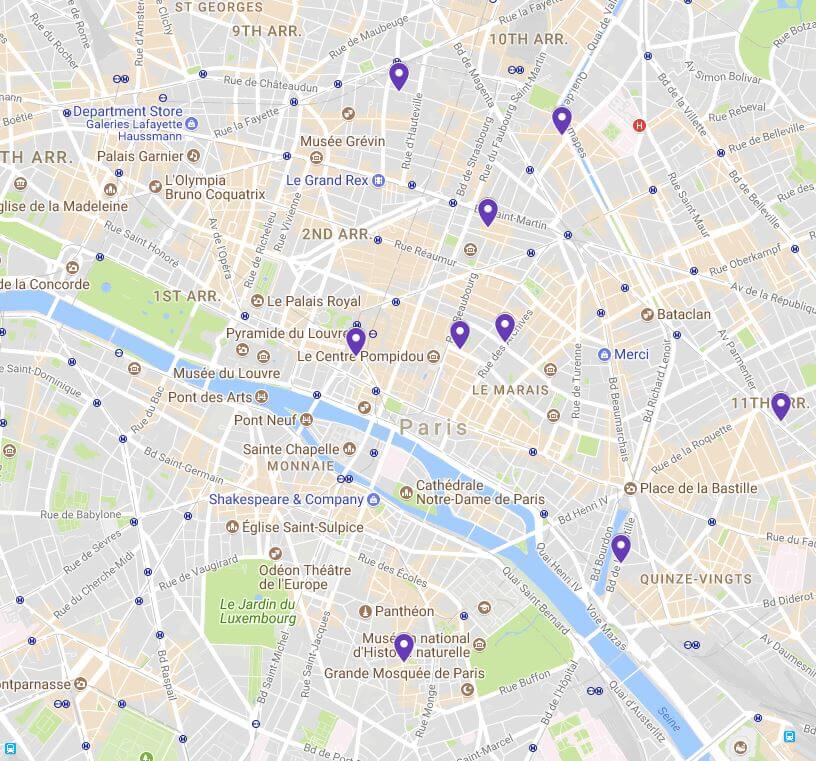 1. Research ahead of time
You might be lucky and have local vegan friends wherever you're going, but in my case, we didn't, and luckily I have YOU guys to tell me where to go and eat. I posted an Instagram story asking for suggestions and you guys did not disappoint me. I also looked at some Paris vegan instagrammers' feeds for ideas, and checked HappyCow for further reviews and suggestions. Combining all those tactics, I was able to compile a list of all the vegan places I could ever want to see during my short weekend stay in Paris.
2. Bring a water bottle
Nothing's worse than walking around a new city for hours while also being dehydrated. Sure, you can buy water bottles pretty much everywhere, but save the money and save the environment by just using your own. You might have luck going to a fast food restaurant and asking for some ice and water too, but they might charge you. But even that is better than buying bottled water.
3. Stay somewhere with a kitchen/kitchenette
No matter where you are in the world, most places will have markets or grocery stores where you're bound to find vegan options at the grocery store (even if it's just pasta and veggies). Even if you're not the type of traveler like I am who purely travels to eat, you can still eat vegan and eat deliciously. In Paris we enjoyed some local vegan finds from Un Monde Vegan (read on further down) at the apartment where we were staying. It saved us in the mornings so we weren't hangry on the 1 hour train ride into the city, but also saved us some money so we weren't going out to eat for every single meal. But when in Paris, why not treat yourself to local, fresh baked baguette and epically delicious produce (the most tomato-ey tomatoes and cucumbery cucumbers, I swear).
4. Learn some local phrases
Luckily I already speak French, so that's wasn't an issue for me, but if you're going somewhere in the world where English isn't the dominant language, it's a good idea to find out how to say you're vegan in whichever language is most commonly used there. I found this sort of print-out document for over 100 different languages to explain that you're vegan and what that means in the respective languages. They've even got Vietnamese for ya ;)
5. Be prepared
You might find yourself stuck somewhere a little longer than you expected, so it's always good to squirrel away a snack somewhere. Bring energy bars, dried fruit, cut up veggies, nuts, seeds, even some granola if you ever run into the situation where you're hangry AF and have no access to a vegan restaurant or grocery store. Just be wary of air line security, since some things might not be okay to bring over (fruit with pips, seeds, stones, etc). But if you have some sort of portable fold-up container/reusable food bag, it's good to cut up your fruit/veggies lest you get stopped. Bonus points if you bring your own set of travel cutlery and grocery bags to save yourself from using plastic on the go.
Now onto the food!

Now I don't love burgers as much as the average person does (let's just say I dated a guy once who ONLY at burgers and after a year of that, I got a little turned off of burgers), but I do enjoy a mean burger every now and then. HANK Burger (aka Have A Nice Karma Burger) was touted as an amazing place to eat at from a bunch of people on Instagram, so we ended up there first. Eddie really enjoyed them, and he's a big burger guy. They were meaty, satisfying, full of fresh and tangy flavours, and there were lots of options. They also have a house-made cashew cheese that Eddie said was really good, but I couldn't have any because I didn't feel like starting my trip with a swollen tongue and hives all over. I think I made a good choice.
We had coleslaw and potato wedges as sides, which were both really tasty. They also had ketchup, Dijon mustard, and vegan mayo dispensers, which were super cool. Eddie prefers American-style yellow mustard and kind of hates Dijon, but I'm a big fan of Dijon, and when in Rome…er France…right?
Hank Burger
55 Rue des Archives,
75003 Paris, France
+33 972 44 03 99
Vegan with some GF and nut free options
Price: $$
Rating: 8/10
TL;DR: A mean burger with some delicious potato wedges.
If you come to Paris, you MUST have a croissant. Of course, it must be vegan, and the only ones available without having to order ahead are from VG Patisserie. And WHOOAA baby they are incredible. They make their croissants with Viennese bread dough, aka weinerbrød, aka the base of TRUE authentic Danish pastry. It's 27 layers of vegan, buttery goodness, crisp, flaky outer layers and tender, oh-so-chewy centre–especially hot out of the oven. Holy moly. If you watch my vlog, you can just hear the crunch and it is pure perfection. Their other baked goods are incredible as well, so if you love some traditional French pastry, the mastermind baker being VG seriously will wow you. She even has a cookbook for you if you want to make them at home. I probably should have bought one while I was there, but I was far too distracted by the delicious pastry. I got an incredible lime meringue tart that had this wee little lemon verbena leaf on it that was seriously so delicious and complemented the bright lime goodness in the tart so well. Be warned, their tart bases are very sturdy. Not really a fork + knife sort of situation (or spoon since that's what they served with it), it's much more of a pick-it-up-and-take-a-bite sort of situation. SO delicious. We went twice because it was so good. We ate a total of 10 pastries in 2 days, not including Eddie's strawberry almond cake thing and my tart.
VG Patisserie
123 Boulevard Voltaire,
75011 Paris, France
+33 9 67 80 13 42
Vegan, a few GF options, nut-free but stored in the same fridge so not really nut-free if you're anaphylactic.
Price: $$
Rating: 10/10
TL;DR: Sells out fast because they're so good.
JUST LOOK AT THOSE GOLDEN LAYERS.
The one actual sit-down restaurant we visited was Le Potager du Marais. It's a quaint and cozy little place, not very casual, but not super former either. It's a romantic date night, or simply a nice place to enjoy a meal with someone. Eddie and I went there for lunch and we ate far too much food, but it was a really lovely experience. I really wanted to eat real French cuisine, so I ordered Onion Soup, Vegan Beef Bourguignon, and Eddie ordered a Quinoa Burger (which he did not expect would be sans-bun). The onion soup was incredible and the cheese was so unique and flavourful, I really couldn't get enough. Eddie quite enjoyed his quinoa burger, despite it not really being a burger but more of a patty, and I enjoyed my vegan beef bourguignon but I'll admit, it was cold when I got it and it was a little over-seasoned. The texture of the seitan was kind of odd. It was sort of rubbery and fell apart in my mouth kind of weird, BUT it was very reminiscent of meat in both texture and flavour. I'll admit though, it reminded me -why- I don't enjoy eating meat. But you can tell everything is prepared by hand and with attention to detail (aside from the fact that my meal was cold) and the service was really impeccable. The server was very kind, had very beautiful French (it was honestly so lovely to listen to), and the restaurant itself is very cute. I would come back for that onion soup alone. It was really good.
Le Potager du Marais
24 Rue Rambeau,
75993 Paris, France
+33 1 57 40 98 57
Vegan, lots of nut-free options, some GF options
Price: $$$
Rating: 7/10
TL;DR: Pretty good when you're hangry.
Amorino Gelato
545 Rue Milton, Montréal, QC H2X 1W5
(514) 287-9337
Vegetarian, some nut-free options
Price: $$
Rating: 7/10
TL;DR: Pretty good when you're hangry.
It's not exactly a restaurant, but gelato is one of the reasons I adore Italy, and knowing how popular ice cream is in the world, I wasn't surprised to see gelato by Place de Vosges when we were in the area. What I was surprised to see was VEGAN labels on certain flavours. There was even an organic, vegan chocolate flavour! Chocolate gelato is probably my favourite because it's so rare that I can find a delicious, deep and chocolatey vegan gelato, but this was GOOD. I also learned that Amorino is an international chain, so if you have an Amorino near you, it's very likely that you'll find vegan flavours to enjoy! When I looked at the nutritional info on the side of the shop, it said there were eggs in the ice cream cones, so I didn't get those, but I've seen other people post that they're vegan. So maybe it varies depending on the location, but definitely check before ordering.
64 Rue Notre Dame de Nazareth,
75003 Paris, France
+33 1 42 77 49 58
All vegan shop, lots of nut-free and gluten-free items
Price: $$
Rating: 10/10
TL;DR: Since most grocery stores don't have any vegan options, this is where you go to get everything vegan you can think of.
I was blown away by this shop the first time we went here that we came back a second time with a cooler bag to bring back some cheese. There is honestly 3 whole fridges full of vegan cheese, and it's incredible! Cheese from all over, mostly from Germany, because I learned that Germany is vegan haven. I wish we had more time in Paris to eat all the cheese, but alas, we had to travel to London. Luckily we were able to get some cheese in both Paris and London to bring back, but I really wish I could have gotten more!
If you live in Paris or in France, I believe they do deliver so you can order online and get yourself some vegan goodies. There is SO much there, it's amazing. So many soy/seitan products, tons of cheese, VEGAN RAVIOLI!! It was really amazing. A must go even if you're used to LA Vegan options because the selection is incredible.
Places To Go Next Time:
Gentle Gourmet Café, 24 Boulevard de la Bastille, 75012 Paris, France
Brasserie Lola, 99 Rue du Théâtre, 75015 Paris, France
Sol Semilla, 23 Rue des Vinaigriers, 75010 Paris, France
Vegan Folie's, 53 Rue Mouffetard, 75005 Paris, France
Le Tricycle, 51 Rue de Paradis, 75010 Paris, France
Végét'Halles, 41 Rue des Bourdonnais, 75001 Paris, France
So that's all for Paris! There are more vegan restaurants and places I'm sure, if you have any you think I missed, let me know! Leave a comment, send me an email, DM me on Twitter or Instagram, and I'll add them to the list. I definitely want to come back sometime in the future, but for now, I'll have to relive it all by rewatching my vlog. See what we got up to on this rather long vlog capturing the 3 days we spent in Paris.