Nothing like a nice glass of cold, lightly sweetened tea with summery fruits to make your day better. This week is RIDICULOUSLY hot. It feels like I'm back in Vietnam where we had iced sweet green tea every day to try and cool off. That and beer. But that's a different story. In Ottawa, there's this place in the Byward Market called The Tea Store, which obviously sells tea—really good tea—and I had some raspberry rooibos tea. It was DELICIOUS. Once it's sweetened with a little bit of agave nectar, it's perfect.
Upon doing some research to see if I could mix tea bags, I learned a couple things about iced tea. Here are some important things to consider when making iced tea:
Use about 1 bag of tea for every 3 cups of water. If you use less, you'll have really weak tea.
If you want stronger tea, use more tea bags as opposed for steeping longer. If you steep for a long time, the tannins in the tea will come out and it'll make the tea bitter.
Always let the tea cool to room temperature before you stick it in the fridge. If not, it'll become cloudy. Not quite sure why that's bad, but I would imagine I'd be kind of skeptical of cloudy iced tea, wouldn't you?
Use a liquid sweetener, like sugar syrup, agave nectar, or honey, as opposed to sugar granules. When you're sweetening cold tea, liquid sweeteners are always easier to use than solid. I'm trying to cut sugar from my diet where I can, and agave doesn't have that same bitter aftertaste that honey does. I use organic blue agave syrup, by the Wholesome Sweeteners company. You can get it at Loblaws in the organic section (I actually got two of these bottles at Costco).
Like I mentioned in my 
last post
, agave is naturally sweeter than sugar, so you use less of it and it has a lower glycemic index than sugar does, which means less risk of diabeeetes! And just better for your body in general. I learned that not all sugars are organic because some places use animal bone to refine the sugar. Groooooss. =/ (EDIT: I've found out that agave nectar is still quite refined, so I suggest using another liquid sweetener like honey, date syrup or maple syrup instead)
For this, I used two types of tea, peach apricot and mango. You can easily mix up these teas or just use one type of tea with two bags, it's whatever you want! I've already made green tea with lemon, and I've mixed strawberry and raspberry and added a slice of lemon to my glass. Obviously; I love lemons. When you're mixing teas, mix them with each other, black teas with black teas, whites with whites, and of course, herbals are super versatile so feel free to experiment with those.
Something else you can do is make tea and then freeze it into ice cubes, so when you put ice in your tea, it won't get diluted when the ice melts! What I did for a bit of fun (and because Loblaws was selling four 1/2 pints of raspberries for $5. WHAT A STEEEAL), was freeze some raspberries in ice cubes for some lovely surprises when all the ice has melted.
Reminds me of when I made
sangria
with fruit, all the alcohol had seeped into the fruit making them extra special ;)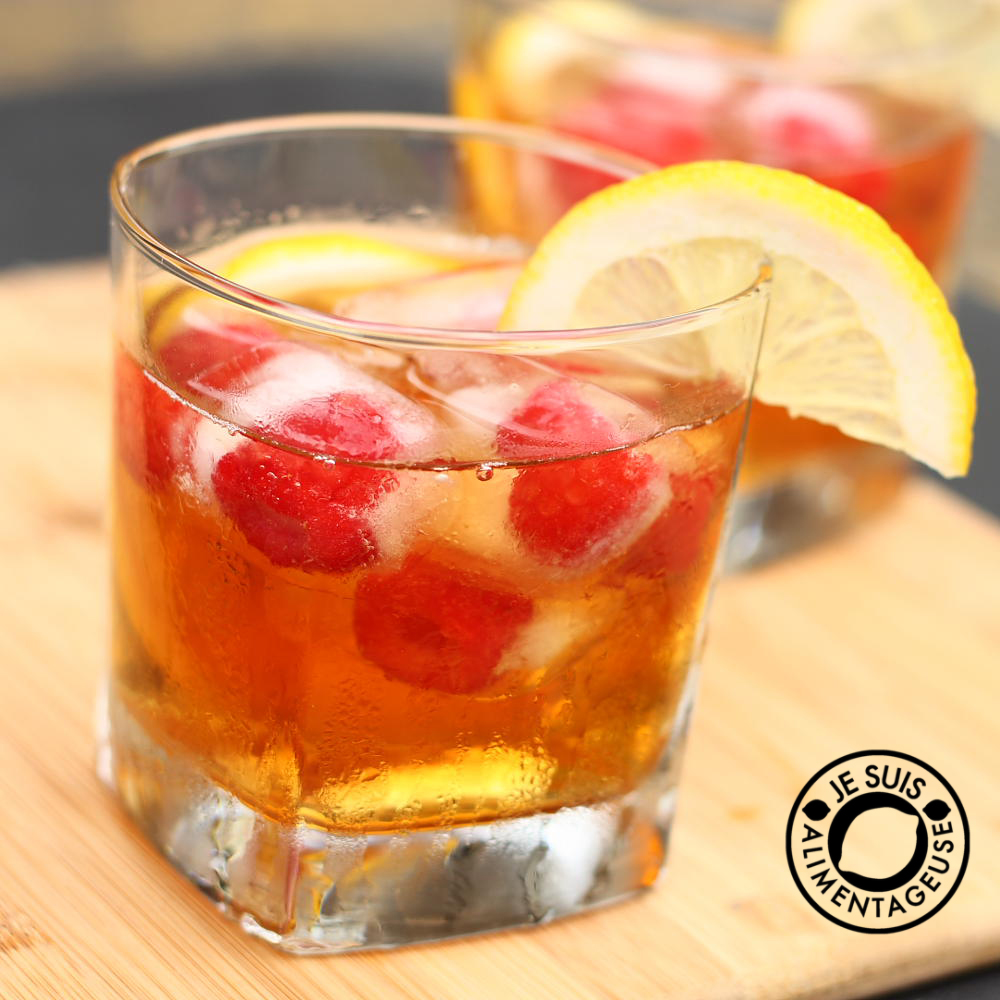 I love how refreshing it looks, with all the condensation rolling down the side of the glass. Delicious.
Peach Apricot Mango Iced Tea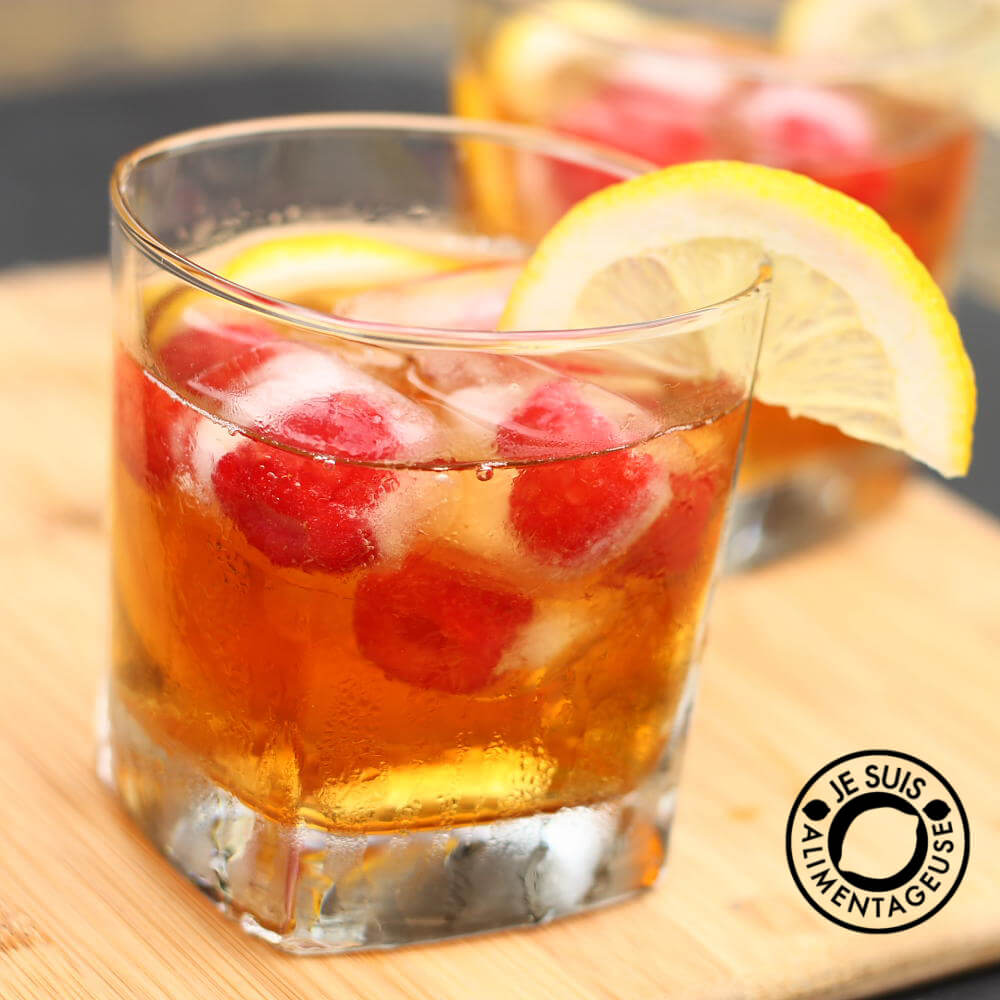 Ingredients
1 L water, boiled
2 tea bags, I used a bag of Peach Apricot and a bag of Mango
2-3 tbsps of liquid sweetener (adjust to your tastes, I just didn't want it super sweet)
slices of fresh lemon (optional)
enough ice cubes to fill however many people's glasses you're using
Instructions
Steep the two teabags in a heat-safe mixing bowl/jug for about 5-7 minutes until you get a nice, deeply brewed tea. I wouldn't leave in the bags for more than 10 minutes.
Let cool to room temperature, then refrigerate or serve immediately over ice
Let people add the amount of sweetener they want to their own glasses, and because of the liquid sweetener, it's easy to incorporate.
Add some lemon slices and drink it on up!
Omnomnom does not apply here. Slurpyderpderp?