Some of you may already know that I'm not the biggest fan of the taste of alcohol. Â But one of my summer goals was to make some sangria, because its fruity and fun. And why the heck not. So when my local grocery store had tons of fruit on sale, I bought some fruit, some wine, cranberry juice, and VOILA. Sangria!
Now, I've had sangria before, sometimes its really wine-y which I'm not a huge fan of, and sometimes it's really juice-y which also makes it tastes kind of empty… So it was my goal to make it just right. =) Plus, I love the taste of sangria-soaked fruit. I dunno what it is, it just makes them better.
When it comes to choosing wine, I am definitely the last person to ask. I suggest asking the people at the winery you're buying the wine from. They generally know what they're talking about. My wine guy suggested a red wine: cabernet sauvignon from California.
Ingredients:
– bottle of cabernet sauvignon (use almost 2/3 of it, but not quite)
– about 1/2 cup orange juice (I just kind of splashed some in)
– 1 tbsp lemon juice (I used the fake stuff)
– Equal amout of cranberry juice as the amount of wine used (JUICE. NOT COCKTAIL.)
– 1 container of raspberries
– Half a pint of strawberries, hulled and halved
Directions:
1. Wash raspberries and prepare the strawberries. Put them in a clean pitcher (I prefer to use a glass one because plastic absorbs)
2. Pour in the wine. (Just use under 2/3 of the normal sized bottle)
3. Add orange juice, and cranberry juice.
4. Squeeze in some fake lemon juiiiice. Yumm.
5. Let this chill in the fridge overnight so the fruit has time to absorb the deliciousness.
6. Enjoy =)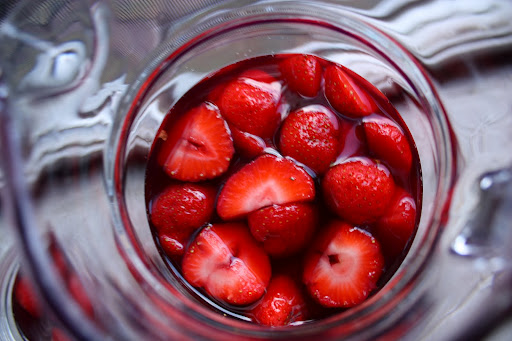 I was told from some good ole friends that this was a really good ratio of wine and cranberry juice. Drink it up in a couple days or else the fruit will go mushy and spoil =) Best enjoyed after an aggressive lady calls or on a patio in the sun =)