This rather bizarre tomato smoothie was a treat that my mom and I would have when I was a kid.
Just try it, it's pretty good.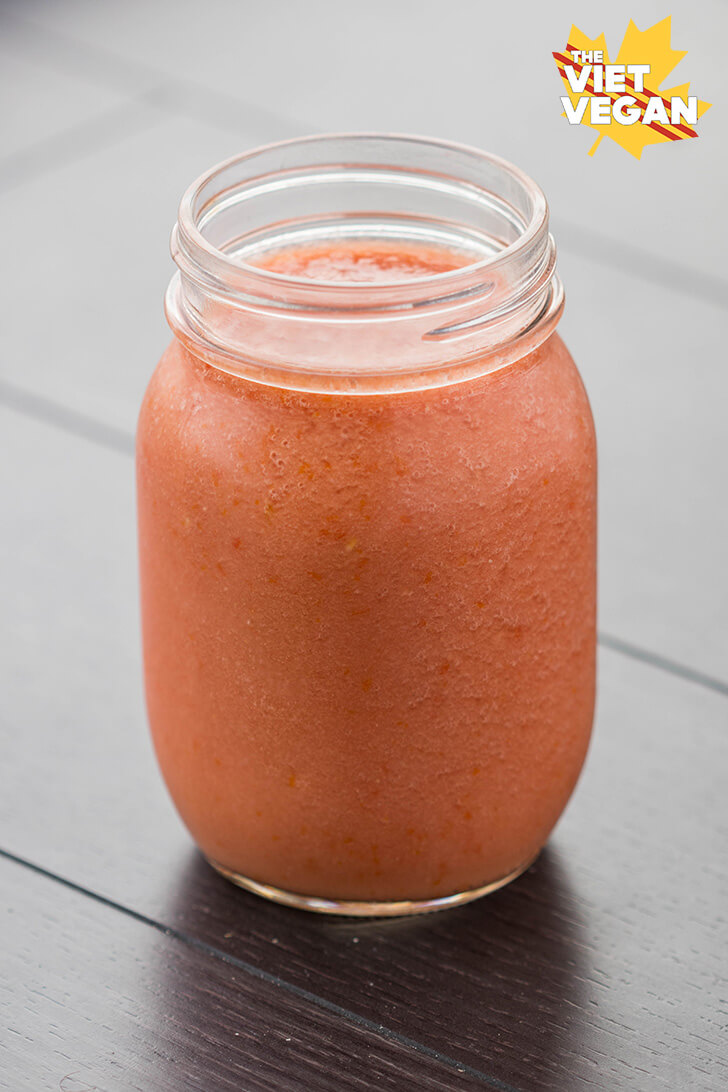 Back to school season is here, and even as an adult who hasn't been in school for a couple years now, it seems odd to not be gearing up for school. University took quite a toll on me—not academically—but more mentally. Or habitually? Or maybe I just developed a lot of personal quirks and anxieties during that time because I never experienced any problems before I went to university.
Graduating elementary school and high school don't seem like daunting feats to me. It's a lot of pandering to the teacher, not a ton of skill required. Then again, I seem to have lived a charmed life when it comes to education. School came easy to me. The smell of books, the feeling of pen gliding across paper, or the satisfying feeling of collecting my books in a stack to fit into my backpack…school has always been a safe place for me. A natural place, if it were.
I think it get it from my mom. She's an accountant, constantly studying for more certifications and qualifications. After a long day of work, an hour commute home, and finally cooking, eating, and cleaning up after dinner, we'd both be at the kitchen table doing homework. For me, it seemed like I was just doing math exercises and phonics, but for her, there were giant binders of papers and exercises, books upon books of the latest tax-related mumbo jumbo. I used to sit across my mom studying while I was doing homework, watching her highlight certain passages, diligently writing in the margins notes about things to remember. She was always so beautiful with her dark hair tucked behind her ears. Her gold-rimmed glasses glimmering in the fluorescent light of our kitchen, while her rings clinked against her mechanical pencil every time she wrote something down.
Once we both had done our fill of homework, it was time for a snack. Sometimes it was something odd like ice cream in between an Italian sub bun or plain, chewy rice wraps rolled up unto themselves. During the summer, once my grandparents had immigrated from Vietnam in 2001, we would have heaps of tomatoes from my grandpa's garden and we'd be scrambling to find ways to use them all up. One time, my mom gave me this red glass of what looked like blended watermelon, but more red.
"What is this?" I asked, hesitantly. Inspecting and giving it a whiff. It smelled summery and sweet.
"Just drink it," she said. Obedient as I was—I took a sip.
My mouth filled with the vibrant flavour of tomatoes, but sweet and creamy, instead of that tangy acidic flavour that tomato soup has. My mom came back to the table with a glass of her own.
"Do you like it?" She asked, sipping her tomato smoothie. Her eyebrows danced, as if she already knew the answer.
A hesitant nod, and I went for another gulp. A few minutes later, our glasses were empty, our bellies full of sweet garden tomatoes, and we cleared the kitchen table of our books, pens, highlighters and calculators. I don't remember a lot about my childhood anymore, but I don't think I'll ever forget the sight of my mom studying. She still does it today—but now instead of giant stacks of textbooks, she seems to have an iPad with all of the PDFs stored on there. But even now, she has her highlighter, pencil, and giant binder of printouts and I still hear her rings clink against the barrel with each stroke of the pencil.


Ingredients
4-5 medium, ripe, vine tomatoes
2 - 3 tsp of sugar (to taste)
1/3 cup ice
Instructions
In a blender, combine tomatoes and sugar and blend. You can either blend the ice with it, or serve the smoothie over the ice. Up to you!