This vegan chickpea tuna casserole is a really great way to get veggies, protein, and tasty pasta all in one comforting dish!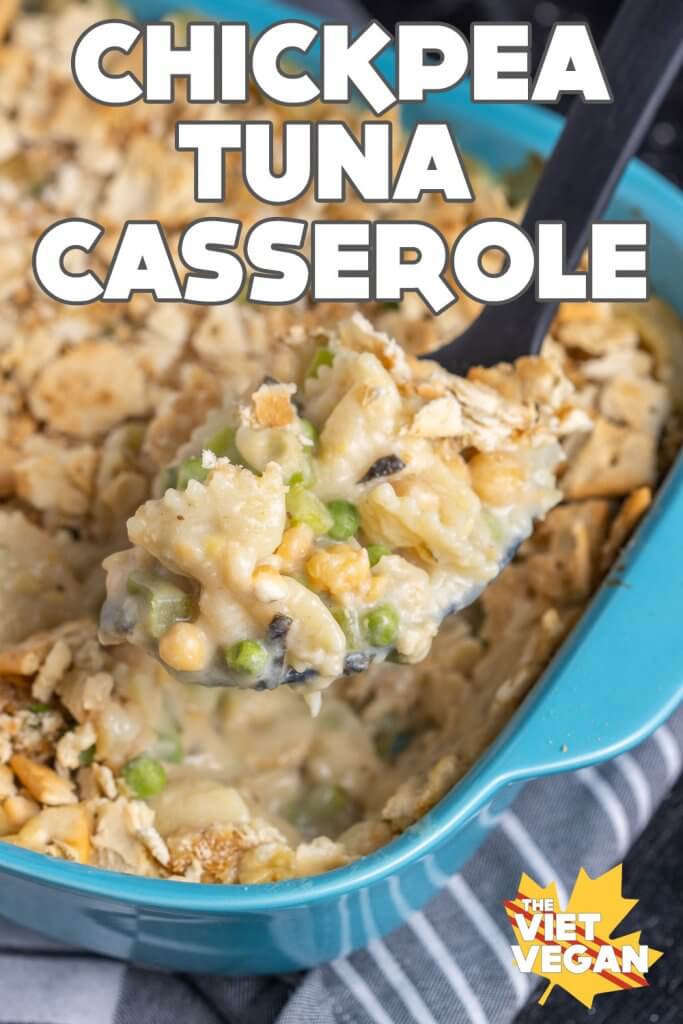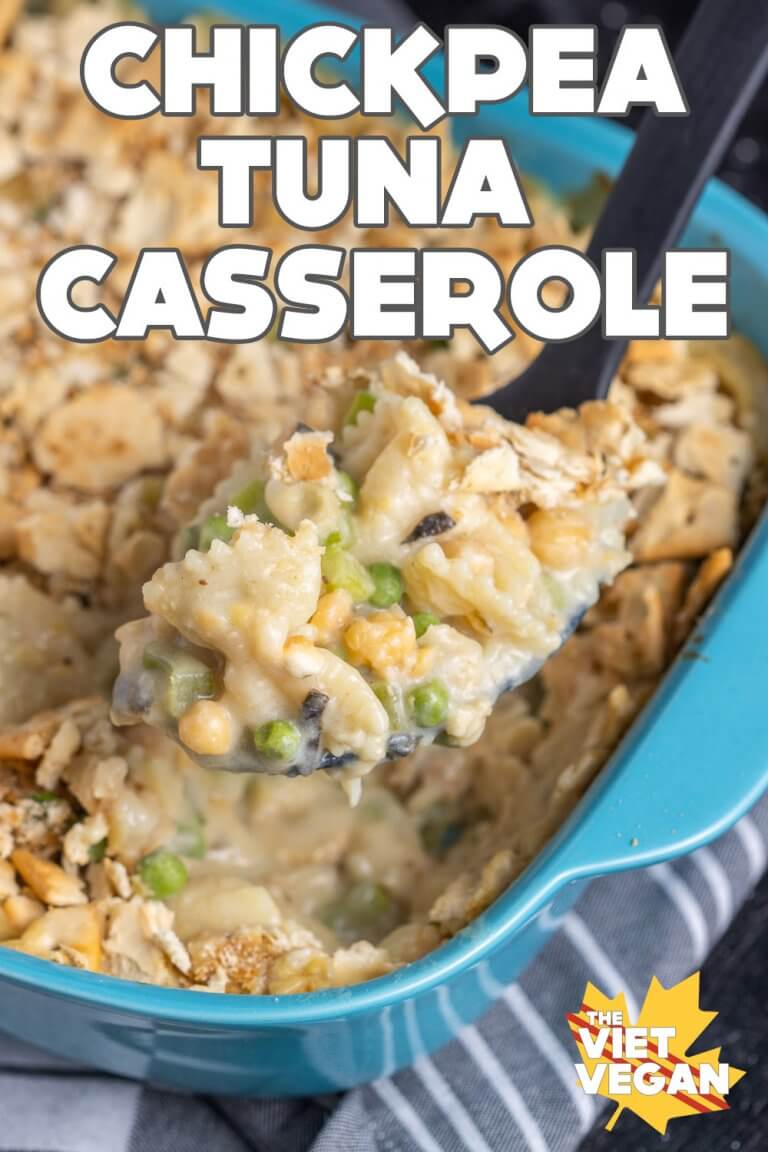 Things have been a little all over the place lately and I haven't been experimenting with different recipes as much as I'd like, but Eddie asked me to try veganizing tuna casserole for dinner! When I was researching how to make the dish, I found this article about the HISTORY of tuna casserole (what a wild world we live in), and it was actually so interesting to read about the development and the evolution of tuna casserole.
The war, food shortages, and changing of gender roles for women to have to cook and maintain the home while also working yielded an influx of easy, dump and bake recipes.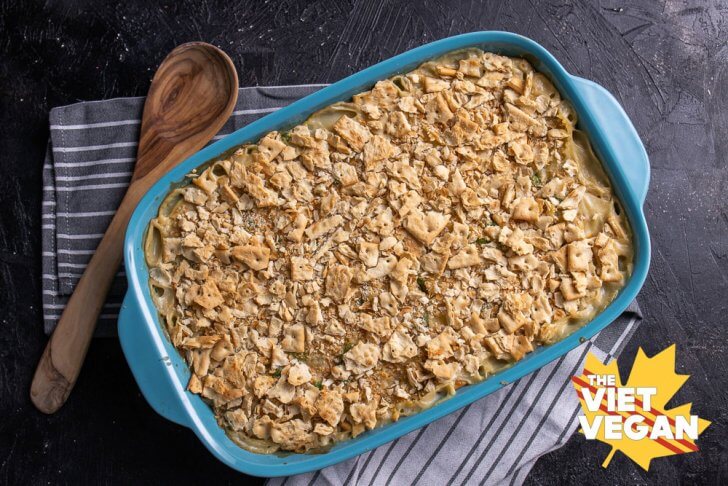 Since the original noodles and tuna fish en casserole started out in the 30s, and then popularized by the one and only M. F. K. Fisher in the 40s, tuna casserole has evolved through American history to become the dish we popularly see being canned tuna, canned condensed soup, and noodles baked with a crunchy topping.
Since there are so many variations to include mushrooms or different toppings like potato chips or saltines, I decided to reverse engineer (since I don't have access to vegan condensed cream soups) and make it similarly to how it was originally made.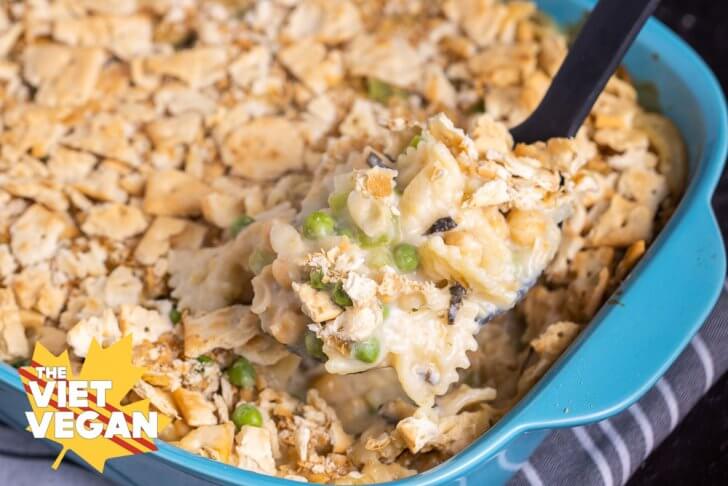 A simple roux sauce is the beginning of this dish, using flour to create a creamy sauce accented with vegan cheese and soy milk. I add a touch of fishy flavour with seaweed to complement the flaked "chickpea tuna", and of course, nutritional yeast to yield that wonderful cheesy flavour, of course without any cheese.
Eddie wanted me to top the crust with crushed saltines but I'll be honest, I preferred the panko crust. We didn't have any plain potato chips to put on top but I have a feeling I'd like that too. There's something just so humble and decadent about this dish, and it is telling of the creativity of the working women who had to take on not only the work of running a home but also a job to support the family.
I hope I did it justice by veganizing it to create this chickpea tuna casserole, but you tell me! I know this is a very near and dear recipe to a lot of you, so I would love to hear how you like it and how you tweak it to fit your nostalgia!
Yield: 4-6 servings
Vegan Chickpea Tuna Casserole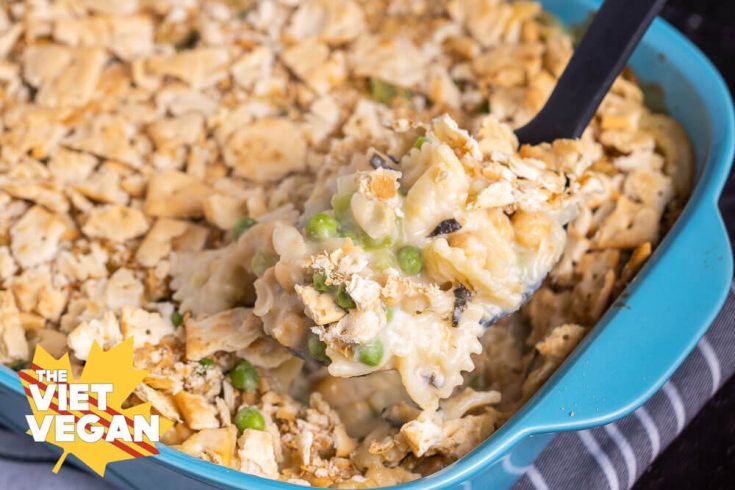 This super nostalgic dish is one of Eddie's childhood favourites: creamy sauce, tender noodles, and a crispy crust for the ultimate comfort meal.
Ingredients
For the casserole
3 cups (280 g/10 oz) bowtie noodles
1 cup (250 mL/150 g) frozen peas
For the Roux
2-3 tbsp vegan butter or neutral flavoured vegetable oil
1 small onion (~100 g/4 oz), diced
2 ribs (90 g/3 oz) celery, diced
1/4 cup (40 g/1.5 oz) all purpose flour (can sub tapioca or cornstarch)
1 1/2 cups (375 mL) broth (or pasta water + bouillon)
1 tbsp (15 mL) mushroom broth powder (you can omit if using seasoned broth or bouillon)
3 tbsp (45 mL) nutritional yeast
1 tsp (5 mL) Old Bay Seasoning (can just add whatever spices/herbs you have if you don't have this)
2 tbsp nori, cut into small slivers
1 cup (100 g/6 oz) vegan cheese
2 cups (500 mL) soy milk (can sub any milk alternative)
1/2 tsp (2.5 mL) kosher salt (you can add more, the sauce needs to be salty enough to carry the pasta)
2 cups (310 g/11 oz) cooked chickpeas
1/2 a sleeve of saltines for the crust (I also like panko crumbs or potato chips!)
Instructions
Preheat your oven to 190C (375F)
Cook your pasta noodles to a fairly firm al-dente, as the noodles will continue to cook when you bake. Blanch your peas when your noodles are al dente, heat through for a couple minutes, then drain and set aside.
In a pot over medium heat, prepare the creamy sauce by melting the butter, then sauteing your diced onion and celery until tender and the onion is translucent.
Add the flour and mix to create the roux. Add a splash of water (or broth) to loosen the mixture and allow the flour to thicken.
Stir in the remaining water, then mix again to incorporate the flour mixture.
Once fully incorporated, add the mushroom broth powder (omit if using broth), nutritional yeast, Old Bay seasoning, nori slivers, and vegan cheese.
Once the cheese has melted down, stir in the soy milk and heat through until thickened.
Taste and season with salt. The sauce should be well seasoned because it has to carry the seasoning for the pasta as well.
Flake your cooked chickpeas with a fork, you can leave some (or all whole) if you like, but flaking adds a bit of that tuna-like texture.
In a 9x13 casserole pan, combine the cooked pasta, peas, chickpeas, and sauce and stir to coat the noodles completely.
Top with crushed saltines, crushed potato chips, or panko crumbs to make a crust, and spread out evenly.
Bake for 30 minutes until bubbling and top of crust is golden brown.
Remove and serve!
Notes
To make this gluten-free, replace the noodles with your favourite gluten-free pasta, and sub out the flour for tapioca starch or cornstarch.