This week on TVV, a new series for the month of VEGANUARY!
#VeganCookbookLove!
Where I cook from my collection of vegan cookbooks
and give some love back to some fantastic vegan authors like Angela Liddon
from Oh She Glows.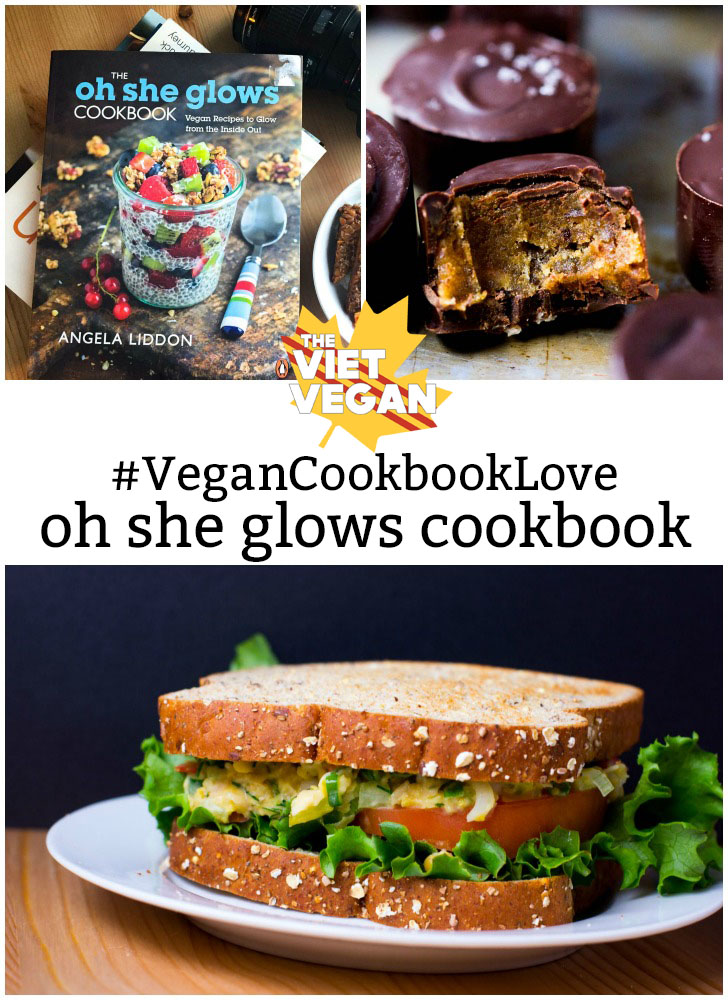 If any of you follow along my Instagram, you'll for sure have seen some of these photos. Obviously the less than stellar photos in this post were taken from my iPhone, while the more of my usual standard photos were taken with my actual DSLR. I've been a little burnt out of my usual noodle recipes and go-to rice dishes so I decided to give back this Veganuary and feature some amazing cookbook authors as I revitalize my palate and kitchen habits with some new recipes.
There are just so many to feature and I've picked four amazing vegan cookbooks to showcase on TVV this month (don't worry, there'll be recipe posts this month as well). It's been about week of me experimenting from different recipe books and it's been so fun! I think I'll make this a recurring project for TVV because I own a ton of vegan cookbooks and I almost never use them because I'm too busy developing recipes. It's silly, because I absolutely love cookbooks. I love the drool-worthy photos, the various anecdotes peppered in from the author, and the unique approaches everyone takes towards veganism.
For example, Angela Liddon, a fellow GTA'er in Canada has an amazing simple, and accessible approach for vegan food. For those outside of the bubble, GTA stands for Greater Toronto Area, which is basically an hour's drive radius around Toronto because living in the city is both amazing and awful while also being ridiculously expensive. All of the ingredients that Angela uses in her recipes are easily available at your local grocer or health food store. I was surprised that I had almost all the ingredients for the majority of the recipes, I only had to run to the store to get a bunch of celery or a lone pepper that I spread out between a few different recipes. Vegan kitchen staples like tempeh, tofu, tamari, maple syrup, lentils—all things already in my pantry. I mean, you might not always have a block of tempeh on hand, but in the GTA, that's pretty easy to come by!
I didn't get a chance to make anything breakfasty from the OSG cookbook, but the savoury oats made with lentils looked very enticing. Much to Burrito Boy's delight, many of these recipes are very Canadian-palate friendly (which I like to call White-People-Food). The recipes that I tried like the lentil walnut loaf, the yolos, and the chickpea salad sandwiches Canadian favourites that Burrito Boy was familiar with. Their flavour not too loud, texture wasn't too weird, and the method of enjoyment not too far out of his comfort zone. BB is a pretty easy-going guy when it comes to food, but I think he was pleased with the decrease of Asian dishes we were eating on the regular.
The lentil walnut loaf was by and large pretty good. I give it a 6.5/10. Texturally, it was pretty good. Once you let it cool down or rest, it stays together quite nicely. Fresh out of the oven, it doesn't stick together so well. I think next time I'll add some more spices (more garlic powder, maybe some paprika, and maybe a kick of gochujang in the mix while I'm add it), but the glaze on top was pretty good. BB really enjoyed it because it had that sweet-savoury kind of tang.
The cookie dough bites were surprisingly very good. I'm allergic to almonds, so I subbed in Brazil nut meal, and it worked just fine. Not everyone has a high-speed blender to make oat flour, but most people have the personal blenders. To blend my rolled oats into flour, I used the single-cup for my Ninja—which, by the way, is an awful blender, don't bother getting it. The only thing I use the giant motor for is the single cup blender, which is a little disappointing for the amount of counter space it takes. I think I may have been a little too generous with the chocolate chips because it got a little hard for the dough balls to stick together, but I got it to work in the end. 8/10 would eat again.
I also tried the balsamic maple marinated tempeh, which was extremely easy to make and took very little time to prep. I actually quickly whisked together the marinade and tempeh in a container to bring to BB's apartment (where there are few vegan staples at hand) to make for our lunch and it worked out beautifully! I found the twang of the balsamic a little strong for my taste, but BB seemed to enjoy it. He didn't love tempeh that much, but he said he liked the flavour. 7/10 would eat again with some adjustments.
Another thing I tried was the chickpea salad sandwich. Made to mimic a tuna salad or a chicken salad sandwich, this sandwich fulfills the mouthfeel, flavour, and satiation of those childhood classics. I used a pastry knife to "flake" the chickpeas (because I don't have a potato masher), and I was pleasantly surprised that the three green onions the recipe called for didn't overpower the mixture. I did have a bit of onion-breath afterwards, but nothing blatantly potent that a breath mint can't handle. I chopped everything super fine so that you didn't get distinct chunks of various ingredients, so the all-round mixture was tender, crisp, creamy, and crunchy all at the same time. 9/10 will definitely eat again, although I may leave out the peppers for BB's sake (he loves spicy peppers but he does not really care for bell peppers).
This recipe caught my eye at the cringe-inducing title (I believe it was named before the Drake song hit the airwaves though). These "yolos" are vegan versions of Rolos, a childhood favourite of mine. The book simply calls for inch-sized balls to be rolled and dunked in chocolate, but I decided to make them resemble Rolos a bit more and add a bit of spiffy flair by sprinkling the bottoms with fleur de sel, so you get a salted caramel experience. I wish that the recipe didn't use peanut butter to help bind the date caramel together because I found the peanut butter overtake the caramel flavour just a bit, but it was super delicious all the same. Rich, creamy, chocolaty with a hit of salt? Yum. I even brought some down for the very carnivorous concierge who does the night-shift of my building and she was pretty impressed that it was vegan. Booyah!
There are a bunch of other recipes that I want to try but didn't have a chance to make like the garlic-seared tofu and the classic Glo bars. I actually have only seen brown rice syrup at a health food store once before, but I'm pretty sure that since I use maple syrup and regular cane sugar most of the time, I don't pay attention to other sweeteners. Once I get my hands on some brown rice syrup, you bet your yolos I'll be making some Glo bars.
Have you tried any OSG recipes? With her charming writing, beautiful photography, and delicious recipes, she's kind of a legend in the vegan world. Even though I know lots of people who have met her or are friends with her, she still seems to be this elusive vegan goddess enigma that made it big in the vegan blogging world without having to jump through the hoops that any successful blogger has to dive through today.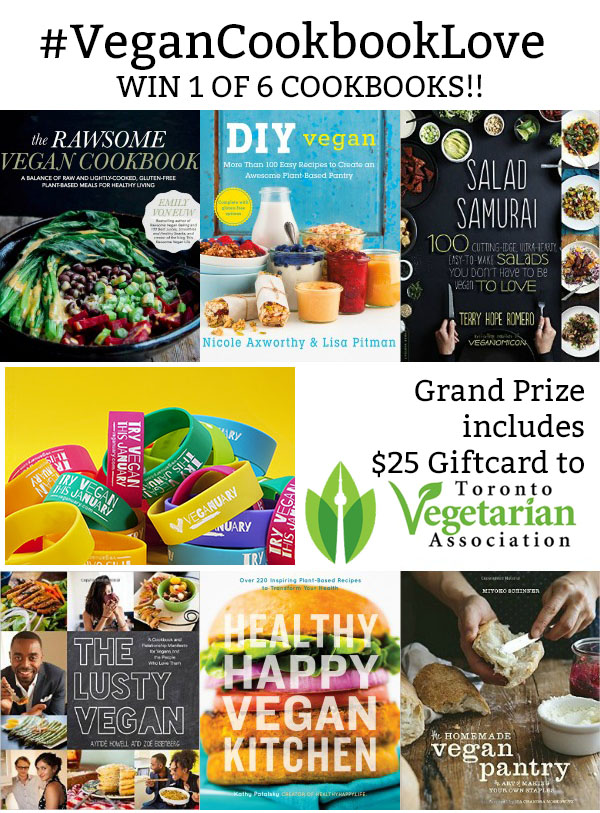 Now for the giveaway I've been teasing since I started this project in December: SO MANY COOKBOOKS! I was so fortunate to have the Toronto Vegetarian Association team up with me and two other bloggers to give away so many awesome vegan cookbooks!
The TVA gave me a copy of The Lusty Vegan, The Homemade Vegan Pantry, and DIY Vegan (by fellow Canadians Nicole Axworthy from A Dash of Compassion and Lisa Pitman from Vegan Culinary Crusade), as well as a $25 gift card you can use at the Resource Centre (where I volunteer twice a month!). There you can find TONS of vegan cookbooks, DVDS, and other books about how to rock on and be plant-based.
Not only that, but Veganuary sent me a TON of awesome wristbands that I'll be adding to each prize for people to show of that they went vegan for January! Share with a friend, show off how awesome you are for eating vegan (even if it's just for a month!), and be rad.
And not to mention, both Emily Von Euw from This Rawsome Vegan Life and Kathy Patalsky from Happy. Healthy. Life. contributed their cookbooks to the prize! Respectively the Rawsome Vegan Cookbook and the Happy Healthy Vegan Kitchen cookbook. And before I forget, Joann from Woman in Real Life also has sweet sweet connections and scored us a copy of Salad Samurai for the giveaway as well.
How it all Vegan with Woman in Real Life (plus Joann is hosting a giveaway for How it all Vegan for both U.S. and Canadian residents on her blog!)
Greens 24/7 with infinebalance blog
Basically, its a big ol' giveaway bonanza with a ton of prizes for my fellow Canadians (including Quebec!!). Sorry Americans, I can't afford to ship 6 cookbooks south of the border right now, but if you hop over to Joann's blog, both my US friends and Canadian friends can win a copy of Salad Samurai.
Last but not least, cook along with us and use the #VeganCookbookLove hashtag on Instagram! Tag the vegan cookbook authors and give some love to those hardworking recipe developers. Sometimes I forget how hard it is to write a cookbook. One day, my own cookbook will be alongside these fantastic cookbooks, but in the meantime, let's get cookin!
Disclaimer: this post contains affiliate links. Clicking on them doesn't affect your experience or price for purchase, but I get a small commission if you purchase anything using the links in my post. They're linked to the US Amazon though, be a darling and click here
 if you're Canadian using Amazon. Thanks for supporting TVV and helping me fund my passion!