Chocolate covered strawberry popsicles are perfect for a summer treat!
Chocolate covered strawberries are probably my favourite dessert ever. I always forget how much I love them until the option of having them for dessert presents itself, I want nothing more. I love the juicy pop of strawberry and the snap of dark chocolate as as I take a bite. Back in my undergrad, I used to work for Edible Arrangements and I was primarily their chocolate dipper and I thought I'd get sick of them by now, but if anything, it's made me love them more.
I've dipped thousands and thousands of strawberries by now, and I fall in love with each perfect swirl from the tail of drizzled chocolate that's twirled around the berry. I love the look of them in a box in mini cupcake or candy wrappers, with that smooth chocolate sheen they get with good, tempered chocolate (BTW above, not properly tempered chocolate but I'm over it).
Yield: 8 popsicles, depending on the size of your mould.
Chocolate Covered Strawberry Popsicles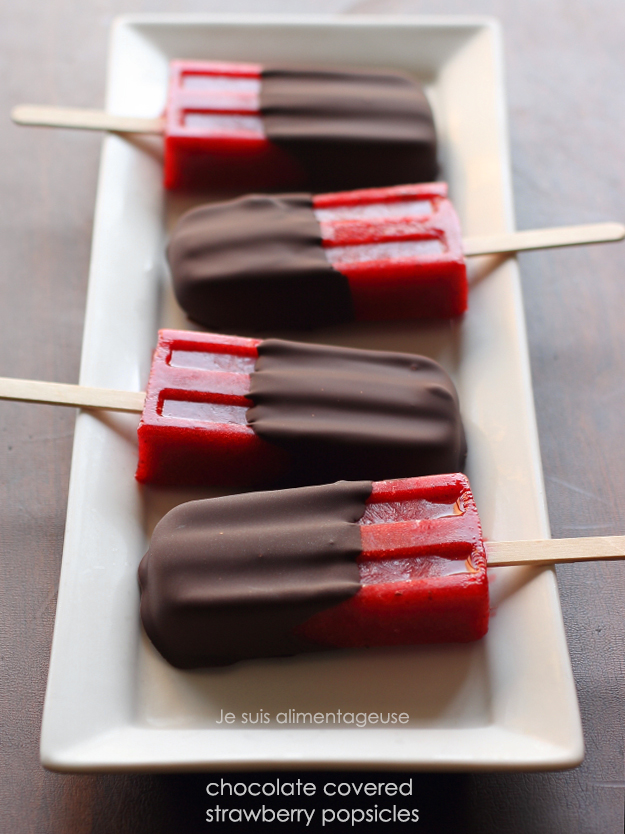 Ingredients
6 cups strawberries, washed and hulled
3 tbsp lemon juice
1/4 cup agave nectar, maple syrup, or sugar syrup (adjust according to how ripe your strawberries are. The mixture should taste a little sweeter than you would normally like because it'll contrast better with dark chocolate that way)
1/2 cup semisweet chocolate (dairy-free to keep it vegan)
1 tsp coconut oil
Instructions
Use a blender to purée the strawberries, lemon juice, and your choice of sweetener. Divide among popsicle moulds and freeze (mine took about 4 hours).
To make the chocolate coating, use a short and narrow glass that is wide enough for you to dip in your popsicles. If the glass is too wide and you'll have to spend time dunking both sides of the popsicle in and you may drop some melted strawberry purée in and cause the chocolate to seize. Microwave for about 30 seconds, stir well, then another 15 seconds (the chocolate chips may not look melted yet). Stir until chips are fully melted and let the chocolate cool until it's just barely warm, stirring occasionally.
Release the popsicles from the mould and work quickly to dip them all in the chocolate before they start to melt. You may want to keep half of them in the freezer while you work with the first half to be safe.
Dip them in the chocolate, shake off a little but of the excess, and place on a lined sheet. Pop them back in the freezer to set the chocolate. Enjoy!
If you're not going to eat these within the next couple days, store them in an airtight container and separate the popsicles with parchment paper. This prevents them from freezer burn from sticking together.