Vegetable broth is the base of any great soup, and slow cooker vegetable broth is extra flavourful and cheap!
Most people don't understand my irrational love for soup. Actually though, soup is my favourite form of food. I love eating food out of bowls with the perfect sized spoon, with different textures and flavours, whatever I know it's weird.
But a really good broth is the fundamental foundation of any good soup. That's why Vietnamese Pho is so good: it's not about the cut of the meats, the noodles, or what other veggies you put in there, it's all about the broth. Soup made with plain water won't have the depth of flavour that a soup made with excellent broth will. I've made litres upon litres of vegetable broth in my lifetime (it's kind of necessary given my love of homemade soup) and I usually have less of a recipe than a general practice.
Basically you shove a bunch of root vegetables, an onion, some garlic, bay leaves and some herbs in a pot, cover with water, and boil for however long it takes for the water to taste like the vegetables. Sometimes what I'll do is when I'm peeling carrots for a snack or for stir fry, I'll freeze the carrot peels until I accumulate enough veggie scraps to make a broth. Onion peel is super flavourful in broth, as is celery root, fennel, fresh herbs, potato peels, or even squash peels. Sometimes I like to throw an apple in for sweetness if I'm low on carrots, or I throw some peach pits in there for some summery flavour.
It's so cheap, you can make a huge batch all at once (especially if you have a giant pot) and then freeze it for later use. You could also boil it down to make a concentrated amount of broth to dilute later on to save space. But the easiest thing to do before I go to bed is toss a bunch of veggies in the slow cooker, put on low, and wake up to fresh, flavourful broth in the morning.
Yield: 10 cups
Slow Cooker Vegetable Broth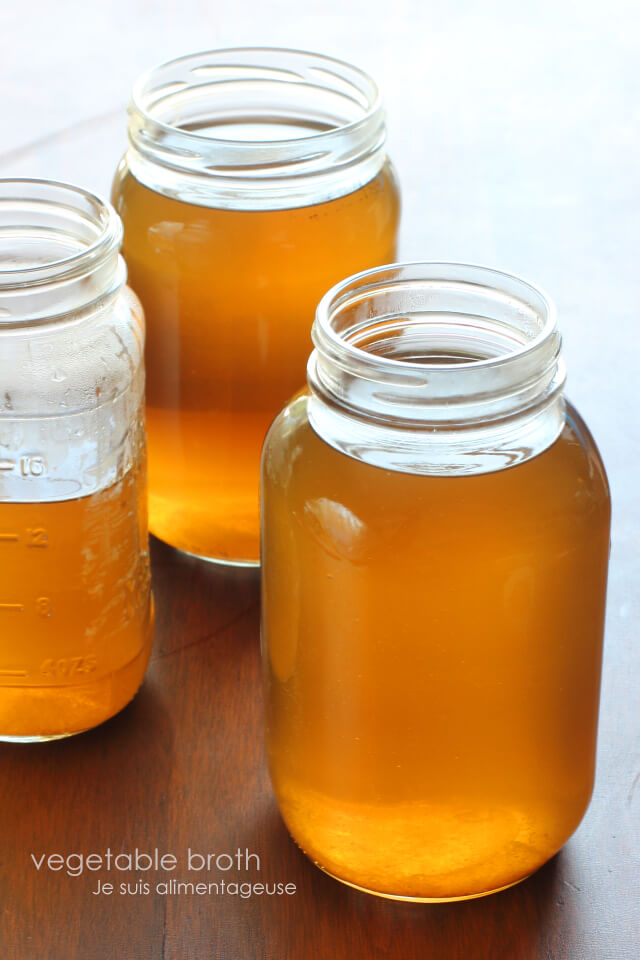 Ingredients
10 cups (2.5 L) water
5-6 carrots, cleaned and roughly chopped into 2-3 inch chunks
1 onion, washed well, halved (keep peel and cleaned root in tact)
4-5 stalks celery, washed well and chopped into 2-3 inch chunks
4-5 cloves garlic, cleaned, skin still in tact
3 dried bay leaves
4-5 dried shiitake mushrooms (buy a big bag of them at the Chinese market for about $4-5)
1 tsp dried oregano
1 tsp dried rosemary
1 tsp dried thyme
(or sprigs of fresh thyme, rosemary, and oregano tied together or put in an herb bag)
Optional: any other flavourful harder veggies you have like potato (even peeled potato skins), rutabaga, jicama, fennel, parsley, etc. The more veggies there are, the more flavour.
Instructions
Place all ingredients in a slow cooker and set on low for 6-8 hours. Pour through a fine-mesh metal sieve (you could also add a cheesecloth to make sure you get out all of the herb bits and other grit). Store in sterilized jars or containers in the fridge for up to 1 week.
Notes
Alternatively, you can do this on the stove for about 1-2 hours: bring ingredients to a boil then cover and lower to a simmer. However, even with a lid, a lot of the liquid will boil off and you'll make less broth than you would in a slow cooker (unless you have a massive pot, which I do not).