I can't believe I'm back in Canada. It's almost as if I never left, but also at the same time, I'm missing the presence of two brilliant Brazilian women. I mentioned in my last post that Thaicia made this amazing tea that helped me get better in no time. I hate taking medicine and avoid it whenever possible, so when the time arises when I need cold/flu medicine or ibuprofen, I always try to use alternative medicines to make me feel better.
My philosophy is that there's a reason why I'm getting a headache or sick, so I try to logically "cure" whatever ailments I have naturally. Headache because I didn't sleep enough or dehydrated? Go to bed earlier and drink some water. Sick from certain foods I ate? Dilute my system with water and have some gingerale.
If and when I take a pill, it's because I'm in dire need of immediate relief or I'm just so sick that it's time for desperate measures. Luckily for me, whatever sickness I have right now is mostly in the throat/nose/sinus region, so lots of fluids, rest, and this magical concoction, and I'm good to go.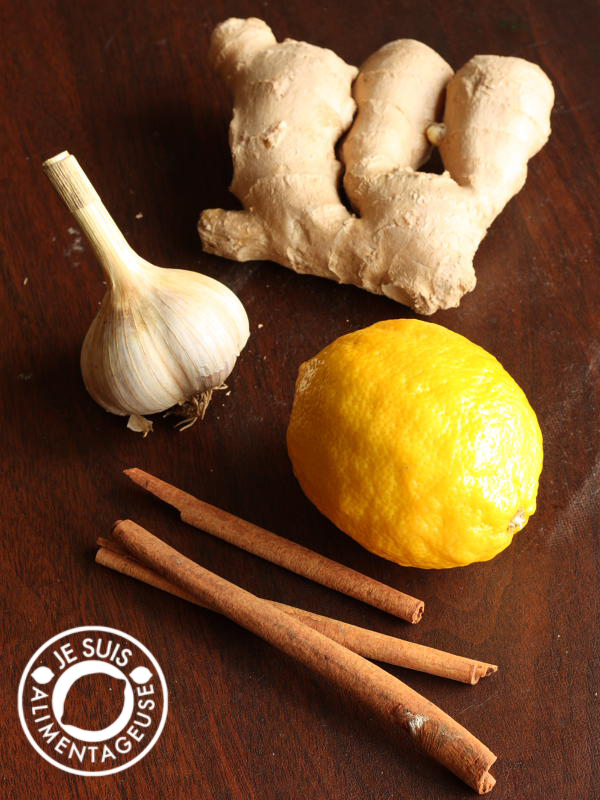 These are the gist of the ingredients that are required for Thaicia's traditional cold remedy. The only thing not depicted is honey, because my jar was almost empty and didn't look nice. Ginger for soothing the throat, garlic for the immune system, lemon for vitamin C and boosting immune system, cinnamon for both deflammatory and immune system needs, honey for its antibacterial properties and for soothing the throat.
Boiling the ginger, garlic, and cinnamon together gives you an infused tea that is then mixed with lemon juice and honey for a soothing, remedial tea. And it tastes delicious.

Each batch makes just under 2 cups of tea, and I recommend drinking all of it combined with staying warm and drinking water throughout the day. When Thaicia made it, she made a litre of it and gave everyone a cup, but she also made extra big batches for us when we needed more than one cup. Also, if you feel extremely sick, don't be afraid to increase the amount of ingredients for a more concentrated brew. It'll be really strong to taste, but hey, it works.
As for my lovely vegans out there who do not consume honey, I recommend agave nectar or even maple syrup, or even just leaving it out completely. It will definitely taste a bit more medicinal, but as Mary Poppins says, "A spoonful of sugar helps the medicine go down." Honey also has anti-bacterial properties that other substitutes may lack, but it's up to you.
Personally I love me a little local raw honey. I recommend steering clear of commercialized honeys that have been stripped of honey's beautiful properties. Local and raw is how I like it. Better for you, better for the smaller apiaries, and better for the bees!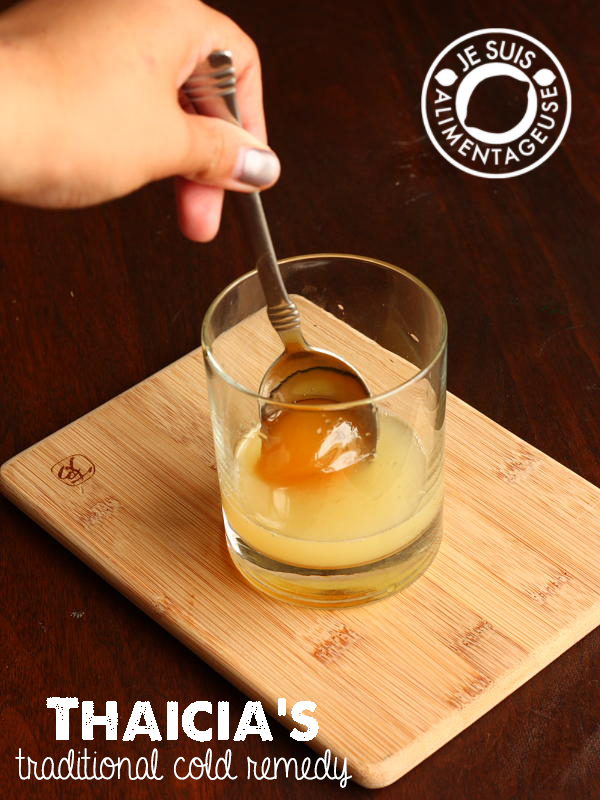 If you have any other ideas for a traditional cold remedy, I would love to hear them! As someone who hates using pharmaceuticals, I'm all ears when it comes to natural remedies that work =)
Yield: 2 servings
Thaicia's Ginger Tea Cold Remedy
A cold remedy taught by traditional healers to my friend Thaicia. It's filled with great ingredients with healing properties for those who don't want to use Western medicines to relieve a cold.
Ingredients
2 inches of ginger, sliced thinly (transverse/diagonal slices)
1 tsp ground cinnamon or 3 cinnamon sticks
3-6 garlic cloves, sliced thinly transverse/diagonal slices
2 cups water
2 lemons, juiced (juice of 1 lemon per serving)
2 heaping tbsp of raw honey (1 tbsp per serving)
Optional: 1 scant tsp propolis (if you use propolis, make sure you wash your utensils and cups immediately because it can stain)
Instructions
In a kettle or a covered pot, boil ginger, cinnamon (or cinnamon sticks), and sliced garlic for about 15 minutes.
In the cups, stir together the lemon juice and raw honey until the honey has dissolved.
Pour 1 cup of the boiled ginger and garlic (don't eat the ginger/garlic stuff unless you reaaaally want to get better) into the two cups full of lemon and honey.
If you are using propolis add a scant 1/2 tsp to each cup and stir quickly. Drink immediately and wash the cup as soon as possible because the propolis will stain the cup.
Drink both servings if you're really sick. Rest well, keep hydrated and stay warm, and you'll get better in no time =)