This vegan beefy seitan roast is easy but a little labour intensive…
it's totally worth the hassle.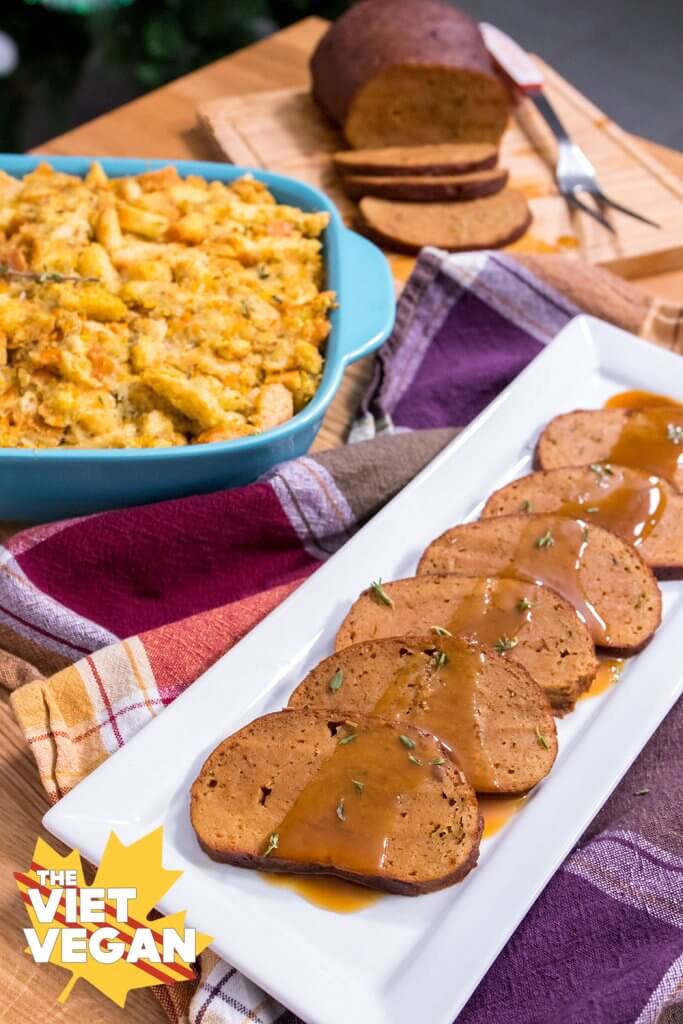 This super delicious yet totally vegan, beefy seitan roast is my new go-to for the holidays! Tender, chewy, savoury with tons of flavour, this badboy has been tried and tested on my Thanksgiving spread and was received with gusto and enthusiasm! I had always been intimidated by seitan, but after getting to know this one particular recipe from Seitan and Beyond (affiliate link), I started to get more comfortable with playing around with seitan. I still have yet to try some others that use beans or chickpea flour, or perfect my blended tofu + gluten roast, but I'm happy to report that this one has been pretty foolproof!
The thing with seitan is that the longer you cook it, the chewier it gets. Cook it for too long though, you'll reach a point where you're chewing rubber. Don't go that far. I cooked mine for 45 minutes in the oven, then about an hour on the stove (I've also done it for 45 minutes and it turned out just fine), and it came out to this tender, chewy, but not overly so, roast that slices like meat. It fulfills that savoury craving, that triumphant feeling of cooking your first complicated entree for a family feast. That Ah ha! moment when you realize that cooking for eight isn't as hard or stressful as you thought it might be.
At least, for me it wasn't. For some that might sound rather awful but cooking for friends and family gives me this unexpected high that keeps me coming back for more. A little jolt that goes down to my toes that reminds me that I have purpose. Is that sad? That I find purpose in feeding my friends and family? It seems so basic and rudimentary, but it fills me with satisfaction all the same.
If you're more of a visual learner, check out how I made this recipe (and got a little more disheveled with each hour that passed) from my YouTube video:

Happy holidays and stay tuned for my super simple and easy stuffing recipe :)
Recipe adapted from Chef Skye Michael Conroy's Seitan and Beyond (affiliate link)