These blueberry popsicles are creamy and cool,
perfect for these swimmingly humid summer days.
I'm about halfway through the gigantic stash of blueberries my mom gave me last weekend, and I've frozen the other half so I may give you folks a break from blueberry recipes for the time being. There are plenty of other blueberry recipes I want to try: blueberry crumble, blueberry pie, lemon-glazed blueberry filled donuts… All these blueberries have made me realize how much of myself I pour into each creation I churn out in the kitchen. When I felt numb and out of control, I had no desire to be anywhere near food. But once I started to feel again, I felt this pull to my happy place. My kitchen helps me simmer my emotions and cook out the confusion and pain.

A conversation with an old friend of mine threw me through a loop the other day. He doesn't read my blog, so I was catching him up on all the happenings in my life. He has a good idea of who I am because we grew up together, and in particular, he knows how I react to heartbreak. And as much as I hate to admit it, he's right about a lot of things about me. Until he said that I am emotional.
When he first said it, I immediately reacted negatively.
"I don't think I like that," I said, pulling back from the conversation. It didn't take long for the conversation to die off as I felt the urge to log off and ruminate about the conversation.
What does that mean? Emotional?

I've always lauded myself as a rational and down-to-earth person.
I thought, How could I be emotional if I'm always so rational about the things in my life? 
But I realized (at least I hope) that I was confusing the term "emotional" with "irrational"…or even "unreasonable". So many people tend to use the word "emotional" to describe someone who reacts to situations purely with their emotions, without any other inclination to reason or forethought. I think everyone at certain points in their lives have moments where they react in that way, but that doesn't mean that they are irrational or unreasonable by any means. At least, not all the time.

In a way, I guess I am indeed an emotional person. I live with my heart on my sleeve, when I fall for someone I fall hard. I am always open to feeling. When I love, I love deeply. When I am happy, I am elated. When I am angry, I am morose. But anyone who knows me will tell you that I pick apart my emotions to understand why I feel the way I feel.
Does that make me emotional? What does it mean to be emotional?
Recipe adapted from The Little Epicurean

Yield: 10
Vegan Blueberry Coconut Popsicles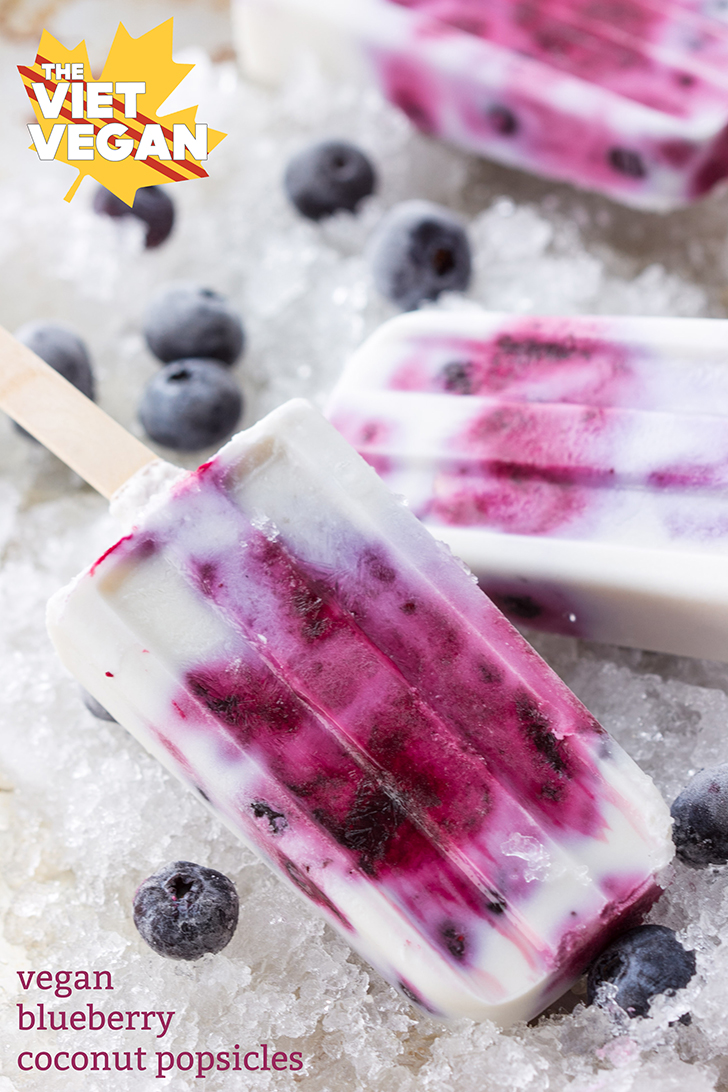 Total Time
8 hours
25 minutes
Ingredients
1 1/2 cups fresh or frozen blueberries
1 1/2 tbsp lemon juice
1 tbsp granulated cane sugar (white granulated sugar works too)
1 can (400 mL) full fat coconut milk
2 tbsp maple syrup
Instructions
In a small pot over medium heat, cook blueberries, lemon juice, and sugar until bubbling and blueberries have started to burst. You'll have a thickened berry sauce. Let cool for about 30 minutes, or speed up the process by putting the pot over an ice bath to cool it down.
Whisk coconut milk and maple syrup until combined.
Prepare the popsicle moulds by pouring them 1/3 full with the coconut mixture. Add 1-2 tablespoons of the blueberry sauce to each popsicle, then top off with the remaining coconut mixture. Divide the remaining blueberry sauce between the rest of the popsicles, then use something thin like a butter knife, chop sticks or popsicle stick to gently stir around the blueberry and coconut together (but not too much, just a bit to blend the layers).
Cover and add popsicle sticks. Let chill in the freezer overnight. Remove and enjoy!