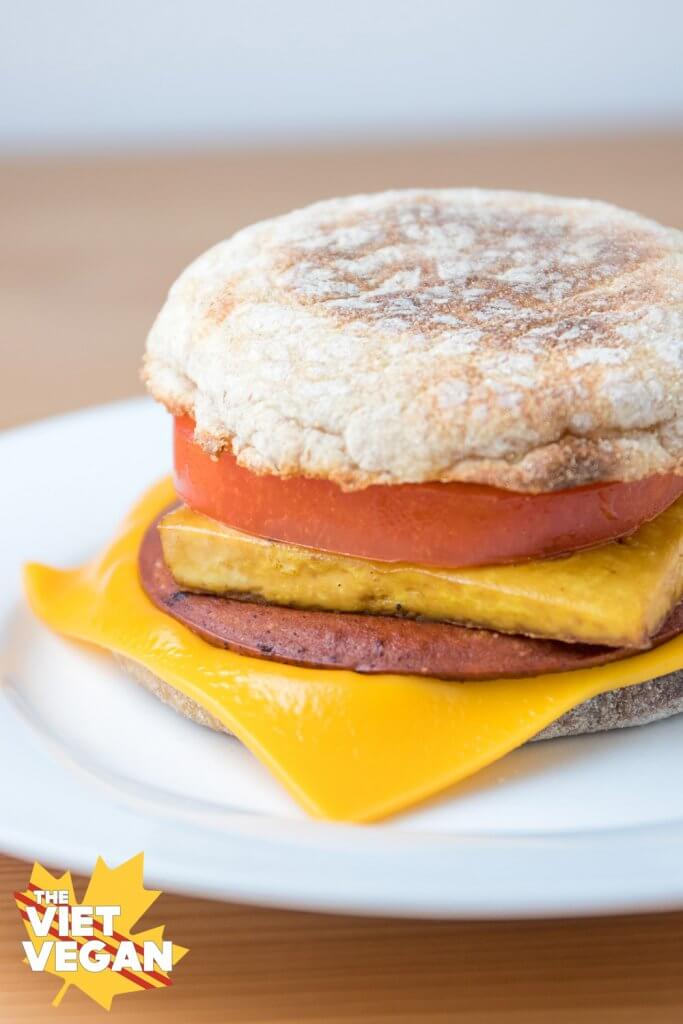 These Vegan Breakfast Tofu Egg Sandwiches are the vegan breakfast sandwiches of your dreams!
Eggy, cheesy, hot and satisfying, just the way I remembered :)

My very first job was at McDonald's, of all places. I never really loved the food, in fact, as a kid, I was slightly traumatized by McDonalds because my dad would force feed me Big Macs because Happy Meals were "not enough food". I remember sniffling and choking back tears as my dad made me eat an entire double decker sandwich with cold fries so I could "grow", when all I really wanted were chicken nuggets and a toy.
How on earth did the marketing team manage to convince parents that McDonald's food was in any way nutritious?
In any case, I clearly don't eat McDonald's now because of their lack of vegan options, but I sure as hell am down to veganize their menu items. I have a mac sauce recipe lying around in my notebook that I've been meaning to share with you guys, but that'll have to wait.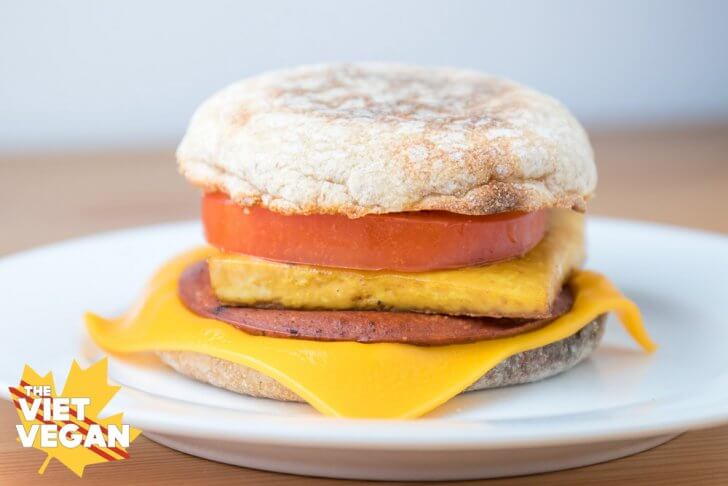 We have egg mcmuffins to veganize.
Working at McDonald's surprisingly enough taught me a lot about work ethic. It taught me that you still get paid the same if you work hard while your coworkers slack off and shoot each other with mayo guns. I learned that the day shift is always a lot more productive than the night shift. I learned that the best time to get fast food is the busiest times, because there is a high turnover and your fries won't have been sitting under a lamp for half an hour.
But most of all, I learned the basics of cooking, funny enough.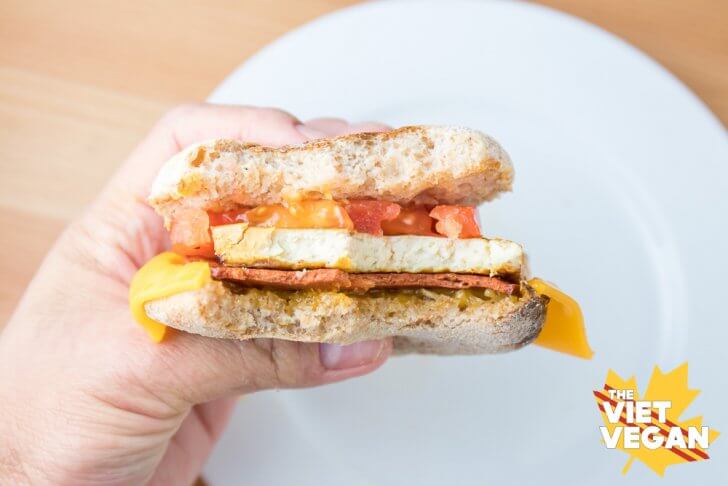 Cooking eggs, flipping burgers, assembling sandwiches so they weren't the dried, sad squares my mom used to make when I was a kid. (Sorry mom, maybe your sandwich skills have improved now but my sandwiches could have benefited from some condiments back in the day). I learned about food safety, internal temperatures, and "the enemies of fries" being water, air, salt and heat (WASH).

Well now I'm just regurgitating the stuff I had to say to new trainees. In the 3 years I spent at McDonald's, I had a lot of fun with some of my coworkers. But the onslaught of awful customers made me realize that being nice goes a long way, especially when it comes to getting spit-free food. (For the record, I never did that, but I definitely saw some of my coworkers do some sketchy stuff to mean customers' food).
There are certain things that will bring me back to memories from my first job: the smell of coffee brewing in the morning, the sizzle of fries being dunked into hot oil, and of course, these breakfast sandwiches.
It's been over 10 years since I worked at McDonald's, but I'll never forget the feeling of sinking my teeth into a freshly made (that I made myself) egg mcmuffin. Soft, pillowy English muffins, weird plastic yet gooey-when-melted cheese, salty butter, tender eggy filling and crisp salty goodness from the bacon. I may be vegan, but that doesn't mean I dislike the taste of breakfast sandwiches. I simply choose not to participate in that cruelty anymore.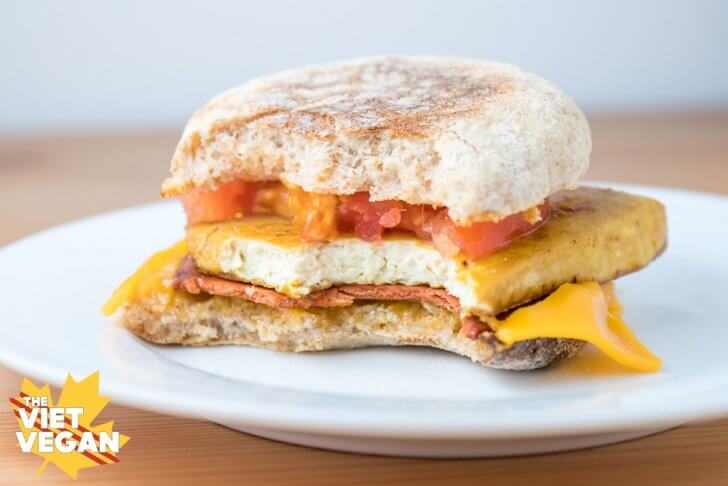 Alas, my friends, I'm here to show you that you can abstain from eating animals and their by-products, and still reminisce in morning breakfast sandwiches, just how you like it. I liked adding tomato for a bite of freshness, and the vegan bacon is a nice touch, but it's up to you, my friends! Tofu adds that eggy bite with black salt delivering that sulfuric egg-like flavour. I get flashbacks of ducking past the customers and hanging out with my coworkers on break when I bite into one of these badboys, and I hope I can bring back some sort of happy memories for you too.
If you're a fan of brinner (aka breakfast for dinner), you might like these recipes from my friends! I teamed up with some awesome vegan YouTubers to bring you 10 vegan brinner recipes and they all look fantastic! Check 'em out and enjoy! I'll link the recipes below, but if you want to watch all the videos, check out this playlist!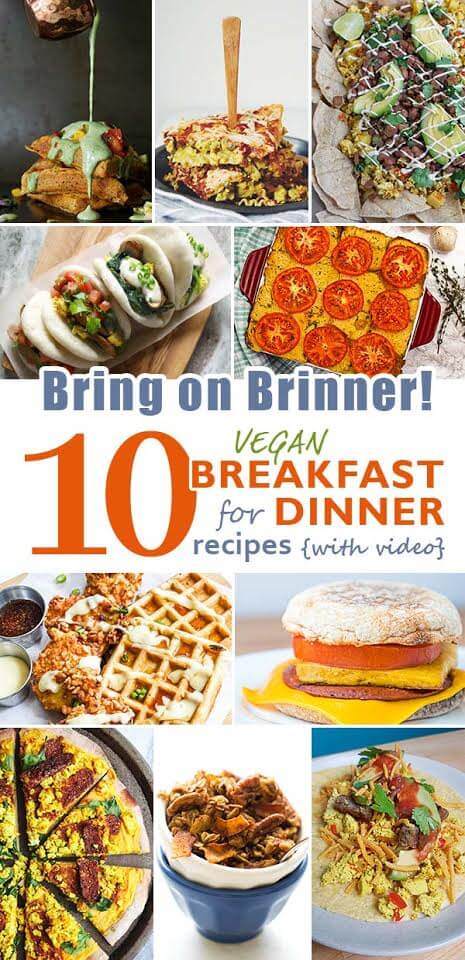 Yield: 4 servings (8 sandwiches)
Vegan Breakfast Tofu Egg Sandwiches
Ingredients
For the "Eggy" tofu:
1/2 tsp black salt (aka kala namak)
1/2 tsp turmeric powder
1 tbsp tamari
1 tbsp nutritional yeast
1/4 cup water
1/2 tsp black pepper (or to taste)
8 slices of firm tofu
1 tbsp grapeseed oil (or oil of choice)
For the sandwiches:
8 English muffins
8 slices of vegan cheese (I used Follow Your Heart Cheddar Slices)
2 vine tomatoes (enough for 8 slices)
Vegan butter for the English muffins
Optional: vegan bacon or sausages (either the processed stuff, or the homemade version with eggplant/mushroom/cassava/coconut etc)
Instructions
Combine black salt, turmeric, tamari, nutritional yeast, water, and black pepper to make the eggy marinade. Add 2 slices of the tofu to the marinade and let sit for about 2-3 minutes before cooking.
Preheat a pan to medium heat. Add oil and your marinated tofu (meanwhile replace the marinated tofu with cut tofu so it can absorb some of that eggy flavour). Cook for 2-3 minutes on each side until browned, while also cooking up the vegan bacon/sausage if using.
Toast your English muffins, then microwave the cheese slices on one half and butter the other half.
Assemble the sandwich by layering the eggy tofu, vegan sausage/bacon, sliced tomato, and the English muffin!
Repeat until all sandwiches are made and enjoyed!