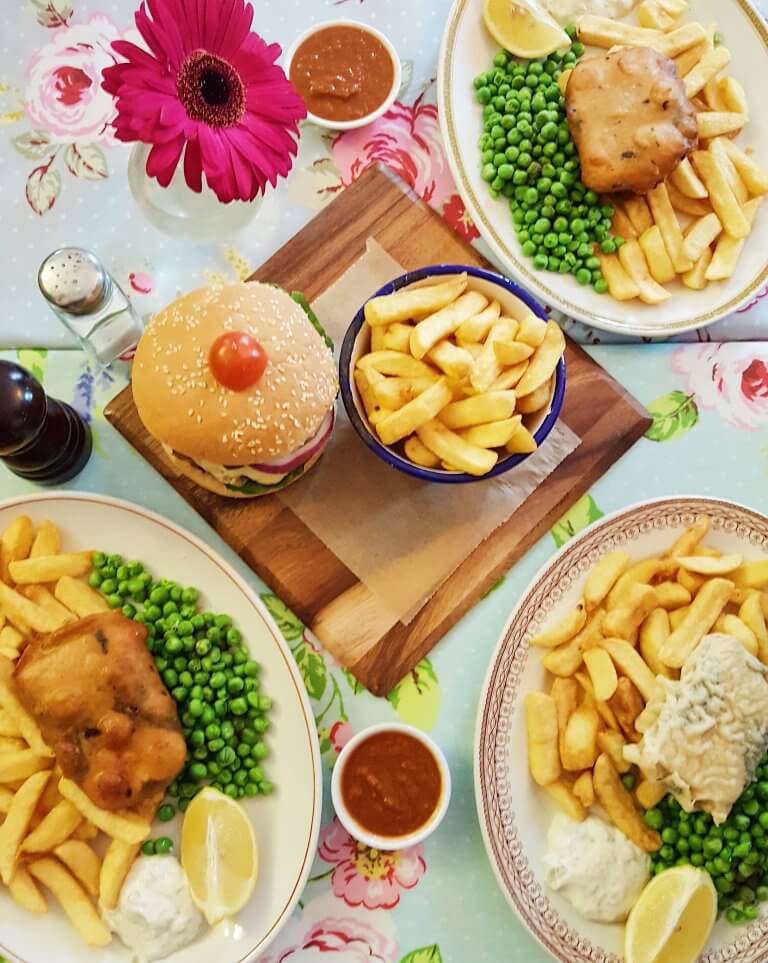 In my last post, I talked about the first leg of my trip in Paris and all the vegan food we tried there. This time around I'm talking about London and all of the incredible vegan options in this gigantic, amazing city. I am not going to lie, I definitely fell in love with London. I liked it before, but I full on am in love with this city now. Not only is there so much delicious vegan food, but the bustling city, the underground, the people and just the whole vibe is just awesome. I love how much more accepting people are of veganism here (so many things labelled vegan!) and how motivated by ethical reasons people are here. It's amazing!
There are also so many incredible places for nerdy people like myself to explore, like Forbidden Planet (a GIGANTIC, amazing nerd/book/board game store), The Doctor Who shop & museum, Harry Potter Studios (which unfortunately we couldn't get tickets for in time) and I'm sure lots more if I did a bit more research. But London is honestly an incredible city that you really must see if you are able. But let's get down to all the vegan options in London, shall we?
129 King's Cross Rd,
King's Cross, London
+44 20 7275 3573
Vegan with some GF and nut free options
Price: $$
Rating: 8/10
TL;DR: Everything was tasty, but not blow-your-mind amazing.
After trying the INCREDIBLE Shojin sushi in LA, I knew I had to give Itadaki Zen a try. The restaurant is really cute and cosy with a tranquil feel. The food is very traditionally Japanese, with some Korean elements too, since they were serving kimbap with the lunch menu as well. The tempura was honestly the best thing we had: it was light, crisp, perfectly salted and the vegetables were fried just until they were tender. We had the udon for lunch which was really yummy and almost refreshing. The sushi was good, very clean and well made, but quite expensive and nothing to write home about honestly. Maybe it's just because I'm comparing it to the flavour bombs that were the sushi selections in LA, but I will say that this sushi is very traditional. It was good! But not blow-your-mind amazing. We were there for both the lunch menu and the dinner menu. Both are good, but the sushi is not available for lunch, and the only tempura you can have during lunchtime is the sweet potato one (which is the best one anyway). Great service, good food, definitely worth a try.
9 Jamestown Rd,
Camden, London
+44 20 7482 4200
Vegetarian with lots of clearly marked GF, vegan, soy-free options
Price: $$
Rating: 9.5/10
TL;DR: Everything tasted AMAZING, but we had to wait for a while.
I had heard nothing but high praise for Mildred's and for good reason. With 3 locations in London (Soho, King's Cross, and Camden), we were able to walk to the Mildred's in Camden from our AirBnB. It's busy, with lots of different plates to choose from. They have a specially marked allergen menu, which was really helpful. Every dish we ordered was actually so delicious. I was surprised that a non-Viet restaurant could make a good vermicelli bowl, but the mock duck I ordered was really good.
As you could see in my vlog recap of the trip, we had a watermelon salad and an artichoke crostini to start, both of which were so flavourful and nuanced, I was really impressed. Eddie ordered the southern fried mock chicken (it's vegetarian, not vegan) which he really enjoyed. I had the bun and was thoroughly impressed by the vegan fish sauce.
One thing to note was that we sat down around 5:30 before the restaurant got very busy, but received our orders about 10-15 minutes after the couple beside us (who arrived maybe 15 min after us) and a large party in front of us (who arrived 10 minutes after us). It was kind of frustrating because we were so hungry and we saw a ton of food go out before ours did even though we ordered first. The server noticed that we had waited about 45 minutes for our mains and managed to go rush the kitchen so despite all that, the food was worth the wait. All in all, would definitely come back.
48, 2-4 Bethnal Green Rd
Box Park, Shoreditch, London
+44 20 7498 563168
Vegan with nut-free options
Price: $
Rating: 9/10
TL;DR: Super cool place, super good food.
So BoxPark is a really interesting concept: it's a bunch of shipping containers sort of on top of each other to make this big structure of contained stores and restaurants. It's a really neat idea and we really enjoyed sitting under the odd canopy over the seating area in front of Cook Daily. Lynda from PlantBasedFatKid on Instagram had recommended that we try Cook Daily and experience Chef King's food. He was a chef at a Michelin star restaurant before he went vegan, so you KNOW he can cook. There are over a dozen different bowls to choose from, all with incredible flavours from all around the world. Eddie got the 3S bowl (sweet, sour, and spicy) with noodles and really enjoyed it. He would even go as far as to say it was his favourite meal he had in London. I had the jerk chicken bowl (vegan of course) that had some INCREDIBLE vegan mock chicken that was spicy and flavourful, it was really good. I will say that the sauce on mine was ever so slightly too sweet/powerful because it really overpowered my rice and I couldn't finish it because it was too saucy and strong. But I really enjoyed my bowl.
Check out all the things we got up to while we were in London (and obviously for some close up shots and reactions of the food we ate) by watching my London vlog (part 1).

Yes I know its a long one, we were there for 5 days and this was just 2/5 =P
73 Caledonian Rd
King's Cross, London
+44 20 7833 2315
Vegan, nut-free options
Price: $
Rating: 8/10
TL;DR: Some really badass vegan junk food.
Vx is a shop/fast food hybrid of vegan junk food. They had lots of vegan cheeses and mock meats in the fridges in front of them, with a few vegan drinks and treats as well. One part of the wall is covered in vegan apparel, and the back of the shop is their bakery/kitchen where they make unreal vegan junk food. The first time we went there, we just got some vegan junk food and a t shirt to take home, and the guy behind the counter was really cool and shared a bit of their backstory. Vx started out as an apparel shop and expanded to cover food as well. Their tagline of "Secret Society of Vegans" is a joke about how people consider veganism as a cult, and I'm all about poking fun. Plus all the cool kids are at the vegan places anyway so… ;) The second time we visited, I had the spicy meatball sub which was really good, Eddie got a regular hotdog because he was really craving one, and I left with a speculoos latte. Super delicious food, and I definitely want to recreate that speculoos latte because it blew my mind it was so good.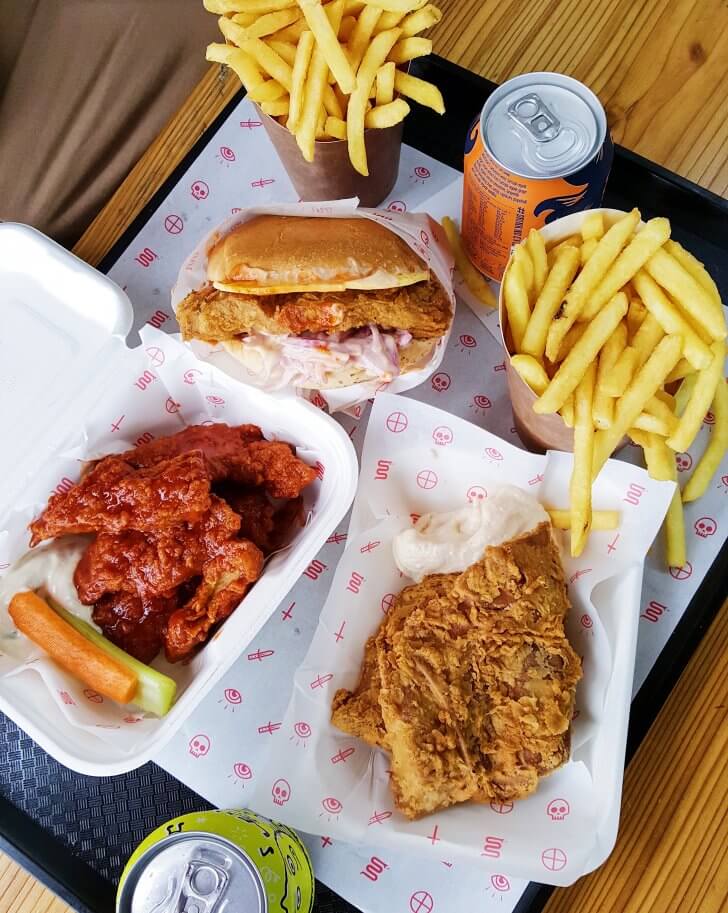 Temple of Seitan (Temple of Hackney)
10 Morning Lane,
Hackney, London
Vegan, nut-free
Price: $
Rating: 9/10
TL;DR: Unbelievable. Not the healthiest but effing delicious.
I obviously couldn't come to London without trying some epic seitan from Temple of Seitan. Boy am I glad I'm not gluten-free anymore. This food was INCREDIBLE. They basically make seitan chicken in different forms: KFC style pieces, hot wings, chicken burger style, and popcorn chicken. They also have some epic fries (or chips as locals call em), and the vibe is super chill and the Australian chefs are super friendly. I think they'll be expanding past Hackney soon (they totally should, their food is delicious) and I will definitely come back here if/when we come back to London.
130 Holloway Road
Holloway, London
Vegan, not nut-safe
Price: $$
Rating: 7/10
TL;DR: Tasty ice cream sandwiches and cookies, but kind of average
I had heard a LOT of really great things about Cookies and Scream and I'll be honest, I wasn't that blown away. As someone who's vegan and tree-nut-free, I'm usually that annoying person who asks if there's any nuts and if a dish is vegan. So I'm already quite apologetic for even asking the question because I feel like a nuisance. While I can't eat tree nuts, I'm not anaphylatic, so I can eat anything as long as it doesn't have nuts in it itself. Cross contamination isn't a huge deal for me so it makes things a little easier. So when I asked the staff at Cookies & Scream if there were any nuts in their ice cream, the guy behind the counter just slid this laminated disclaimer at me. It was sort of passive-aggressively written about how everything is made in the same kitchen so there is cross contamination, it said not to ask for a list of ingredients because it's a super secret recipe, and a bunch of other stuff. It was like almost 250 words, I swear, and none of it answered my question if the ice cream had any nuts in it. So I explained for the second time that I'm not anaphylactic, I just can't eat them if it's in the recipe, and the staff kept repeating how there's no guarantee blah blah.
I understand that they probably had someone have a reaction and they wanted to be really clear that there's a risk of cross contamination, but like I said, that doesn't bother me. Anyway, it was sort of a huge hassle just to ask if there were nuts in the ice cream, that by the time I managed to order an ice cream sandwich, I just wanted to leave. I don't like being difficult, I just want to know what's in my food =/
Anyway, the ice cream sandwich was good, I enjoyed it, I just really didn't enjoy my experience in the shop. I probably won't come back.
64 Kingsland High Street
Dalston, London
+44 20 7249 6242
Vegan with some GF and nut free options
Price: $$$
Rating: 8/10
TL;DR: Really delicious Italian style food. Cute for a date night or special occasion.
If you like Italian food, you'll enjoy Fed By Water. Apparently they weren't a vegan restaurant before, but they converted their whole menu to be vegan and it was actually so delicious. Everything is made with alkalized water, which is interesting and you probably won't notice but all the food was made with a lot of care and attention. We ordered garlic bread, caprese salad, one of the pizzas (we managed to sub the nut-based cheese and seitans for nut-free ones no problem) with a charcoal crust, and vegan carbonara. Garlic bread was delicious, caprese salad was sort of average, the pizza was pretty good but sort of difficult to eat (it wasn't sliced so it was one of those fork + knife situations) but the carbonara…OH MY GOODNESS that was incredible. I really enjoyed it. Creamy, comforting, delicious pasta and salty vegan seitan bacon on top just really took it to a whole other level. Really good. Would definitely come back, although it is quite expensive and the seating is quite closely packed.
Amorino Gelato
237 Camden High St,
Camden, London
+44 20 7482 5416
Vegan friendly
Price: $
Rating: 8/10
TL;DR: Lots of vegan gelato options!
Just like the Amorino Gelato we went to in Paris, this one was cute, cosy, with lots of marked vegan options! I had a meetup here and we had some great conversation and of course, some delicious gelato. They're open quite late, until 11, so it's a great late night treat :)
29 Greek St, (hidden upstairs)
Soho, London
+44 20 7437 5920
Vegetarian with vegan and some GF and nut free options
Price: $$
Rating: 7.5/10
TL;DR: Really cute vibe, moderately good food.
This was another super weird experience, but it was work the awkward. I called ahead to make a reservation for dinner, and this ended up being a meetup with two other vegans because they missed the first meetup I had at Amorino Gelato. I had no idea what to expect, and when I got to the Coach and Horses, I was really confused because it didn't look like a very vegan-friendly place (what with the traditional meat-heavy British pub fare being served). I didn't realize it was a secret tea room, so when I told the bartender I had a reservation, he kind of looked at me quizzically, disappeared for a moment, then nonchalantly lifted up the bar and ushered us up the staircase behind the bar. It was kind of confusing and weird, but the tea room itself was this adorable, really beautiful space with lots of lush desserts and aptly a huge selection of teas (of which I had none… oops).
Three of us ordered the tofysh and chips and Eddie ordered a burger. He said the burger was okay, and I would say my tofysh and chips were also sort of okay. It wasn't really seasoned, it was just a slap of tofu in seaweed-studded batter. The batter was really good, but the tofu could have done with some sort of seasoning. The tartar sauce was really good though, so it could have been made intentionally bland so you could eat it with the tartar sauce. The chips were really good and I liked the touch of freshness from the peas. All in all, a super weird experience but it was really cool and fun to get to know these 2 vegans and aspiring bloggers in London.
Sorry for the garbage photo, this is a screenshot from my video because I goofed and forgot to take a picture.
The Third Estate
29 Brecknock Rd,
Holloway, London
+44 20 7482 5416
Vegan friendly
Price: $$
Rating: 8/10
TL;DR: Not a restaurant, but a really cool vegan apparel shop with awesome staff!
When I got here, I had to pee like REALLY badly. Like pee-your-pants bad and the staff graciously let me use the staff bathroom and asking for me to excuse the mess because it wasn't for customers. I said I didn't care and ran to do my business.
Obviously that was an odd start to my visit to this store, BUT the staff were totally understanding and pretty chill about it, so that was pretty cool. The store is fully vegan, all ethical and eco-friendly and it's incredible. Obviously to sell ethical and eco-friendly products, they cost more than your average fast-fashion department store, but after doing some research about fast fashion, I totally understand and am willing to shell out the extra $$ if it means that the people who made my clothes were compensated fair wage and treated well. Not only that, but all the products they sell are vegan and it was really cool to see our very own Canadian Matt & Nat bags there too. I got a part of really cool vegan Timbaland-esque shoes (from Will's Vegan Shoes) and had some great conversation with the staff there. Great people, you should definitely shop at this store because the clothes are also super cute. Lots of fem and masc selections, so lots to choose from.
Other Places We Wanted to Try:
We were only in London for 4 days (not including our travel day back home) so there are still LOTS of other places we must try. Brick Lane market had vegan options, but we weren't there for a weekend so we weren't able to go. There was also very unfortunately the fire at the Camden market, so there was a section of places that were closed because they lost inventory and the space from the fire. It was really awful and sad, so I hope they're able to rebuild and recover that part soon. Stay tuned for the part 2 of the vlog, I'll probably update this post with whatever stuff I missed from that vlog too.