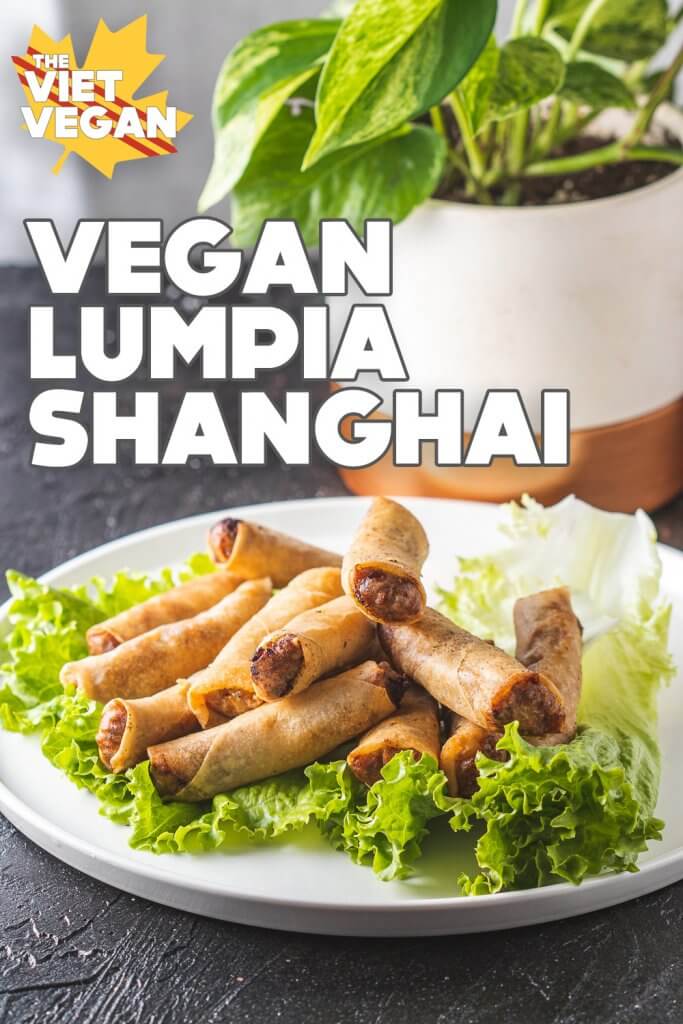 These past few weeks have been so up and down, I'm not sure how much more I can handle! Things are on the upswing again but boy, 2019 is just full of wild things going on. What a weird year. Lately all the stress has had my eczema blowing up on my hands, but luckily I had some help this week with Janelle coming into my kitchen again to help me veganize a recipe from her mom, lumpia shanghai! Lumpia is the Filipino version of spring rolls (I am working on a Vietnamese spring roll recipe, I promise!) and boy, I did not realize how much I love the little spring rolls. They are so crispy and light, and the filling is a classic savoury filling that is suprisingly very simple!
In the YouTube video I posted of this recipe, Janelle and I touch on our experience growing up within our cultures and our fears of not being able to pass on the recipes to our future generations. Janelle's mom never let her try to roll spring rolls so she had never experienced it herself, whereas my mom kind of forced me in the kitchen with her to learn all of the basics. Even if I was just cutting up the squares for the bottom of steamed dumplings or separating the sheets of spring roll wrappers for my mom to roll with, I didn't realize how much I would absorb just from sitting there and watching her work her magic.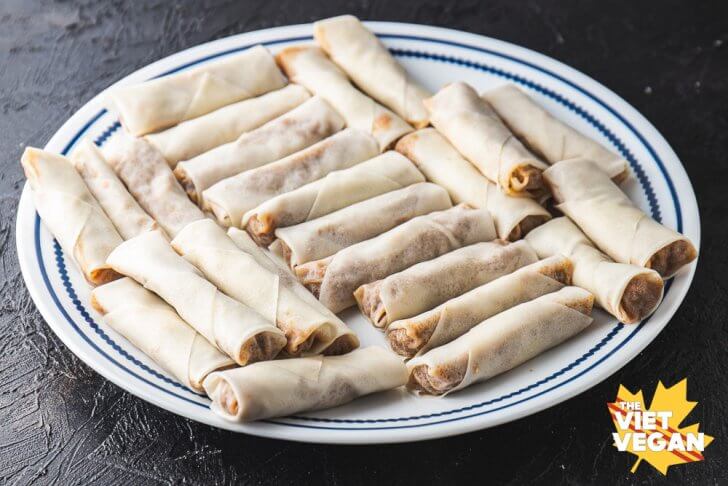 I honestly don't even remember the last time I rolled spring rolls, but for this recipe, we ended up rolling about 70 of them and they worked out amazingly well! Like I said, the filling is really simple, and if you have a food processor, it cuts the work down by a LOT. If you don't have a food processor, grating the vegetables or mincing everything REALLY thin is key here.
For the filling, we tried it with a flax egg to bind (since Janelle's mom uses an egg to bind everything together), but I found that there was a lot of moisture in there, so you can skip using the hydrated flax egg, and instead use dry flax meal to hydrate within the liquid of the blended onion, carrot, and celery. That way you still get the binding aspect but reduce the amount of liquid in there overall.
Traditionally you serve lumpia shanghai with sweet chili Thai sauce, but Janelle prefers plum sauce (while I prefer Vietnamese Saigon hot sauce), so we had our vegan lumpia shanghai with plum sauce and Vietnamese sriracha (it's different from the American one). All in all, super delicious, definitely would eat again, and they are easily prepped in a large batch to freeze for frying at a later time. If you have a deep fryer, it'd be a breeze to cook these up, but the ol' tradition of frying them on the stove is just as viable here. Just make sure you flip the lumpia in the oil and ensure that they don't stick together so they cook evenly.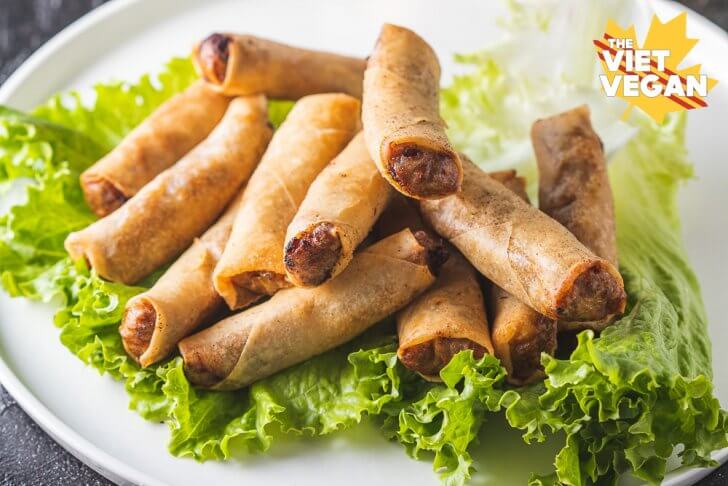 Yield: 75 small lumpia shanghai
Vegan Lumpia Shanghai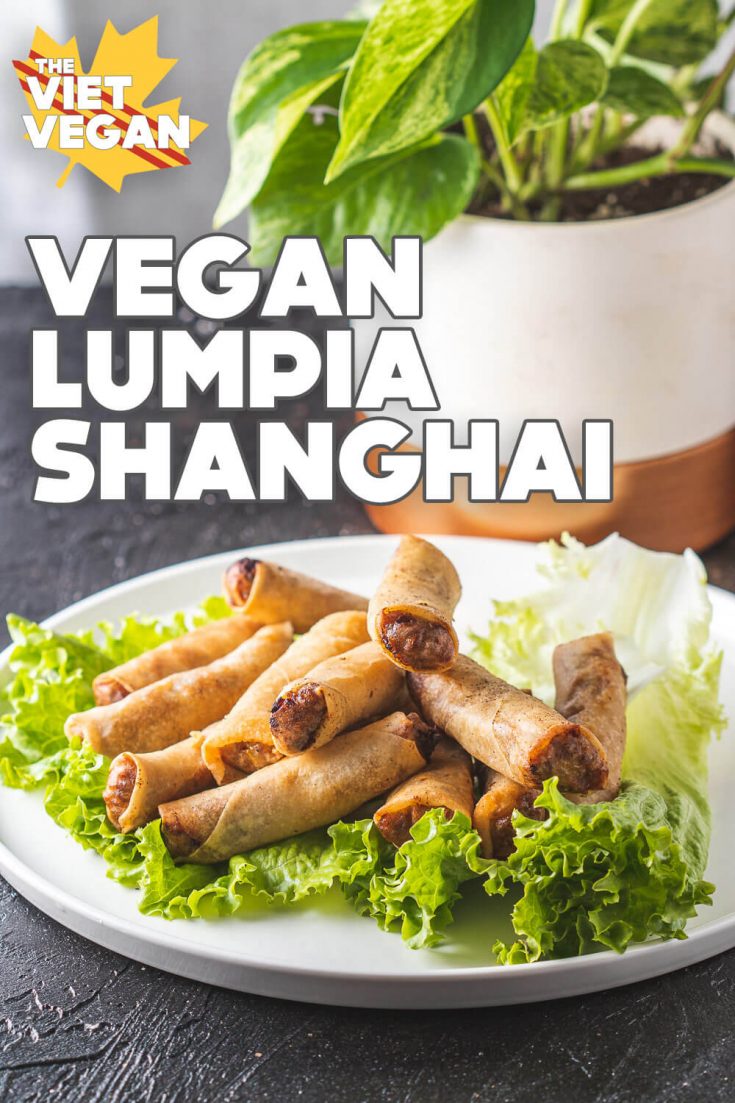 These vegan lumpia shanghai are a party classic!
Ingredients
2 ribs (142 g) celery, roughly chopped
2 medium carrots (150 g), peeled and roughly chopped
1 medium onion (172 g), peeled and quartered
5 cloves garlic (19 g)
1 package vegan ground crumble (340 g), I used Yves in the video
1/4 cup fresh parsley (9 g)
1 tbsp (15 mL) vegan fish sauce
1 tsp (5 mL) kosher salt
1/4 tsp (1 mL) ground pepper
1 tbsp flax meal
75 vegan spring roll wrappers (I bought the small size in a pack of 50)
1/4 cup water (to seal the wrappers)
Oil for frying
Plum sauce or sweet chili Thai sauce to serve
Instructions
Using a food processor, blitz celery, carrots, onion, garlic, and parsley and process until everything is uniform and processed to little bits. You'll need to scrape down the sides and process to make sure everything is even. EDIT: Upon further testing, I find that the filling can be a little too wet if you use a food processor. I recommend chopping everything very fine with your knife by hand!
In a large bowl, combine the processed veggie mixture with ground round, fish sauce, salt, ground pepper, flax meal. Stir until everything is incorporated and let sit for about 5 minutes for the flax meal to rehydrate in the mixture (this will act as the binder).
Prepare the spring roll wrappers by peeling them apart on a plate. If you can roll fast, you don't need to cover, but I highly recommend covering with a clean, damp tea towel to keep the wrappers from drying out.
Give the filling mixture a good mix to ensure everything is incorporated. To roll the lumpia, turn the spring roll wrapper so a corner points towards you. Add about 1 tbsp of filling per wrapper in the bottom third of the wrapper, then use one corner to tuck the filling and roll up 1/3 of the way. Tuck the left and right corners over the filling, then finish the roll, using some water to seal the edge. Arrange on a plate in a single layer with parchment paper in between. Freeze first to ensure the lumpia stays together while frying, but you can simply freeze while you heat up the oil.
Heat up 2 inches of oil in a deep pot to 400F (medium high heat). Fry the lumpia for about 3-5 min, until golden and crispy. Be sure to flip them in the oil so it's cooked evenly and doesn't stick to each other.
Once golden, let drain on a paper towel or tea towel.
Serve with plum sauce or sweet chili Thai sauce!
Notes
You can freeze these for a couple months if they are kept separated by layer in a sealed container. The longer you let them freeze, the more likely they are to get freezer burnt though, so don't let them sit in the freezer for longer than a few weeks.