This was a highly requested recipe that was calling my name: Vegan Vietnamese Egg Meatloaf – Chả Trứng Chay (no egg!)
It's perfectly savoury, filling, easy to meal-prep and perfect for easy lunches especially on hot summer days!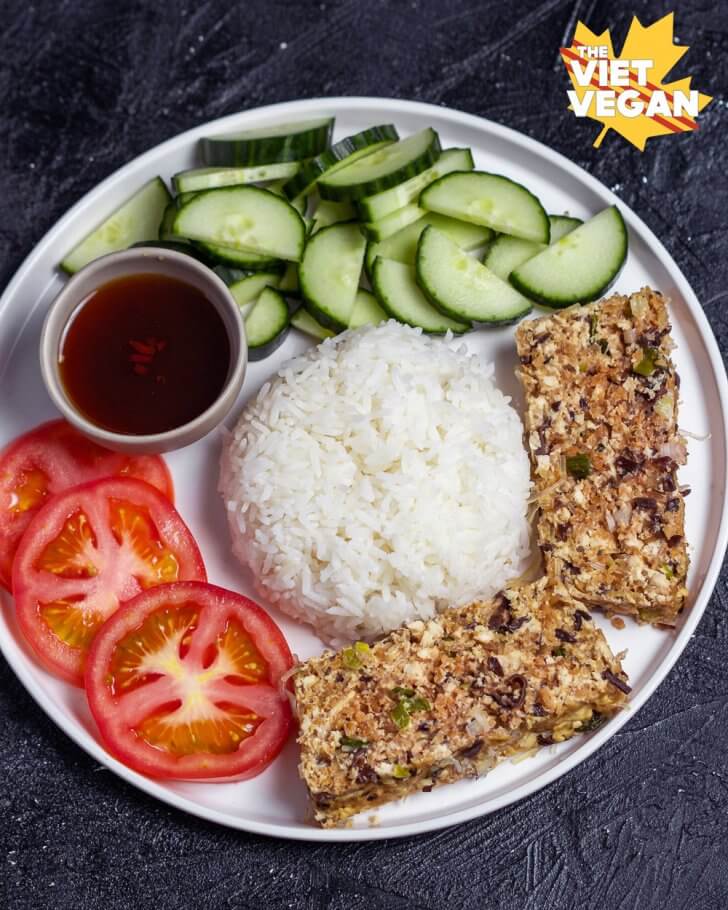 I've been on the train of veganizing foods from my culture it seems! A lot of people have been asking for this Vegan Vietnamese Egg Meatloaf (Chả Trứng Chay). This is a very easy, rustic, homestyle dish that is often served with onion-oil seasoned rice, classic vegetables like tomatoes and cucumber, and of course, nước chấm chay, which is quintessential for this entire dish.
When I was researching this, I realized that my mom never really made this much for our family growing up. I definitely recognized it and I've definitely eaten it before, but I don't have any memories of it really. When I asked my mom about it, she straight up just said, "I don't really like it much, so I think I only made it once."
Fair enough!
I definitely like it, especially as leftovers as you cut a slice and pan fry each side to enjoy hot as your lunch with rice, veg, and sauce. The edges get wonderfully crispy and any of the vermicelli noodles touching the pan get a little extra crunchy in the best way possible. It's something I'll be making often, especially since it's packed with protein, flavourful, and easy to bring for lunches! (I can totally picture a tasty Viet-style bento box with this! It would be so cute!)
Traditionally, there is a layer of egg yolk that gets brushed on top at the end of cooking to give it that beautiful yellow top. Since I'm vegan, I obviously don't have access to egg yolk like that, but if you had vegan egg mix or Just Egg, you could add that to the top in a thin layer to add that yellow layer! It mostly is aesthetic, so if you don't want to use a vegan egg on top, it's not necessary!
Which Vegan meat substitute should I use?
If you want to make this without the Lightlife or vegan ground meat substitute, I wish you luck. I didn't try it with Impossible or Beyond Beef, but since they are a bit beefier and heavier as meat substitutes, I assume it would be fine but would impact the flavour moreso. Lightlife ground tends to be more pork-like for this situation, which is why I chose it, but feel free to experiment.
I could see it done with a mixture of mushroom, lentils, and nuts (similar to regular, Western vegan meatloafs), but this is by far the easiest version I could think up. This is super protein-packed and easy to pull together. In my video, I said it took me 30 minutes to prep, but that was also with me narrating and filming the video, but if I were just cooking on my own and just throwing stuff together, you could easily prepare this in 15 minutes.
Yield: 1 loaf (about 4-6 servings)
Vegan Vietnamese Egg Meatloaf - Chả Trứng Chay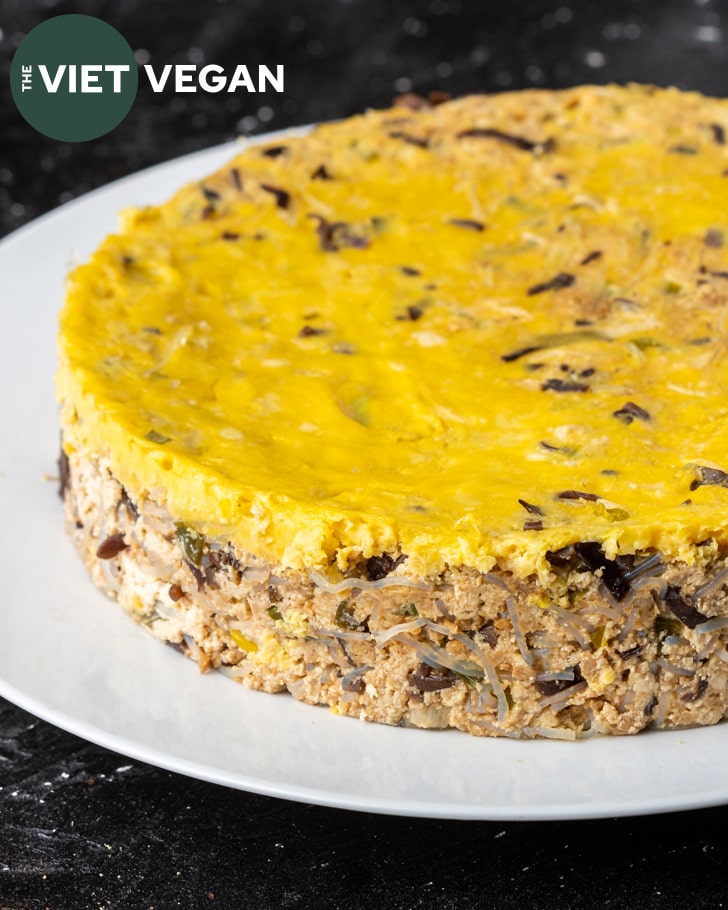 Ingredients
20 g (0.7 oz) wood ear fungus, rehydrated and finely sliced
75 g (2.6 oz) mung bean vermicelli (one bundle of the dry noodles)
340 g (12 oz) vegan ground meat substitute (I used Lightlife because it's more pork-like)
350 g (12.3 oz) extra firm tofu, pressed and then finely crumbled
4 stalks green onion, finely diced
2 g (1/2 tsp) white sugar
3 g (1/2 tsp) kosher salt
2 cloves garlic, crushed or finely minced
15 mL (1 tbsp) vegan fish sauce (can sub soy sauce, omit salt if using soy sauce)
Optional: 1/2 tsp (2 g) mushroom broth powder (you can just add more salt, or add some miso paste)
Optional: 1/4 cup JustEgg (or other vegan egg liquid substitute)
Oil for the pan
Instructions
In two separate bowls with warm water, re-hydrate the wood ear fungus and mung bean vermicelli. Once hydrated, drain and squeeze out excess water then chop the noodles to be about 1 cm (about 1/2 inch) in length, and the fungus to be 0.5 cm (1/4 inch) in length.
In a mixing bowl, add the ground meat substitute, crumbled extra-firm tofu, wood ear fungus, noodles, green onion, sugar, kosher salt, and vegan fish sauce (add mushroom broth powder if using, if not using, add a bit more salt). Mix well until everything looks evenly combined.
Oil a loaf pan or a 9 inch cake pan, and press the meatloaf mixture into the pan and flatten well. You can use a spatula to "tuck" in the mixture along the edges so that when it cooks it won't have a hardened edge, but not super necessary.
If you have JustEgg or another vegan egg liquid substitute, add a thin layer on top (about 1/4 cup total) and tilt the pan to cover the surface evenly.
Steam, covered, on medium heat for 40-45 minutes until the mixture goes from pink to brown and pulls away from the sides. Every 10 minutes, pull off the lid and wipe the condensation with a kitchen cloth. This ensures that the liquid won't drip back on top of the meatloaf and make it soggy.
Once cooked, remove from heat and let cool. You can slice some up once cool enough to handle and enjoy, but this is really good sliced once refrigerated, then pan fried until browned to get crispy on the edges.
Serve with rice, tomato and cucumber, and a generous amount of nuoc mam cham!
Notes
I prefer using the loaf to cut into slices like a traditional meatloaf, but you can cut into pretty rhombus/diamond pieces if using a round cake pan.