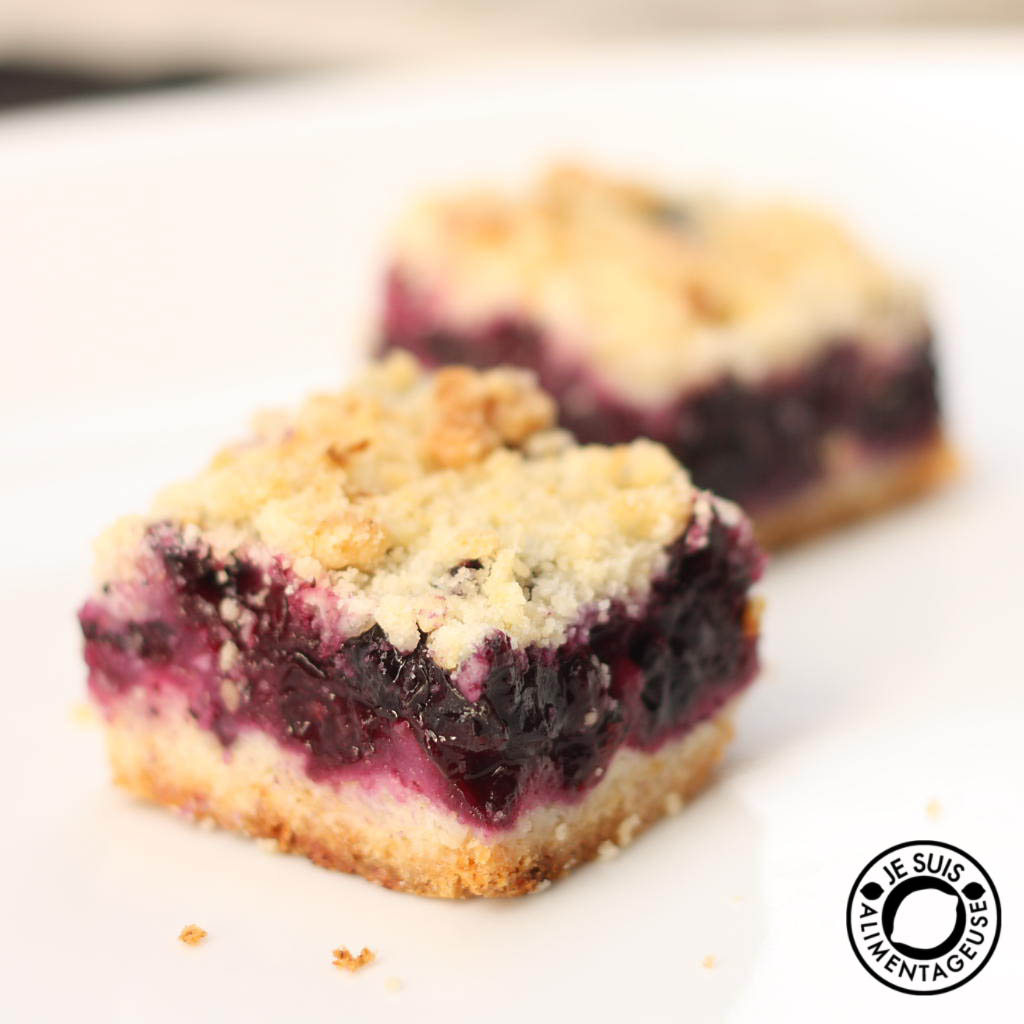 I brought these to camp for the other counsellors at camp, which is where I am currently working. A good high school friend of mine and fellow counsellor helped me make this, so thank you Margot! Your house has PERFECT lighting. It's actually amazing. These turned out super well and tangy with just the right amount of lemon and blueberry.
Can I first say how much I love Smitten Kitchen? Her photos are always amazing and her recipes always turn out great. I hope one day my blog will be as successful as hers because I love sharing my food adventures. Anyway, I did tweak her original recipe because I wanted a little more lemon to bring out the blueberry flavour.
On my birthday (mid-august) we went blueberry picking and then I had a huge basket of blueberries to use. The thing about blueberries (not the wild ones) is that they have a very mellow flavour. They're still delicious, but I prefer eating the wild ones fresh, and the big ones in baked goods. Something about baking them makes the big blueberries super gooey and delicious.
So for this batch of blueberry squares, I added extra lemon, and probably more blueberries too. As you can see in the photo, I had a very solid layer of blueberries between the crust and the crumble.
They turned out wonderfully! I recommend baking these the day before you want to eat them so you can refrigerate them overnight and then cut it when its cool. The blueberries won't be as runny and the flavours will have soaked into the crust. Yumm.
Enjoy!
Adapted from Smitten Kitchen's Blueberry Crumb Bars
Yield: 32 bars (9x13 pan)
Blueberry Squares
A perfect way to use up those in-season blueberries. The lemon adds another dimension of flavour and the filling is gooey and delicious.
Ingredients
2/3 cup white sugar
1 teaspoon baking powder
3 cups all-purpose flour
1 cup vegan butter (2 sticks or 8 ounces)
1 flax egg (1 tbsp flax meal + 3 tbsp warm water, combine and let gel)
1/4 teaspoon salt
Zest and juice of one lemon (I had an extra lemon so I added more lemon juice, add more cornstarch if you add more lemon juice)
4 cups fresh blueberries
1/3 cup white sugar
4 teaspoons cornstarch
Instructions
Preheat oven to 375F
Mix together sugar, flour, baking powder, lemon zest and butter until the butter is incorporated and the mixture is very crumbly.
Add the flax egg and continue and you will have slightly larger crumbs.
Press one half of the mixture into a greased 9x13 pan.
In a bowl, mix together the lemon juice, sugar, and cornstarch together. Gently fold in the blueberries and then spread over the bottom layer evenly.
Generously sprinkle the other half of the crumbly mixture on top of the blueberries.
Bake until the top is a nice, golden brown. (About 45 minutes)
OMNOMNOM.