Disclaimer: This post is a recipe sponsored by Produce Made Simple, an educational initiative of the Ontario Produce Marketing Association to encourage people to eat more produce! I love working with the Produce Made Simple project because I get to share produce-centric recipes with people who are interested in healthy, delicious recipes like mine. Thank you for reading and supporting my blog, and I highly encourage you to check out the produce articles on Produce Made Simple because they share tons of fruit and veggie tips and information from the produce experts themselves!
I'm currently in the Houston airport in Texas, belly full of cilantro lime rice, three kinds of beans, and a mountain of veggies, lettuce, and salsa. The world has come a long way when it comes to vegan food. I remember travelling and being frustrated that my only options were sad salad. Why couldn't people make things vegetarian friendly to accommodate more people? Wider accessibility, more $$. Simple as that.
But now, a few years later from my first experience with airport food, and in Texas nonetheless, I found ample vegan options at the airport. Despite being stereotyped as being one of the most meat-centric states in the US, the Texan airport is surprisingly full of options and snacks. After a week of eating my way through LA, I am so grateful for the health craze that has glorified veganism as this healthy diet because it means I have healthier options wherever I go. I've had to come to terms with the idea that people confuse the idea of plant-based eating and veganism—but honestly, the end result is still the same. I'll cover this topic with a little more depth in a future post or video, but in the meantime, let's talk about açai bowls!
So many of the juice bars and smoothie joints in LA advertise açai bowls—visually shouting about how ample it is of antioxidants and is a healthy breakfast. They're not wrong, but some of the bowls were upwards of $8, some were even pushing them at $12-15. That's a little steep for cheap ol' me.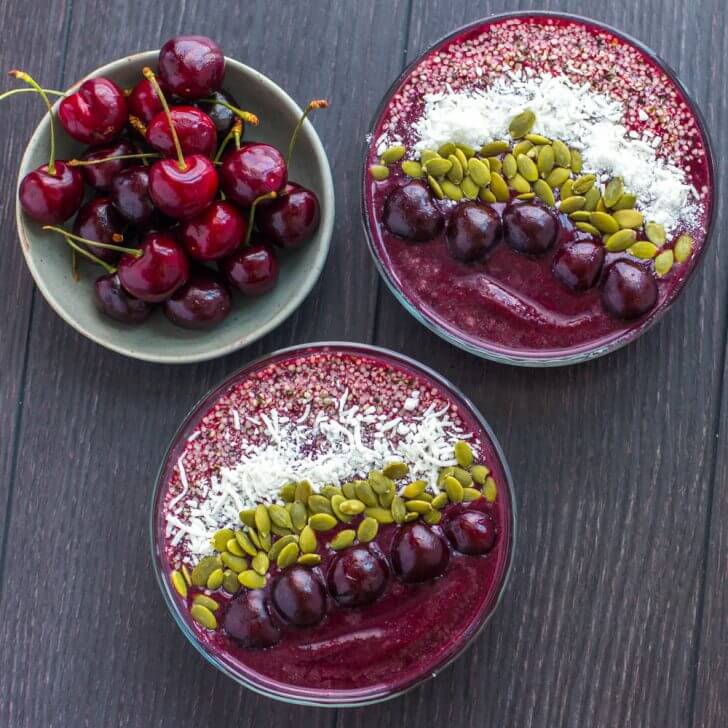 Instead, you can make your own cherry açai bowls, jam packed with antioxidants for much less than $8 per bowl. I had most of these ingredients in my pantry already, but you are welcome to play around. Pineapple, cherry, and açai would be an amazing combination—as would Cherry, açai, and perhaps some raw cacao added in. Fresh cherries are the key to breaking up the frozen açai smoothie packs while frozen bananas make it a creamy yet thick, luxurious texture. Add your favourite toppings: cacao nibs, coconut flakes, pumpkin seeds, slivered almonds, perhaps some chocolate chips if you're feeling something extra sweet.
Your açai bowl is in your hands. Find my recipe on Produce Made Simple! Stay tuned for my round-up post of all the places I got to eat on my trip in LA next week, with accompanying video to come =)