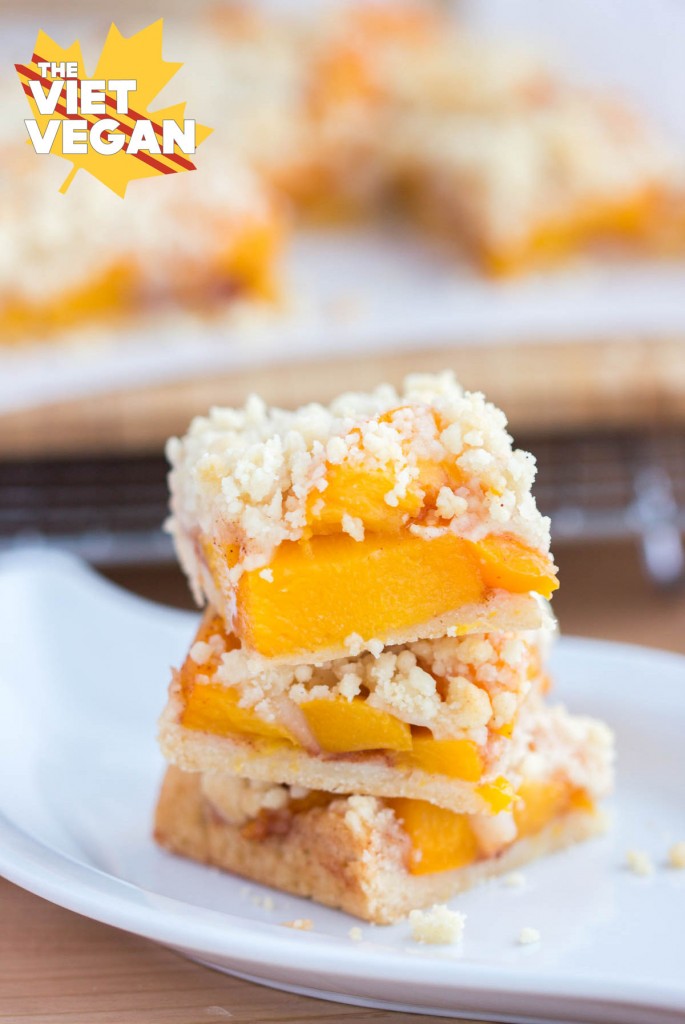 It's that time of the year where I crave summer fruits and leafy greens—as always I'm craving out-of-season things. When it's summer, I want soup and chili, when it's winter, I want fresh green salads and smoothie bowls. I really wish my body didn't act this way, but it is what it is. I can't wait for the summer days where I can walk to the farmer's market and the air is filled with the sweet scent of peaches. Oh how I love peaches.
I recently discovered that I am in fact, not allergic to fresh peaches, but my years of eating canned peaches kind of has me accustomed to the texture. The melt-in-your mouth slices, no need for fussing with peeling or pitting, and I don't have to worry about them spoiling on me because huzzah the science of preservation! California cling peaches are picked and packed within a day to keep 'em perky and fresh. Canned peaches have been proven to increase nutrients like Vitamin A and C and folate, which is a bonus since I often pry open a can of peaches when I'm craving something sweet but I don't have time or energy to bake something. Yay healthy choices!
BUT if you ever are in the mood for baking something, try making these peach crumb bars. It only takes about an hour to whip up, and honestly only about 10 minutes of it are you actively working on it. The rest is just letting it do it's thing and bake up in the oven. I wanted a crumb bar recipe that really emphasized the juiciness of the peaches, but when I tested the recipe for the photos, I halved the recipe because I'm a fool.
Do as I say, not as I did: don't half the recipe like I did for my photos. Make the whole crust because the bars were a wee bit too thin. I also made a few mistakes before baking the right batch of these: I forgot vanilla the first time, and I didn't pre-bake the crust (rookie move, I know. But I make these mistakes for you so you don't need to do them).
If you don't prebake, the bottom won't crisp up as firmly as well as absorb the moisture from the peaches once cooled. It might get a little droopy when you pick it up. Still tastes great, but you need that pre-baked bottom for a sturdy bar.
You could also chop up the peaches a little bit, but I kind of liked having the big slices in there. Since the peaches are canned, they are able keep their shape but are still tender and delicious when you bite into them. Ultimately it's up to you. You are the master of your extra peachy peach crumb bars.
Yield: 16
Extra Peachy Peach Crumb Bars
Ingredients
For the crust/crumb layers*
3/4 cup white sugar
1 cup butter
1/4 cup apple sauce
1 tsp vanilla extract (I forgot to add this to my ingredients photo)
1 tsp baking powder
3 cups flour
For the peach filling
1 can (796 mL or 28 fl oz) canned peaches (which are actually Califlornia cling peaches in Canada)
1/4 cup sugar
1/2 tsp cinnamon
2 tsp cornstarch
Instructions
Preheat oven to 350F.
Prepare a 9x9 square baking pan with parchment paper with a little extra on opposite sides so you can lift the bars out of the pan later.
Using a food processor, mixer, or mix by hand with a spatula, cream the sugar and butter. Add apple sauce and vanilla extract and beat until combined.
Sift in baking powder and flour and stir until crumbly.
Press half the mixture into the prepared baking pan. Use the bottom of a class to make it flat if you'd like, but your hands will do the trick. Bake for about 15 minutes or until the edges are slightly golden.
Meanwhile, prepare the peach filling by draining the canned peaches. Transfer peaches to a mixing bowl and add sugar, cinnamon, and cornstarch. Stir to combine.
Once the crust of the bars are baked, add the peach filling, then evenly distribute the remaining half of the crumb/crust on top. Bake for another 30-40 minutes until the top is golden.
Gently lift the parchment paper and remove the bars from the pan to let cool on a wire rack until completely cooled. Cut into squares. Enjoy!
Notes
*In these photos, I actually halfed the crumb/crust recipe, but I think they're better with the whole recipe. I like a thicker crust and more crumb is fun, so don't do what I did for my photos.
Disclaimer:
This recipe is sponsored by the California Cling Peach Board. All opinions are my own. They provided information about the nutritional information but I've always been a lover of canned peaches<3. I only choose to work with brands and companies I believe in, I will never write about a company I don't love. Thank you for supporting my blog by reading my sponsored posts! It's awesome to be paid for recipes I already love to make.