I'm not sure how many of you noticed, but I haven't been posting for a couple weeks because I was busy wrangling high schoolers and spamming fellow Vietnamese community members' email boxes because the thing about Vietnamese people is that you have to ask them to do something several times before they do it. That is, unless you're a man and/or a highly respected elder. LOL PATRIARCHY.
It's fantastic. But besides the point.
I've been preoccupied and my whole body is not in the zone. I was staying up until 3 am every night, waking up around 9, getting so stressed out that I couldn't sleep, my menstrual cycle is all messed up because stress does that to hormones, and my stress eating was at crazy high levels of unacceptable.
So I was trying to find ways to indulge myself without succumbing to loads of sugar and chocolate.
I've never been a fan of bananas blended into smoothies. I always found that the banana flavour overtook the entire thing and it wasn't worth the delicious creaminess that bananas offered to smoothies. But with dark, cocoa powder and straight-up peanut butter, the banana flavour is just a piece of the pie. Oatmeal adds extra fibre, thickness, and nutrition, peanut butter adds protein, and cocoa powder adds some good ol' iron.
Since Valentine's Day is coming up, you could share this luscious milkshake with someone sweet, OR you could be greedy like me and just drink it up all yourself =)

Yield: 1
Extra Thick and Creamy Peanut Butter Chocolate Milkshake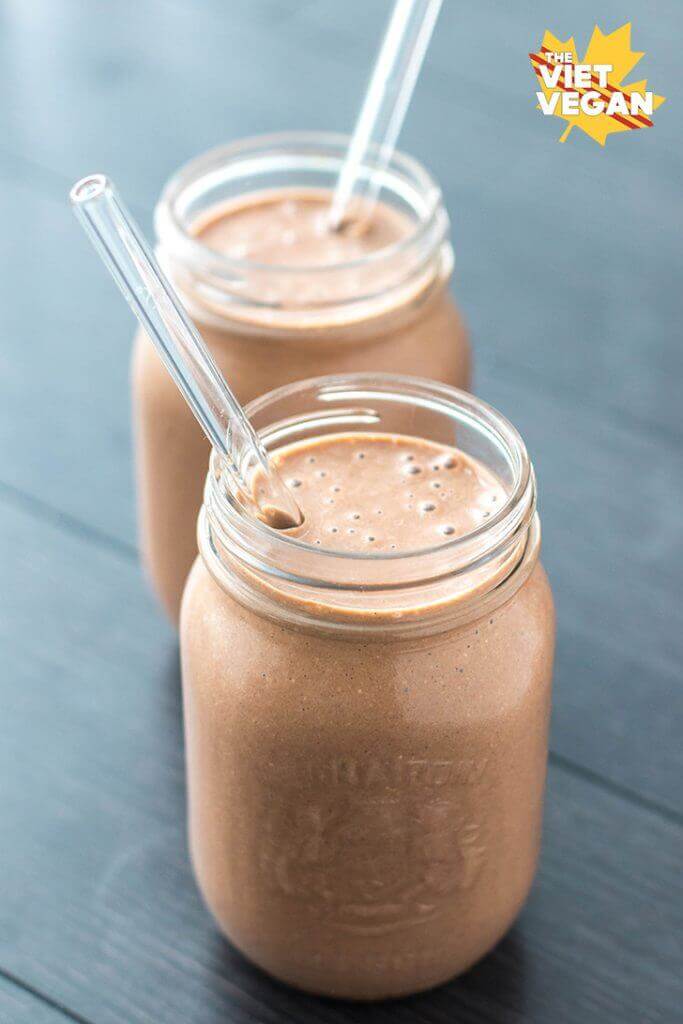 Ingredients
1 cup soy milk
3 tbsp oatmeal
1 tbsp + 1 tsp cocoa powder
2 frozen overripe bananas, cut into chunks
3 tbsp natural peanut butter (the one with just peanuts)
Instructions
First blend the soy milk and oatmeal until the oatmeal is as fine as possible. You shouldn't be able to see many chunks at all.
Add cocoa powder, bananas, and peanut butter and blend until thick.
Add two straws and drink it twice as fast or share it with someone sweet ;)