Make your own dairy-free taro milk bubble tea anytime! Creamy, sweet, and subtly earthy – this is a bubble tea classic.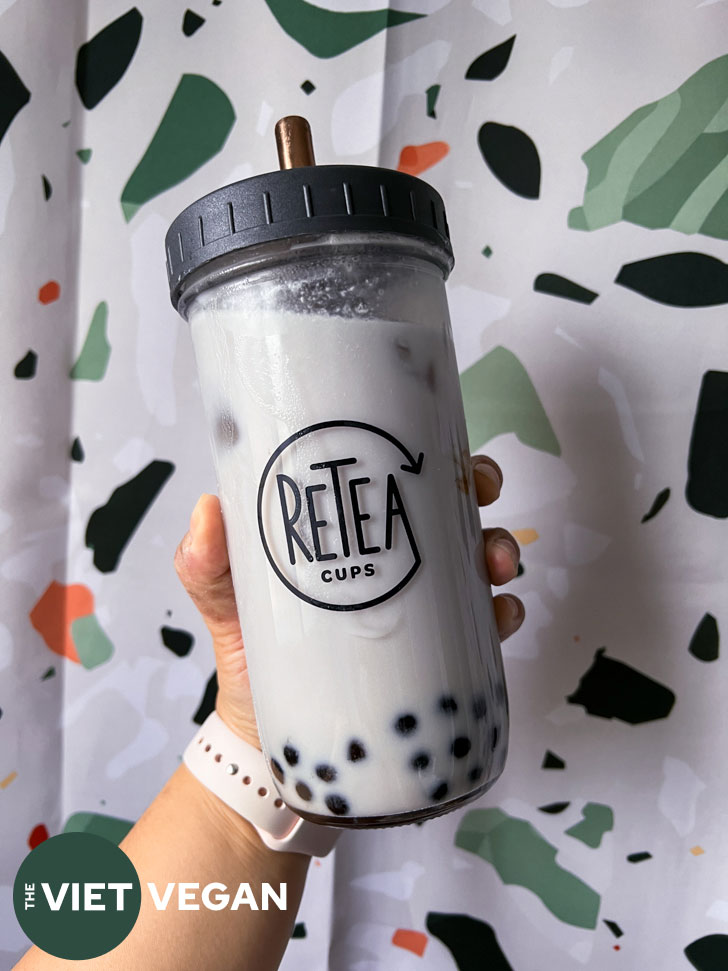 How to make dairy-free taro milk tea
This recipe for taro milk bubble tea requires you to make your own taro paste out of fresh taro (and purple sweet potato) since dairy-free taro powder is hard to find. I had been waiting for years, hoping it'd become commercially made, but alas, I have given up.
Now I make the taro paste myself, and keep it in the freezer in ice cube form for homemade bubble tea anytime!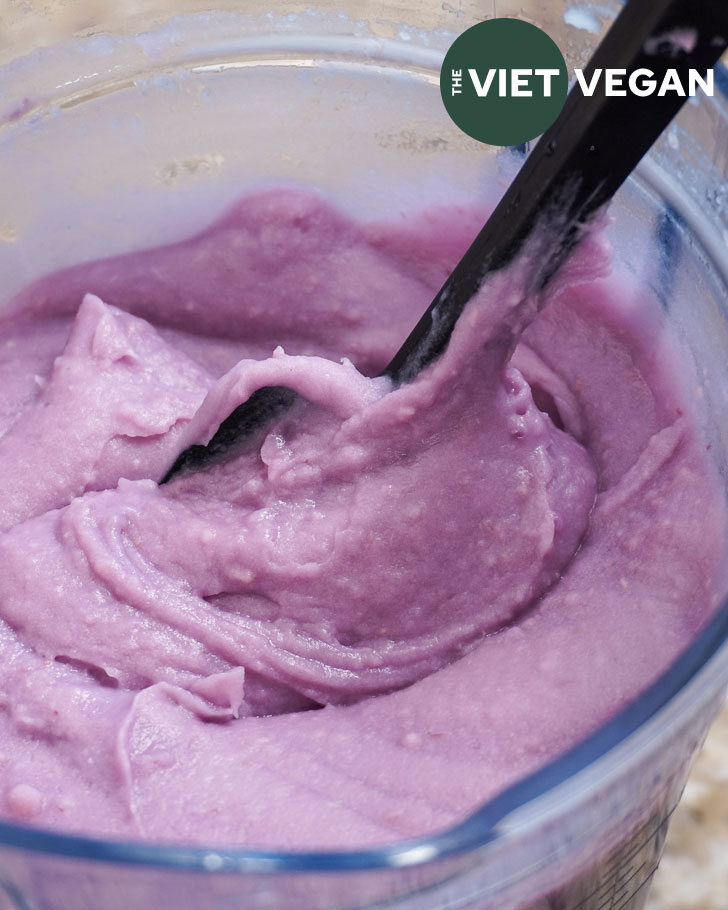 What tea should I use for taro milk bubble tea?
I've seen recipes using either green or black tea, so it seems to be up to your preference. I find the light, floral flavour of jasmine green tea best suits the subtle, earthy sweetness of taro milk. The jasmine tea I've been using lately is from ReTea cups (the same brand as my bubble tea cup), and it is the perfect base for this milk tea.
I have an affiliate code with ReTea (VIETVEGAN) that will get you 10% off your first order if you'd like to get the same tea and cup I have :)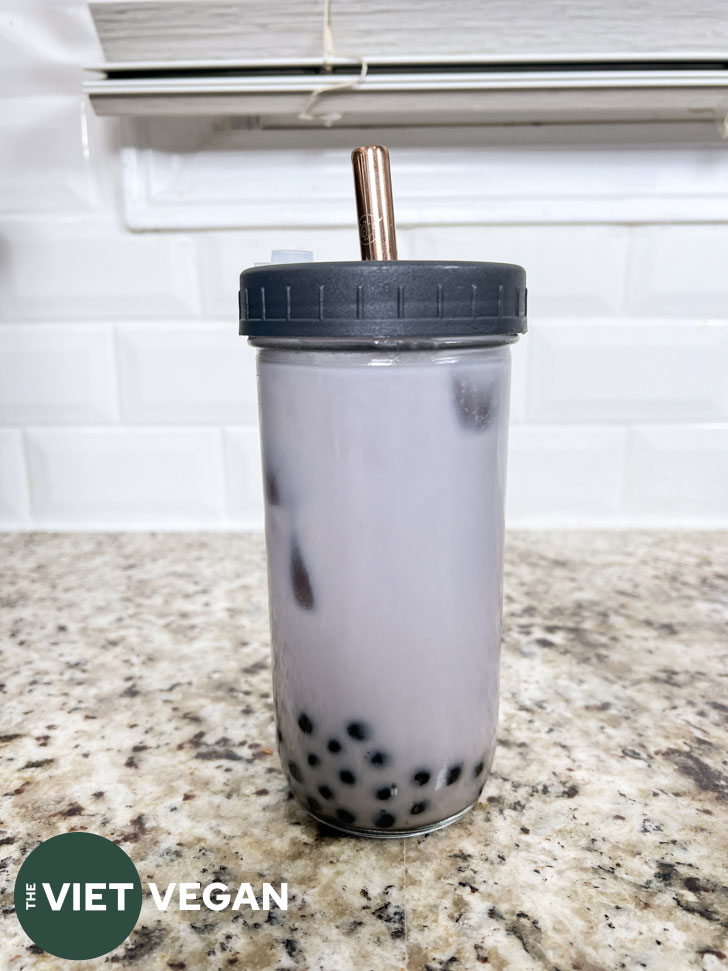 What milk should I use for dairy-free taro milk bubble tea?
I personally like something neutral in flavour, like oat, soy, or one of the more "milk-like" dairy-free alternatives for this drink. Coconut and taro are classic combos, but using full coconut milk with taro may be too rich. If you were to blend it as a slush, taro and coconut would work well though!
I use an unsweetened plant-based milk with 2 tbsp of plant-based coffee creamer that is sweetened. Feel free to use whatever combo of plant milks and creamers you'd like to get the texture you prefer.
This drink should be creamy and light, but not too rich. You can see the texture of the final blended drink in the video.
Recipe Inspiration
Taro Milk Tea from Honest Food Talks
Taro Milk Tea from Hungry Huy
Yield: 1 serving (700 mL)
Homemade Vegan Taro Milk Bubble Tea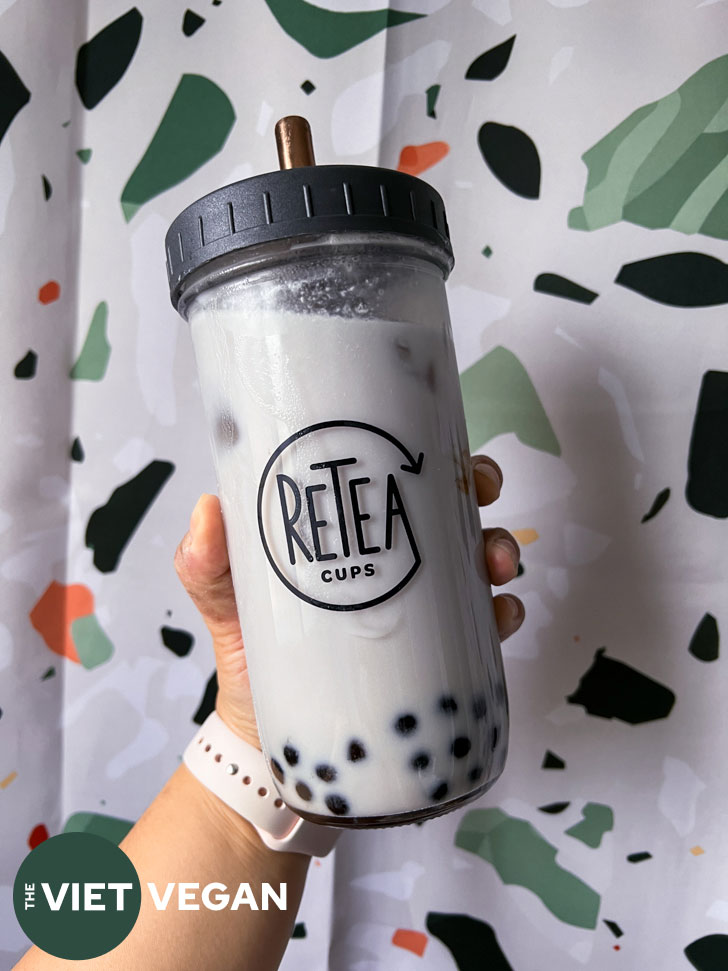 Ingredients
For the tapioca
1 cup boiling water
1/3 cup quick cooking (5 min) brown sugar flavour tapioca pearls
1 tbsp brown sugar
For the taro milk tea:
¾ cup brewed jasmine tea
1 cup plant-based milk
2 tbsp plant-based coffee creamer
Sweetener to taste (I didn't use any since my taro paste and coffee creamer are sweetened)
1-1.5 cups ice cubes
1 bag of jasmine tea
3/4 cup water
Instructions
Brew 1 jasmine tea bag in ¾ cups water for about 4-5 minutes. Remove tea bag and let cool while you prepare the tapioca pearls.
Tapioca Pearls
First make your tapioca pearls by boiling about 1 inch of water in a small pot. Add your tapioca pearls and cook until soft (about 5 minutes).
Drain and reserve about 1 tbsp of water in the pot, then add brown sugar and cook for about 3 minutes to dissolve the sugar and infuse the pearls with the syrup.
Transfer the tapioca pearls and syrup to your drinking vessel, then set aside.
Taro milk tea
Blend the frozen taro paste, brewed jasmine tea, plant-based milk, and plant-based coffee creamer.
Add ice over the cooked tapioca pearls, then pour over the
taro milk tea. Enjoy!