Subtle, earthy and sweet ube mixed with bold Vietnamese coffee is a match made in heaven! Make this iced Vietnamese coffee with ube foam for a fancy homemade drink!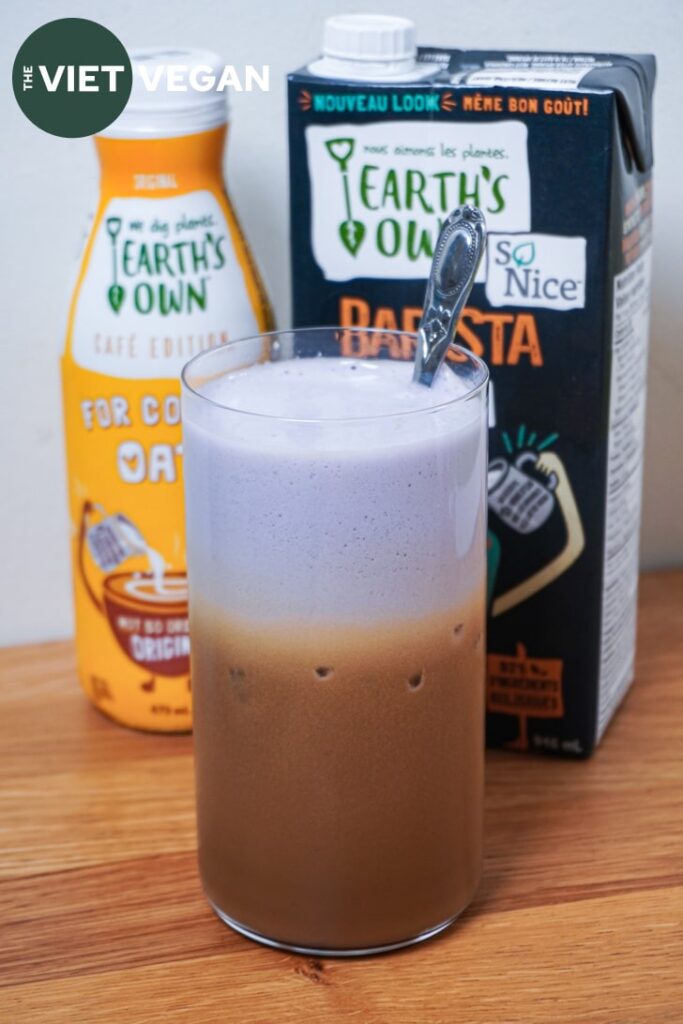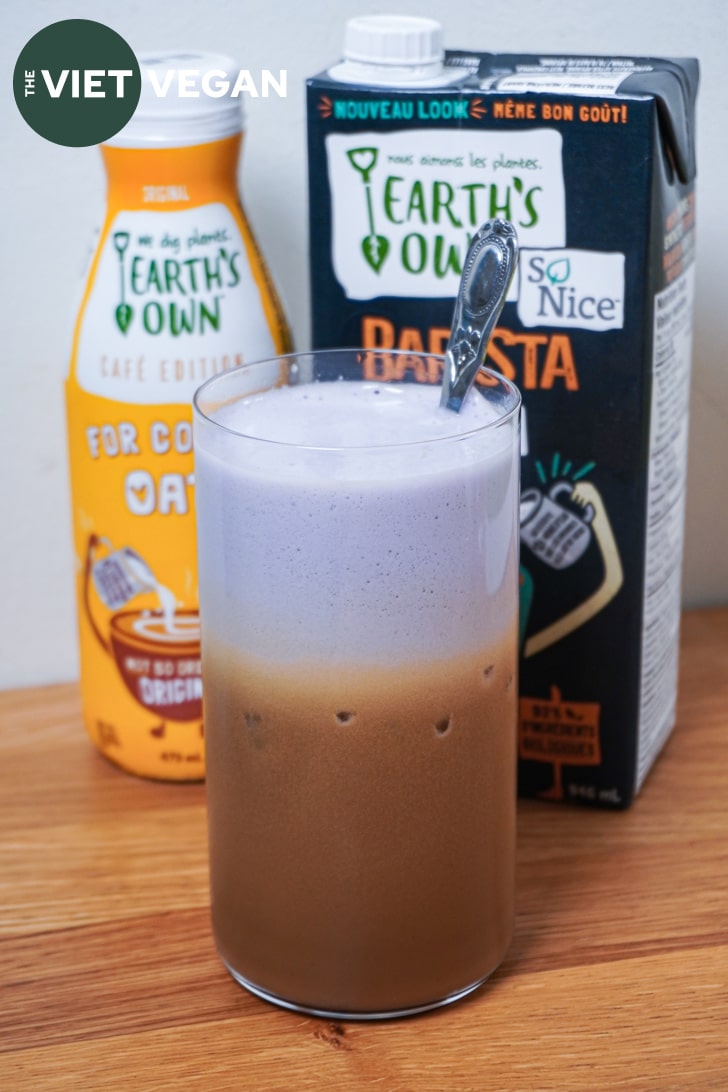 This recipe was sponsored and developed for Earth's Own on Instagram and TikTok but I decided to post here just so people have access to the recipe on my site more easily :)
Vietnamese coffee is such a strong and bold flavour, and it goes so well with classic condensed milk and ice. Rarely do I want to mix it up and add a lil pizzazz, but lately I've been playing around with ube milk and ube foam to add to my Vietnamese coffee.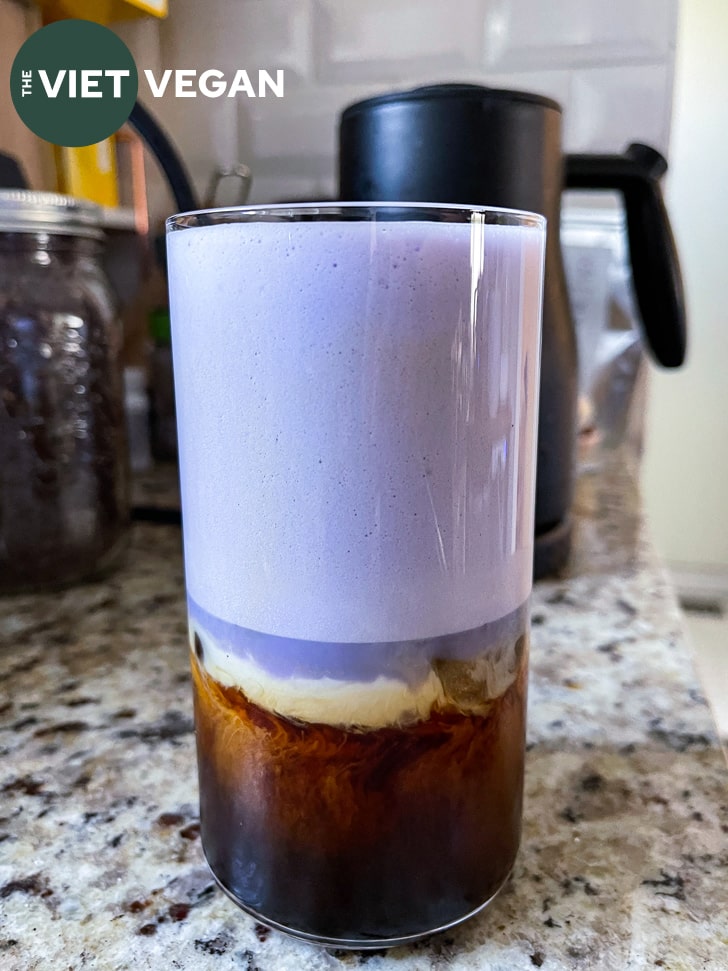 I gotta say, I wasn't expecting ube to be noticeable with the Vietnamese coffee flavour, but it is such a nice, subtle undertone that really plays well with it!
You can find ube extract online, or at your local Asian market. It might be marked as ube or purple yam, but both should have the same flavour profile! I've been using it a lot in my morning Vietnamese iced coffee and matcha, and with the barista soy milk, it turns into a gorgeous lavender purple!
I hope you try this iced Vietnamese coffee with ube foamed milk!
Yield: 1 serving
Iced Vietnamese Coffee with Ube Foamed Milk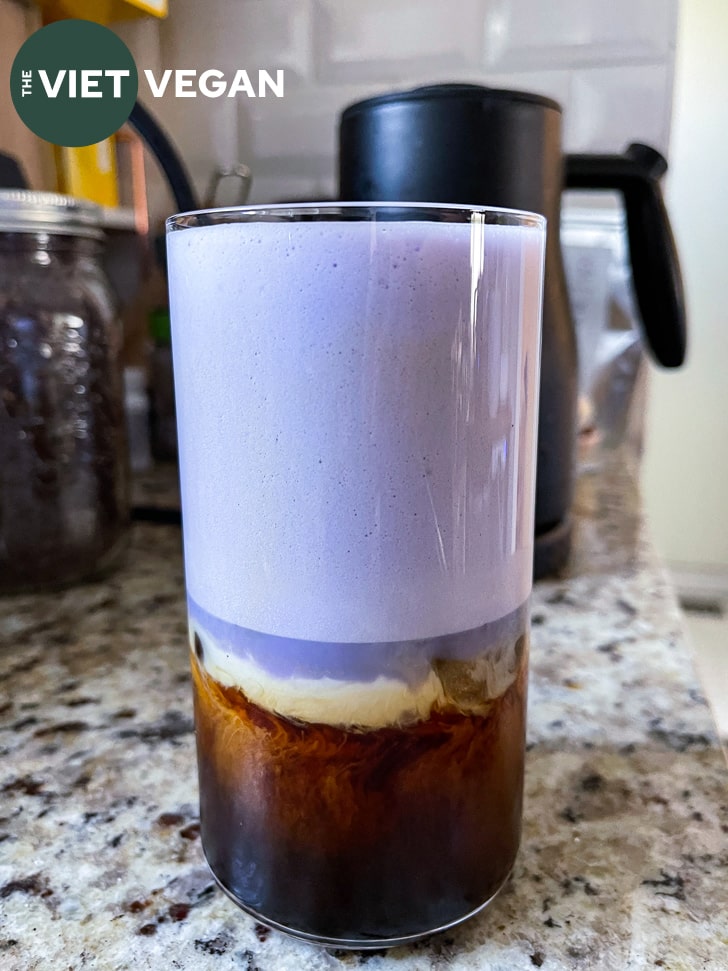 Ingredients
1 tbsp sugar
1.5 tbsp Vietnamese Coffee
120 mL boiling water
2 tbsp Oat Coffee Cream
½ cup Barista soy mylk
¼ tsp ube extract
Instructions
Add 1 tbsp sugar to the bottom of the glass. Using a Vietnamese phin filter, add 1.5 tbsp coffee grounds, add the press, and then pour a bit of hot water to bloom the grounds.
Wait about 30 seconds, then fill the rest of the filter with water. Add the lid, and let it drip while you make the ube foam.
I'm using an electric milk frother, but this mylk froths really well with a steaming wand or a hand frother. Use whatever you have! I used an electric frother. When it's almost done frothing, add the ube extract, and let froth until evenly mixed through.
Once your coffee has finished brewing, remove the phin, and stir to dissolve the sugar. Add ice and stir well to chill the coffee. Next add the oat coffee cream, and then that beautiful ube frothy m*lk. Stir well and enjoy! The ube is subtle and earthy and pairs so well with the bold, sweet Vietnamese coffee.