Disclaimer: This vibrant Red Apple Beet Juice were created for Ontario Apple Growers and these photos & recipes are shared with permission from the OAG. I love supporting local growers whenever I can, and I've had the awesome opportunity to meet with local apple growers with OAG because of our collaborations! Thanks for reading and supporting The Viet Vegan <3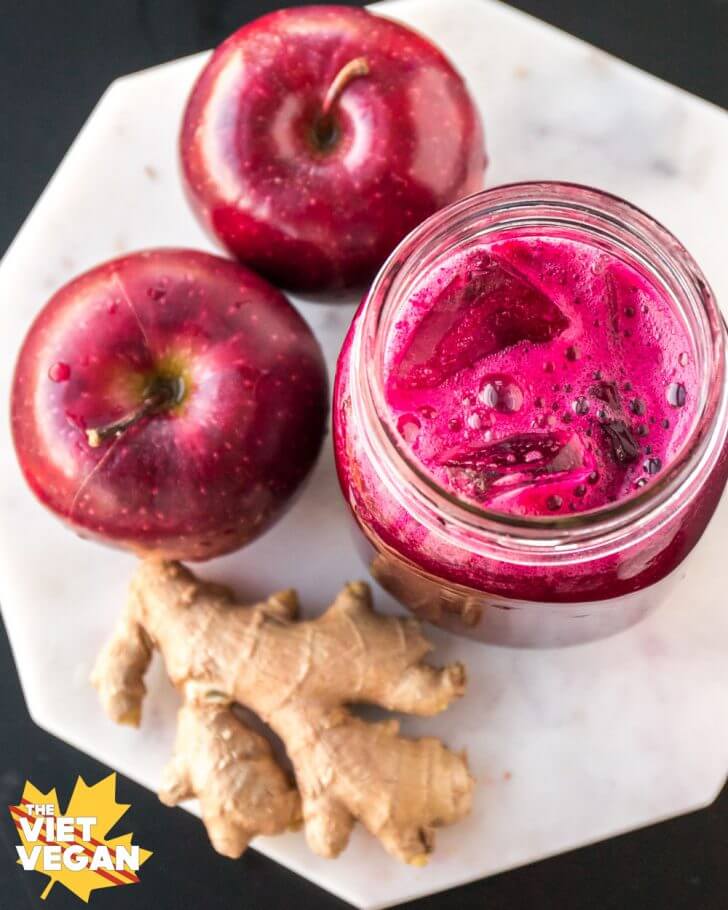 As a rather frugal person, I have often shied away from indulging in fresh juices. I love the flavours, I feel so energized whenever I treat myself to one of those juices, but I can rarely swing the $8 for a skinny glass of juice that MIGHT not even be freshly pressed (*ahem* certain restaurants in Toronto that sell bottled juices).
Like sure, I get that the process of refrigeration, the cold masticating juicer you use to get all the nutrients and whatnot can be expensive, but nowadays, so many people have high powered blenders you can just make these juices at home for maybe 2-3 dollars for 750 mL (thats about 28 fl oz) of juice.
Now the thing that stands in the way is often laziness. Chopping and peeling vegetables, blending, then straining before drinking can be kind of a chore, but this juice is just so vibrant and tasty I swear it's worth it. I'm a lazy kind of girl, so if I can get off my butt and make this juice, I believe you can too.
The thing that makes this juice so eye-poppingly bright is beets. Now Eddie does not like beets, I'm pretty sure he's said that it tastes like dirt. I mean, they do have an earthy flavour to them, and a plain ol' beet juice might not be that tasty to some, but there are two ways to sweeten it to make it a lot more palatable. The first way is just sweetening it something like maple syrup or coconut sugar, which is good and all, but my favourite way to sweeten beets is with apples.
Apples and beets are just a happy little couple. Red goes with red, and it's just perfectly in season with Valentine's day coming up. I chose Red Prince apples for this recipe because they're one of my favourite Ontario apple varieties: grown in the same place I grew up, in the Blue Mountains! Yeah I grew up in a small town at the base of the mountains there, but a lot of people don't believe me when I tell them that. I guess I've adjusted to the city life.
Red Prince apples just have this crisp, clean sweetness to them that's balanced with just a slight bit of tartness. That natural apple sweetness packed with vitamin C is the perfect way to make this juice really sing. They're actually a "winter apple", which means that they're cellared as soon as they're harvested, so their flavour can develop and mature. Then at the beginning of winter, that's when they're perfect for eating.
Add a touch of ginger and squeeze of lemon, and you have just a bit of heat and bite to this juice that totally mellows the beet juice to really let the apple sweetness sing. You could blend this with ice and serve it as a smoothie, but I really loved this strained as a juice and served with ice. So refreshing, invigorating, and full of goodness. Apples, ginger, lemon and beets are anti-inflammatory and nutritionally powerful plants that also happen to taste delicious. You really can't go wrong here =P
I hope you make this and save yourself some cash instead of dropping $8, plus you can support local Ontario apple growers while you're at it ;)
Yield: 3 cups of juice
Red Apple Beet Ginger Juice
Ingredients
2 medium Red Prince Apples, cored and quartered
1 large beet, peeled and roughly diced
1 inch knob of ginger, peeled
1/2 lemon, juiced
2 cups cold water
Ice to serve
Instructions
In a high powered blender, blend until there are no chunks remaining. Serve as a smoothie, or strain the pulp using a cheesecloth or a fine mesh bag and squeeze all the juice out. You could reserve the pulp to make into fibre-rich crackers in a dehydrator, but you get maybe 3 tbsp of pulp in the end
Pour the vibrant red juice over ice and enjoy immediately!