Disclaimer: This recipe is sponsored by Produce Made Simple, a long time partner and one of my favourite educational initiatives to simply inspire people to eat more produce!
Call me the Queen of Cobblers because this Savoury Tomato Cobbler is delicious!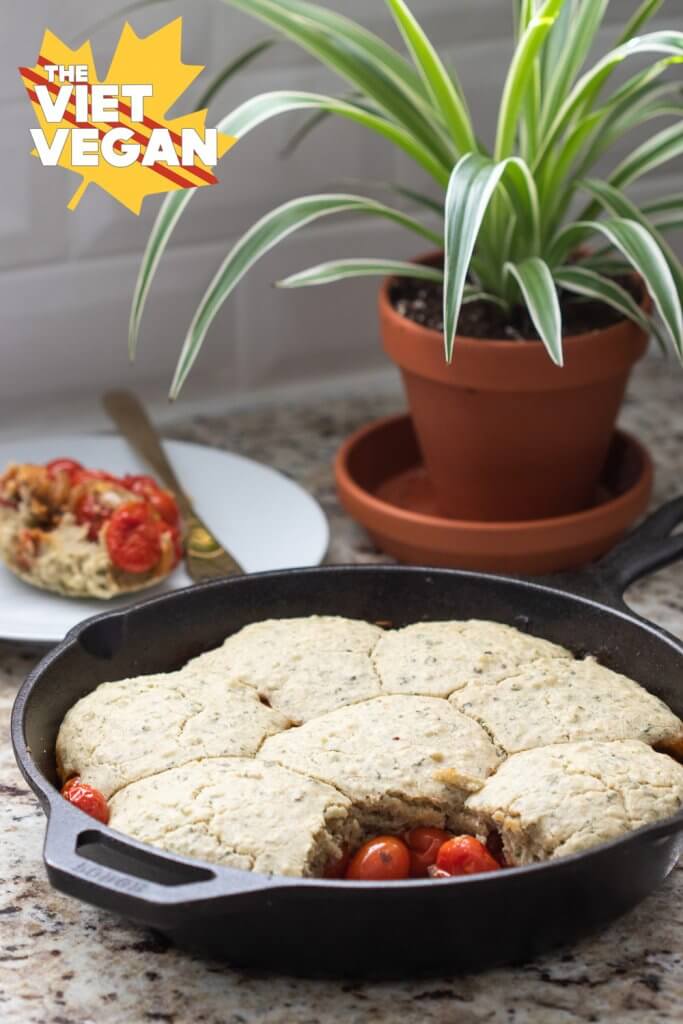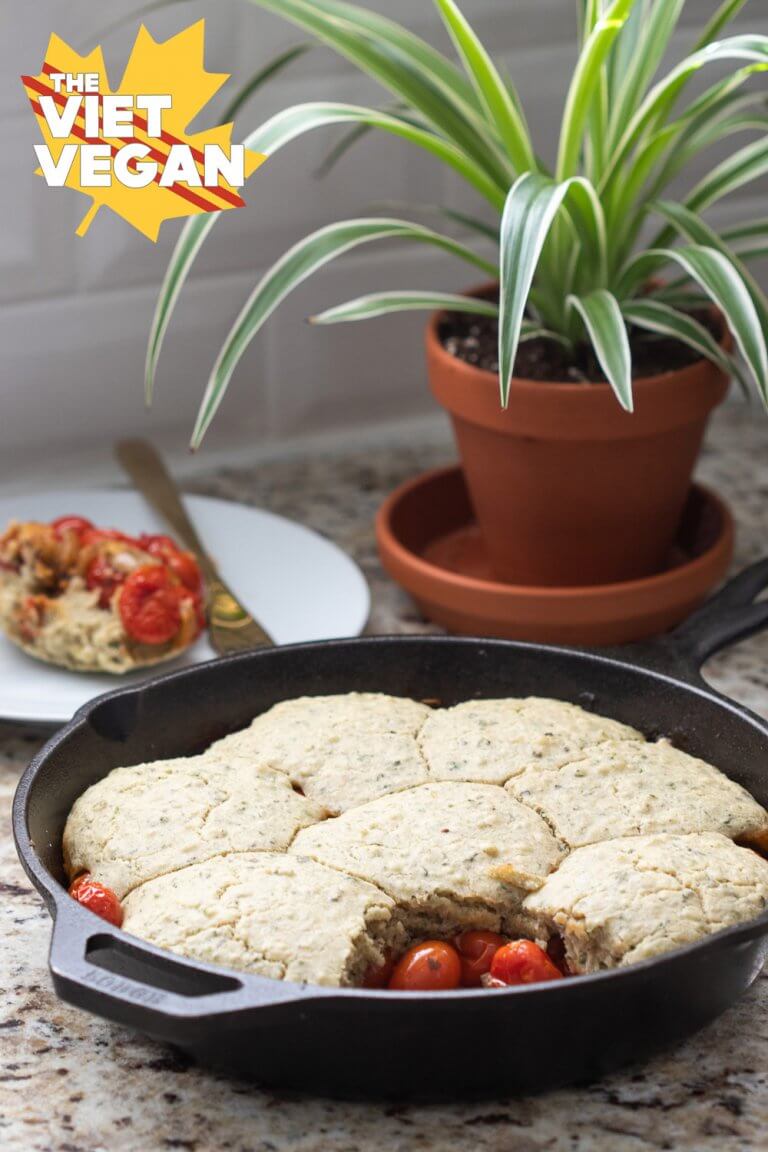 It's been quite a while since I posted on here, and of course, it's a recipe I've been testing for a good long while. Lately it's taken me ages to test a recipe over and over, I think because I'm so paranoid about food waste I know that I'll get sick of a certain dish if I make it too many times in a row. But I always come back for this beautiful savoury tomato cobbler! If you've been here for any amount of time at all, you'll know that I'm a HUGE fan of cobbler. I don't know what it is about a jammy layer and a biscuit layer, but cobblers are probably one of my favourite forms of food. My past cobblers have used blueberries and apricots, but this time around I wanted to experiment with some ways of making a savoury cobbler with grape tomatoes.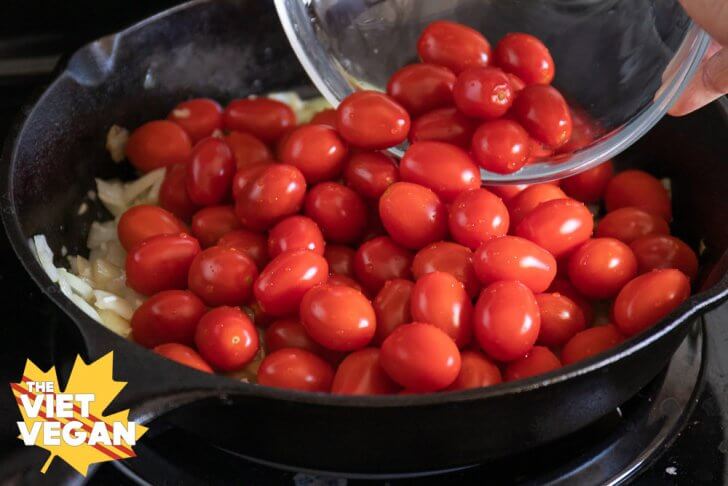 This year I'm partnering up with Produce Made Simple to share tons of produce information and goodness with you, and you know I will take any opportunity to share the fruit and veggie love whenever I can. These gorgeous red beauties are greenhouse grown in Ontario because the outdoor growing season in Ontario isn't very long, so there are amazing growers out there who have built upon years of research and development to grow beautiful produce for Canadians even when it's winter outside. If you're new here, I've done a TON of recipes with Produce Made Simple and they are my go-to resource for all things fruit and veg. From how to know how to store tomatoes (not in the fridge!), to how to clean mushrooms (water is totally fine!), pretty much any of the produce knowledge comes from working with them.
So if you want to learn it from the experts themselves, please go check out Produce Made Simple and enjoy reading through all the produce articles. The produce nerd in me is super into learning everything I can about a specific vegetable, and they have tons of vegan recipes too (not all are vegan, but they have a lot of them!)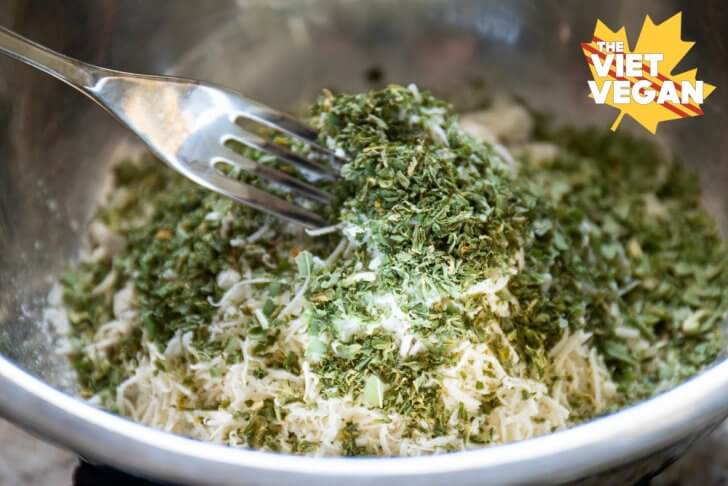 This savoury cobbler begins with simplicity: flour, spices, herbs and vegan butter. Smush it all together until you have pea sized chunks of butter squished with the flour mixture until you have a bit of shaggy dough. Add soy milk and give everything a good mix until you have a lumpy batter. I initially baked this recipe to create a fairly dense, very scone-y type texture, but I found that the tomatoes needed a bit of a softer, more tender cobbler to go along with it.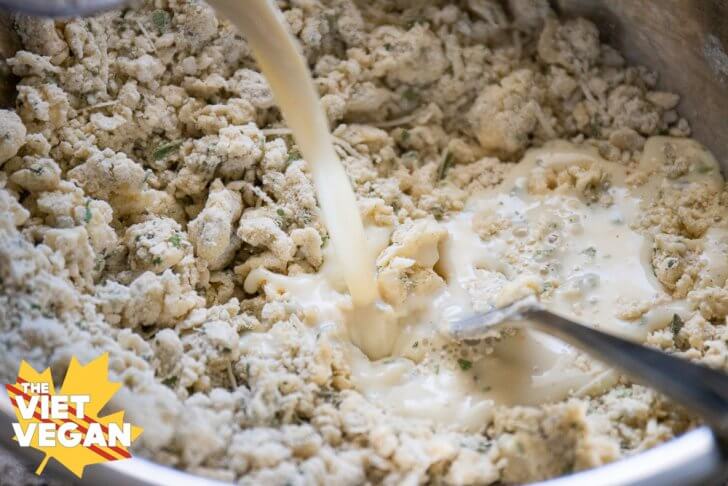 Despite spooning out the batter into cobbler-like placement, it'll bake up to be fairly flat and smooth, but the breaks in the dollops of dough help with serving later on. With plenty of garlic, spices, and a nice pat of vegan butter and some heat to coax the natural sweetness of these grape tomatoes, and you have the perfect jammy layer to pair with the herbed cobbler. It's been one of my favourite things to make anytime I catch some grape tomatoes on sale.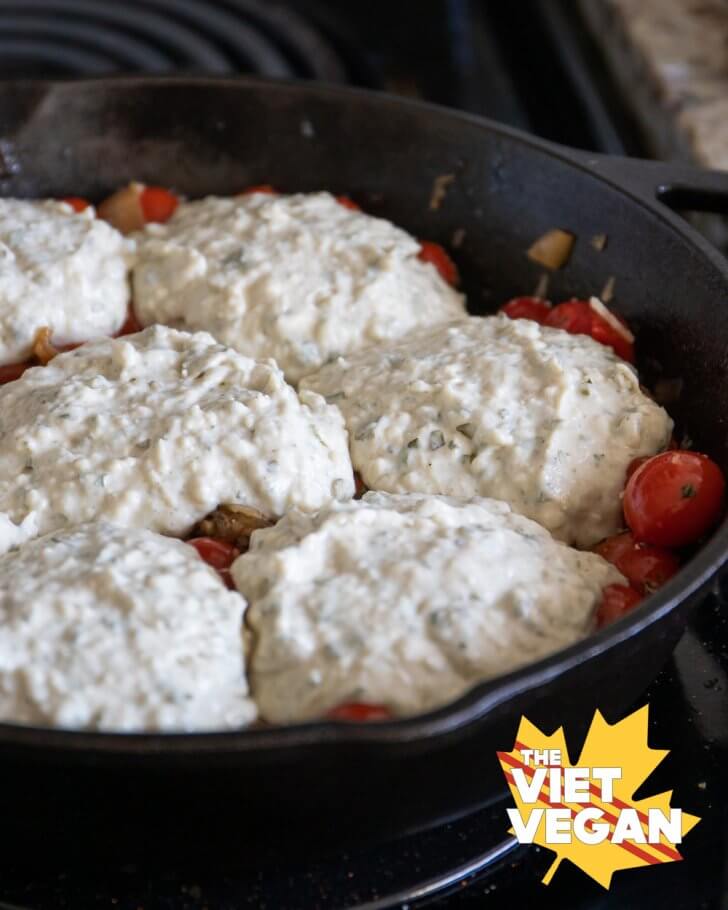 I'm sure you're wondering why I haven't mentioned the fact that we got MARRIED! I haven't been very good at talking about it much here, but the event has come and gone, it was magical and amazing and we felt so loved and supported. I'll post more of an update and overall summary of the whole wedding soon, but for now, if you want to see photos, they're over on my personal Instagram :)  (Although I have a few on my main TheVietVegan account too). I've had to take a bit of a break from recipe development because my eczema kind of blew up after the wedding stress, but luckily I shot this before the wedding for Produce Made Simple so at the very least, here's something delicious for you to try out!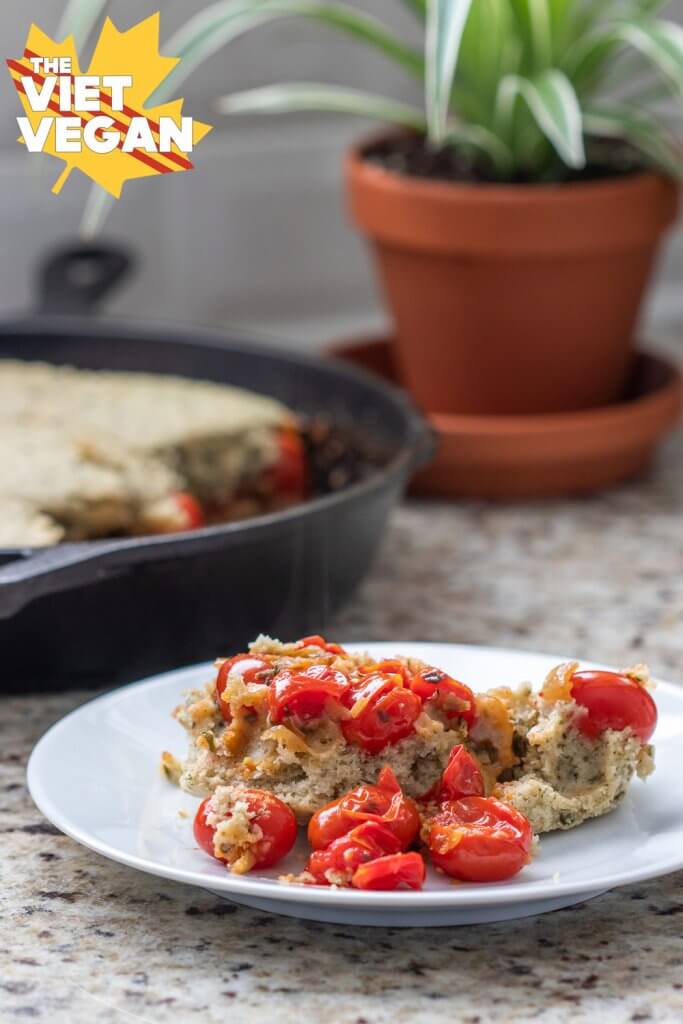 Thanks again to Produce Made Simple for sponsoring this recipe, there's more produce knowledge coming your way, so stay tuned!