Vegan alfredo pasta is one of my favourite pasta dishes: creamy, cheesy, and cozy comfort food. This vegan alfredo sauce is nut-free and easy to whip up!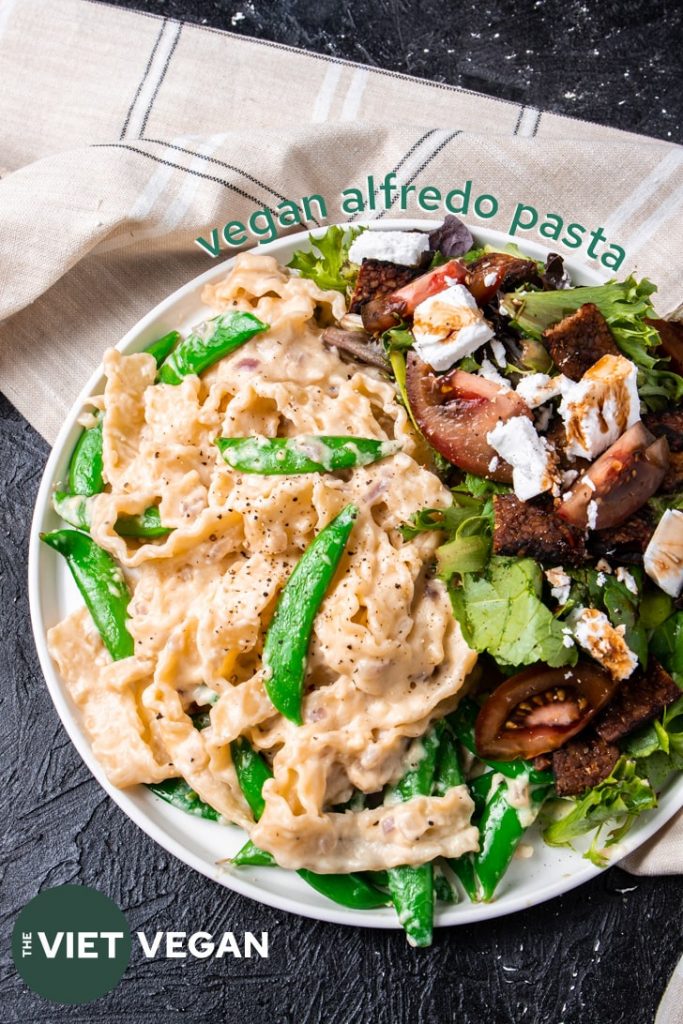 I've found that veganized creamy pastas at restaurants tend to be either made with nuts (I'm allergic) or really greasy because they use an oily vegan cheese that doesn't emulsify well. There are tons of more "whole foods" versions of alfredo, but when I eat a creamy pasta, I want a rich, cheesy creamy pasta. I'm not trying to eat this for health!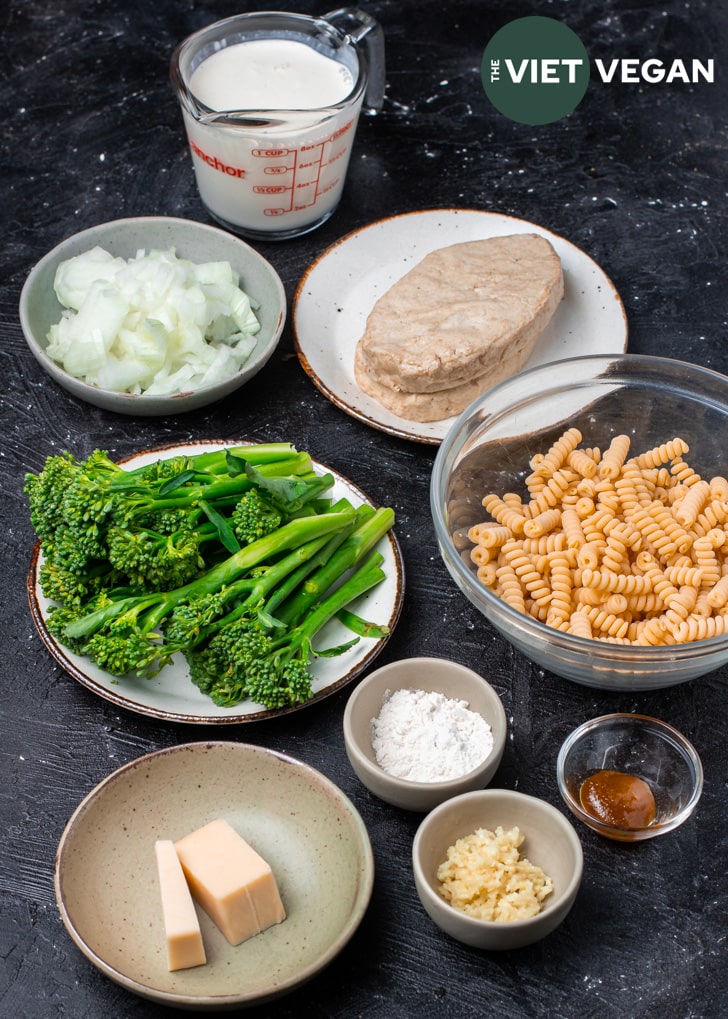 The Basics of Vegan Alfredo Pasta Sauce
Alfredo sauce is one of those quintessential pasta dishes you find at Italian restaurants in Canada. From what I can tell in my brief research, alfredo sauce (typically for fettucine alfredo) was traditionally made with just butter and parmigiana-reggiano cheese. The parmigiana-reggiano and butter that North Americans had access back in the day weren't really as rich and creamy, so cooking cream was used in the sauce to add body and richness.
So to make vegan alfredo sauce, you have to not only embody the creaminess and richness of the original sauce (easily done with a roux), but also reproduce the richness of flavour from a quality parmigiana-reggiano.
It's been about 8 years since I've had dairy-cheese, but I know that no vegan cheese will have the same umami and depth of flavour of true parmigiana-reggiano. So to compensate, I've added plenty of aromatics and flavour in this recipe.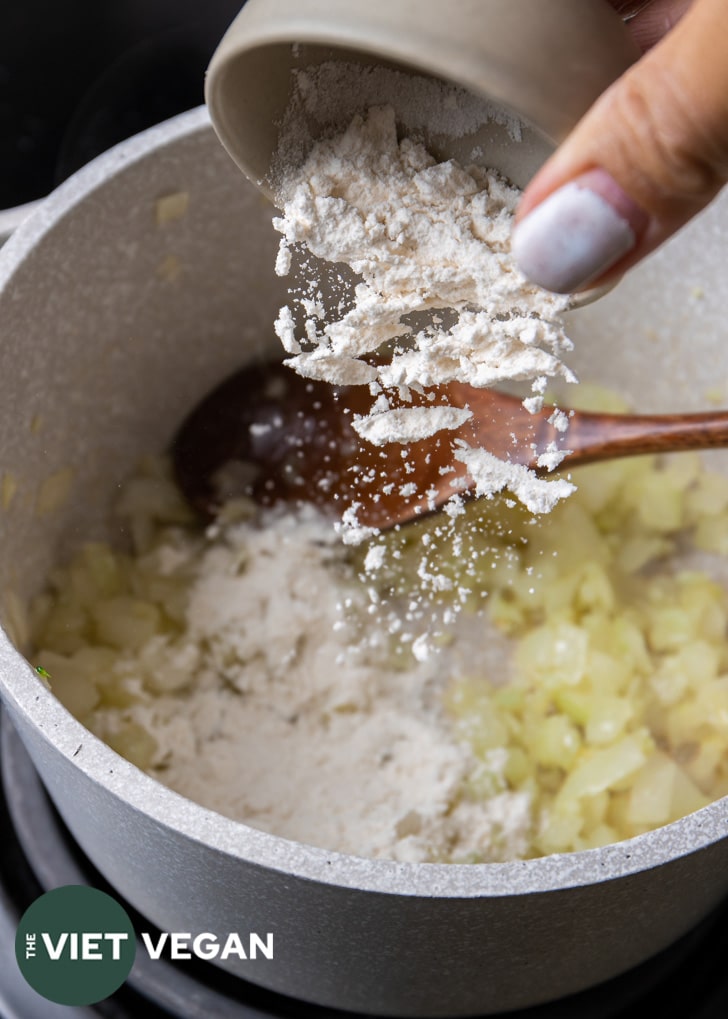 What you'll need for this recipe:
Tasty vegan butter: I personally like using Becel margarine or Flora Plant Butter (Salted). Becel can taste kinda plasticky to some, but it's generally what I always have in my fridge, so I will gravitate towards that. But Flora Plant or the Becel Vegan Butter stick is also a great choice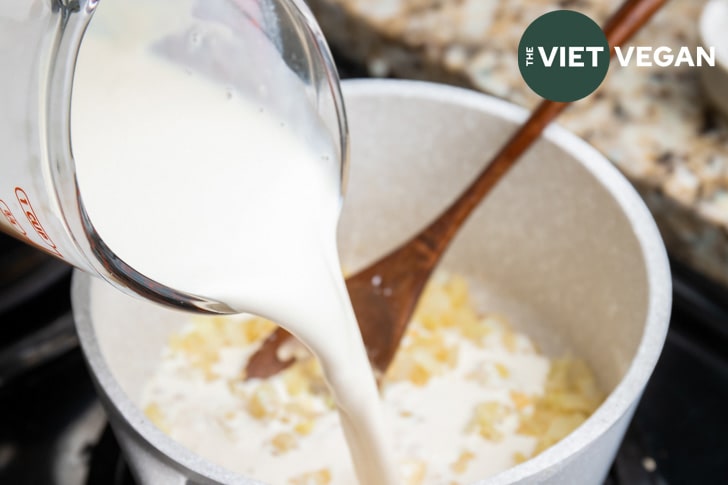 A plant-based cream: I love using Belsoy (also known as Alpro) soy cooking cream for this recipe. I've also tried with unsweetened soy milk or pea milk before and that's been good too, but replace the volume of starchy pasta water with plant milk instead.
Personally, I prefer using Belsoy cream over unsweetened plant milk. When I was testing this recipe, Eddie couldn't ever tell the difference. But he rarely can unless he's eating it side by side, so take that as you will haha.
Vegan no-chicken broth paste/bouillon cubes: To make up for the lack of umami in non-dairy cheese, I've added Better than Bouillon Vegetarian No-Chicken Broth paste. You could also use half a cube of the Edward & Sons Not-Chicken bouillon cubes or the Bulk Barn vegetarian chicken bouillon cube/powder too.
Vegan Parmesan: This is where the cheesy and salty flavour comes into play. There are a few different brands on the market, but my favourite wasn't available in Canada until recently!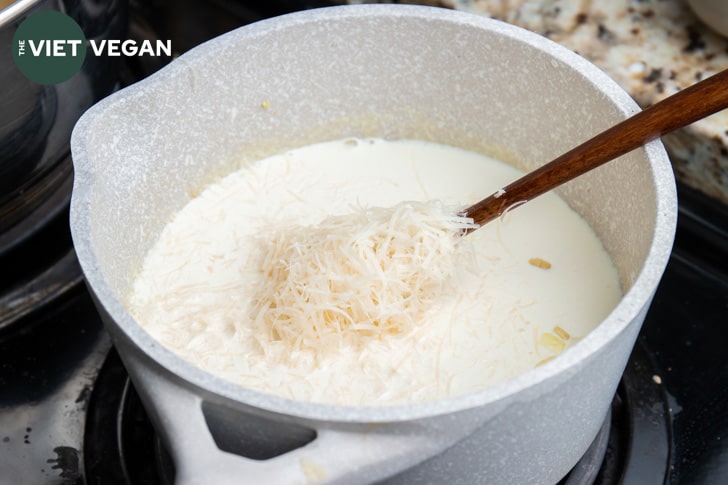 What Vegan Parmesan is best for Alfredo?
There are so many different vegan cheeses on the market, and some of them hit that funky, salty, dry cheese flavour, but most of them don't. My personal favourite to use is is the Violife Parmesan style wedge. Earth Island and Daiya also carry some parmesan options, which are okay, but I find that the Violife wedge has the most accurate flavour for vegan alfredo sauce.
There are also some vegan parmesan powder options that I've seen, which are reminiscent of the Kraft powder I grew up using. I wouldn't use that for this alfredo. A lot of them are nut- or nutritional-yeast-based, which will give you a salty, cheesy powder that's strictly okay for topping pasta.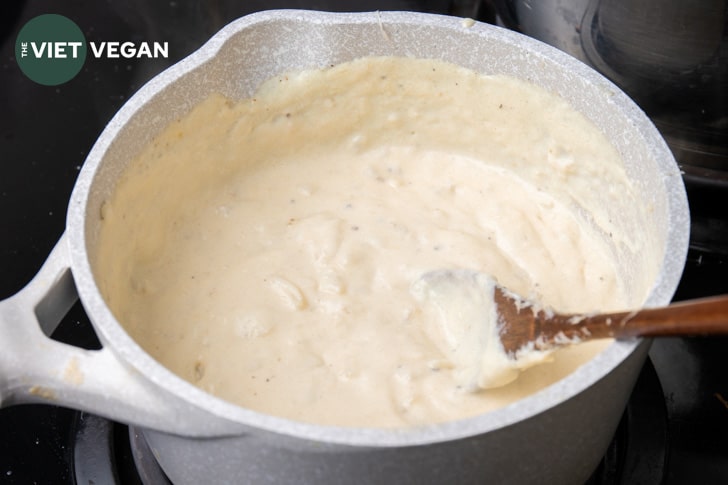 What to Serve with Vegan Alfredo Pasta:
I grew up eating the Michelina's fettuccine alfredo with chicken and broccoli. I ate this probably at least once a week, especially between ages 10 and 17. So naturally, in my version of vegan alfredo pasta, I like using a vegan chicken and broccoli/broccolini. I love using the Gardein scallopini/chick'n "breast" that I get from Coven Marketplace in Hamilton. It used the be the PC Blue Menu "chick'n", and it's easy and pairs with this vegan alfredo sauce.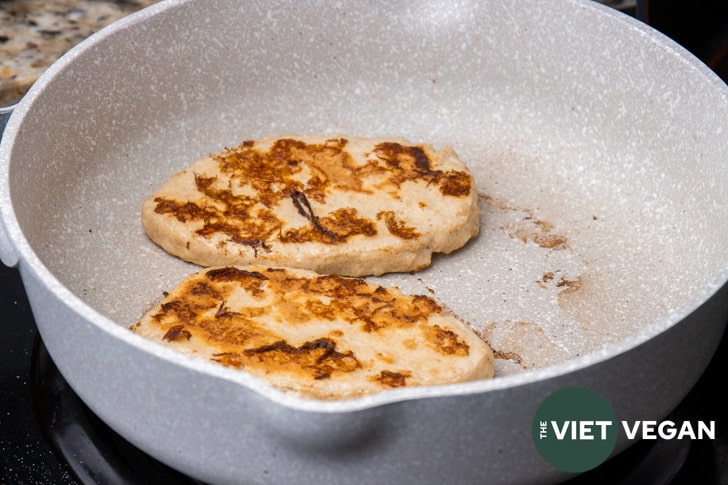 And of course, something green! Broccoli, broccolini, and snap peas are all delicious choices. You can't go wrong with any of those :)
Throw in your greens in the last minute of cooking the pasta to streamline the cooking process. Blanch until bright green, then toss with your sauce!
Can you meal prep this vegan alfredo sauce?
Yes! But manage your expectations.
Any creamy pasta gets a little congealed when stored in the fridge. I tend to loosen any leftover pasta with a splash of non-dairy unsweetened milk when reheating. For best results, prepare the sauce separately and cook your pasta fresh. That way, you can use some hot, starchy pasta water when you toss the pasta with the sauce.
But I understand if you don't want to cook a fresh pot of pasta every day! Meal prepping this with pasta in advance is definitely an option.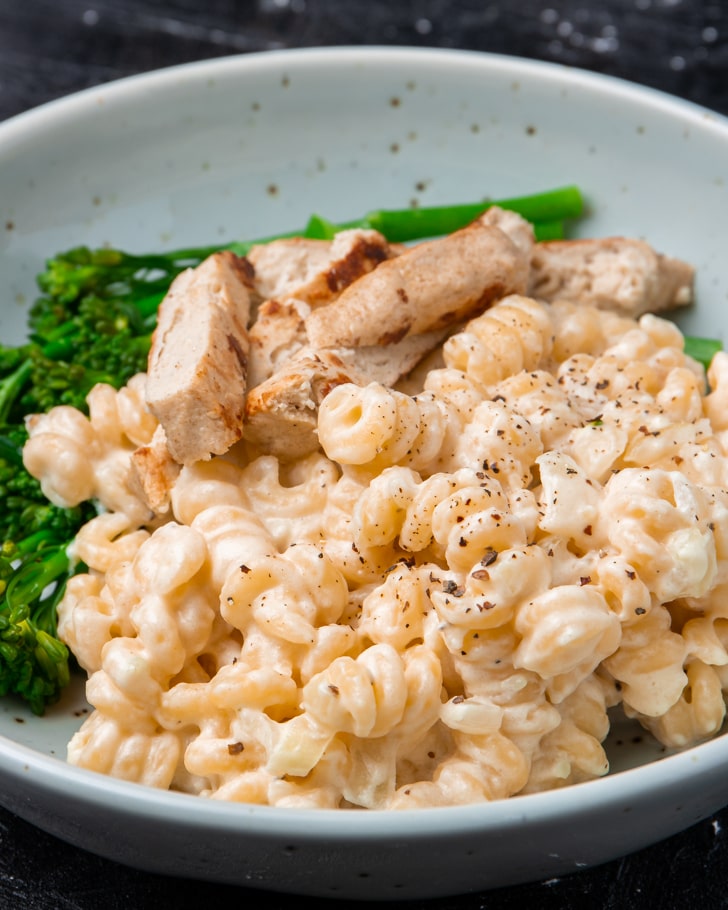 As you can see, I've made vegan alfredo with so many different pasta shapes: fettuccine, mafalda/malfadine, fusilli… I love this pasta in all forms haha. I do not discriminate.
Enjoy this vegan alfredo pasta with a big plate of greens! Or just leave it at a giant plate of pasta :) It's a good time either way.
Yield: 2 servings
Vegan Alfredo Pasta
Ingredients
200 g dry pasta of your choice (use GF pasta if GF)
2 tbsp vegan butter (or olive oil)
1 small onion, finely diced
3 cloves garlic, minced
1 tbsp flour (use cornstarch if gluten-free)
1 cup vegan cream* (see note below for using plant milk instead)
80 g vegan parmesan (I used grated Violife parm, but the Earth Island grated parm or parm powder would work here too)
1/2 tsp vegan chicken broth paste or 1/2 a vegan chicken bouillon cube
3/4 cup starchy pasta water
1 cup sugar snap peas OR 6 stems broccolini
1/2 tsp black pepper or to taste
Instructions
Bring a pot of salted water to a boil for your pasta. Cook pasta to al dente (if you're blanching any veg like I did here, add your desired veggies in here to cook for a min before draining) and reserve 1 cup of starchy pasta cooking water.
Meanwhile in a small saucepan, cook minced onion in olive oil over medium heat until translucent. Add in garlic and cook until fragrant (about 30 seconds).
Add flour and stir to cook and absorb the oil, then add in 1 cup vegan creamer or plant milk and vegan chicken bouillon paste/powder/cube, then whisk/stir vigorously until the flour has cooked and thickened in the sauce (to make the roux). Add the grated vegan parm and stir to melt, then thin the sauce with either more plant milk or the reserved cooking pasta water.
Add black pepper and stir until your sauce is creamy, thick, and heated through. Pour over your pasta (and blanched greens if using) and stir to coat your pasta.
Serve with your favourite vegan protein (I love using Gardein scallopini grilled in a pan!)
Enjoy immediately! Also reheats well in the microwave (you may need to revive with a bit of extra water or plant milk since the pasta will absorb extra moisture).
Notes
*If using plant milk instead of a soy cream, omit the 3/4 cup starchy water and use 1 + 1/2 - 3/4 cup unsweetened plant milk and cook, stirring until your sauce thickens nicely with the roux.