This vegan tofu katsu is a super versatile way of preparing tofu and can be served over Japanese curry, ramen, or just on a simple bed of cabbage and rice! This method of breading can also be used to make super tasty dunkable nuggets :)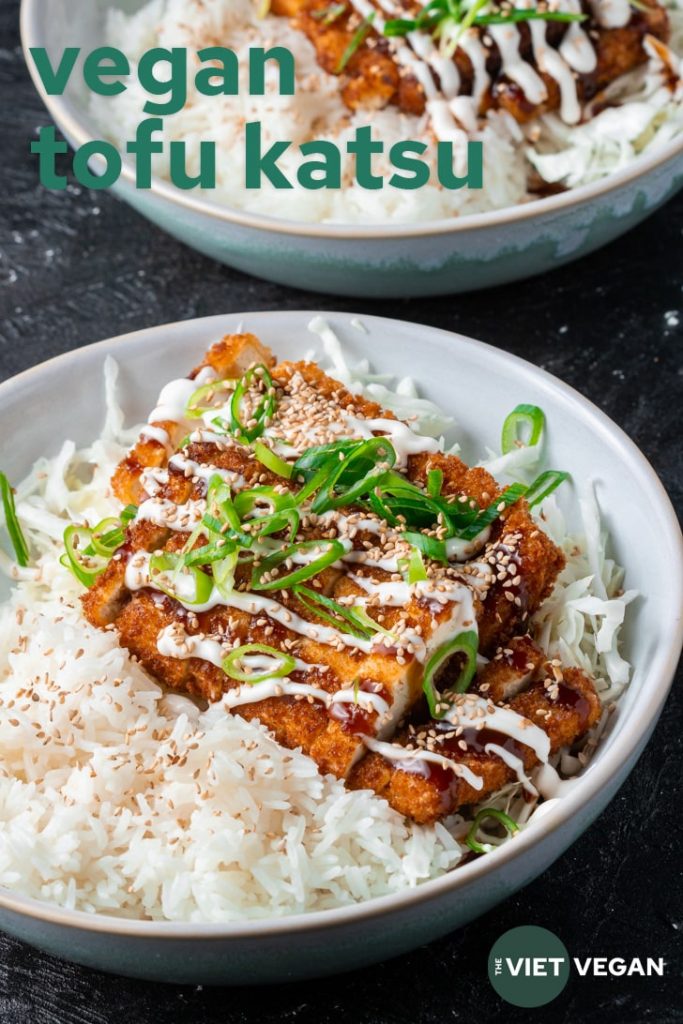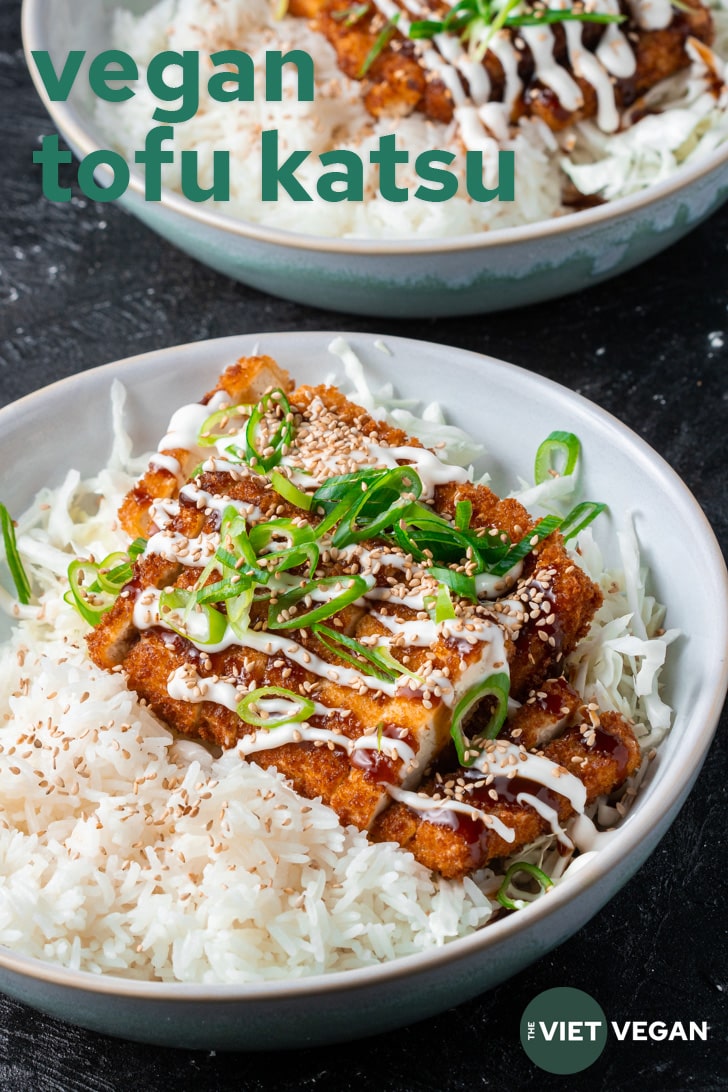 This recipe uses the more traditional katsu sauces of tonkatsu sauce and mayo (I don't have a vegan kewpie mayo so it's just regular vegan mayo). When I served with cabbage and rice, I was worried it would be too bland but it is so delicious since tonkatsu sauce is so flavourful!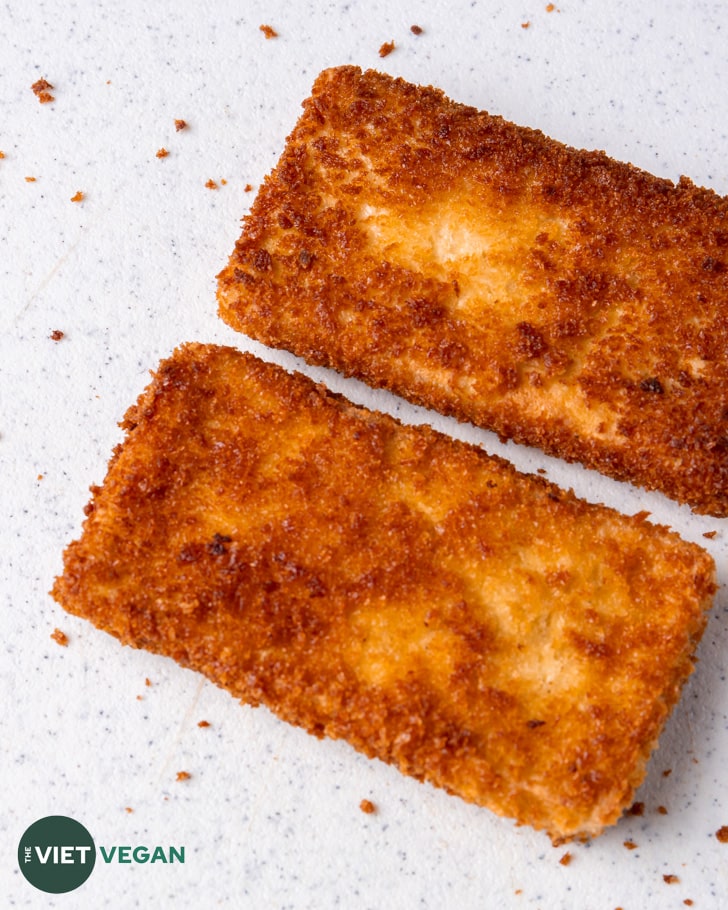 What is Katsu?
Katsu in Japanese means "cutlet", which in this context is a breaded and fried cutlet that is typically served with cabbage and rice. You may also see it in dishes like katsukore (curry + rice), katsudon (katsu + egg over rice), and ramen!
From what I've seen, most katsu recipes are dredged in flour then dipped in egg before being coated in panko crumbs. To veganize it, I use vegan yogurt to get a nice coating of panko to stick to the cutlets, but I've also used seasoned unsweetened milk in the past too. Alternatively, you can use vegan sour cream or vegan mayo, but plain vegan coconut yogurt has worked well for me for this recipe.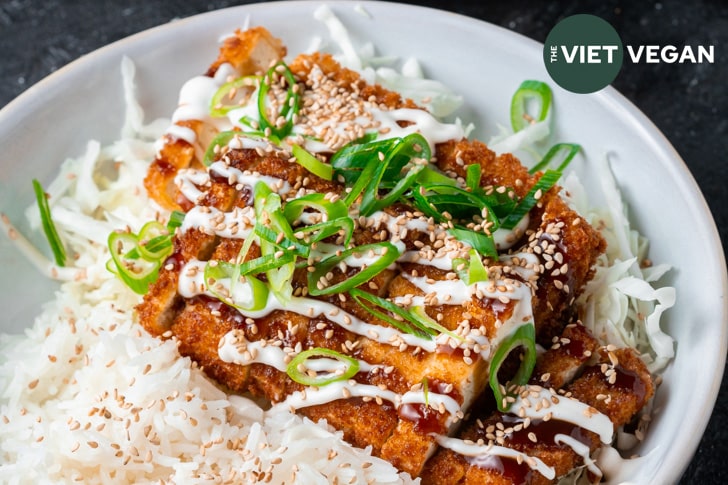 Tonkatsu Sauce
I had okonomi sauce in my fridge the first time I made tonkatsu and Eddie was a big fan of it on the katsu, but I bought some Bull-Dog tonkatsu sauce, which is thicker and not quite as sweet. While the flavour is only slightly different, I'm happy to have both options! I'll be using the okonomi sauce for okonomiyaki and yakisoba eventually.
The other box beside the tonkatsu sauce is the Japanese curry mix that we always have in the cupboard at home for Eddie's favourite curry. If you've never had Japanese curry before, it's a super savoury, thick and creamy stew that has tons of curry flavour and comforting spices. Lisa from Okonomi Kitchen has a veganized authentic Japanese curry recipe if you want to try her recipe!
I usually just use the box mix and leave it at that though haha.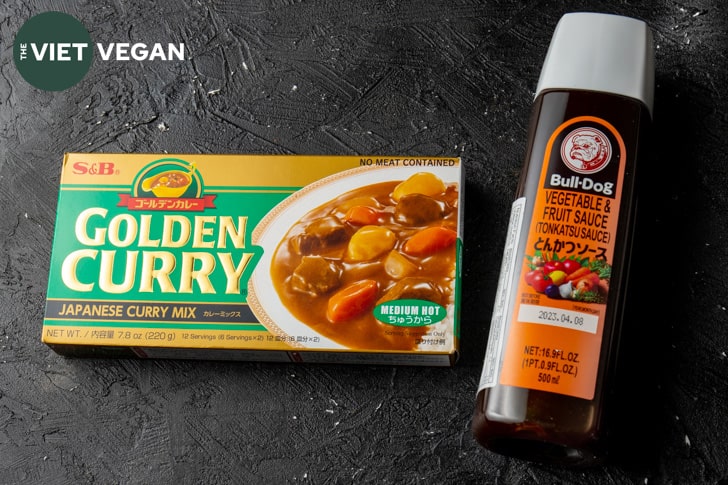 Preparation Tips
If you ever have a block of tofu in the fridge and you need a fairly quick and simple method of preparing it that isn't just baked tofu, make tofu katsu! Anything breaded and deep fried is a very good time, but you can also spritz the panko-crusted cutlets in a bit of cooking oil and bake or air-fry if you don't want to fry.
I actually opted for a shallow-fry instead since it uses less oil, but totally up to you. I left instructions for how to bake or air-fry in the Notes section of the recipe.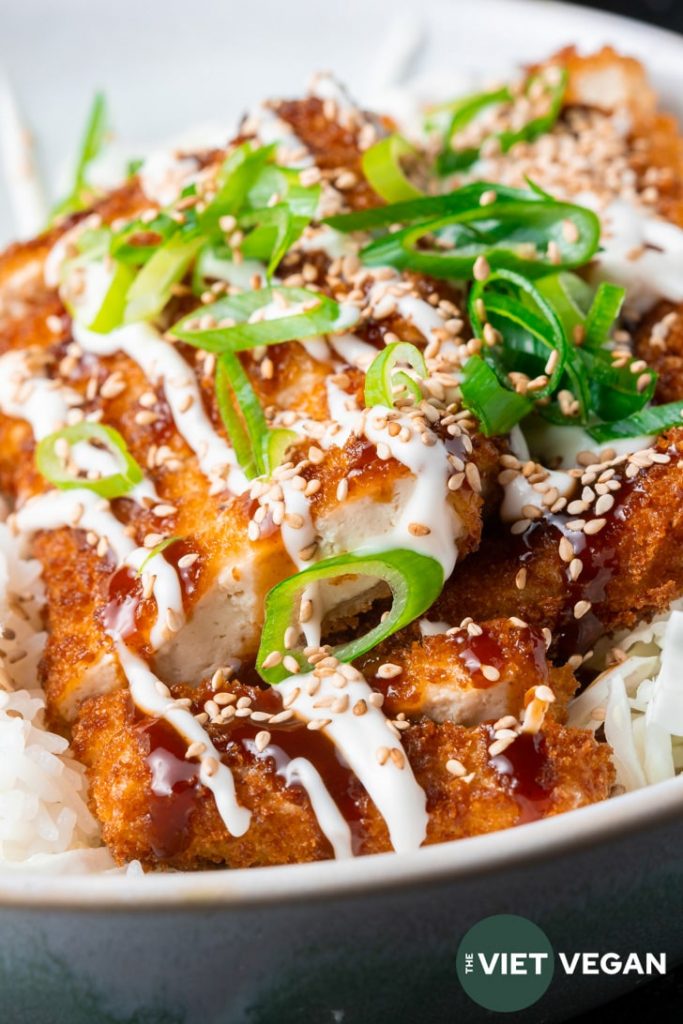 I hope you give this a try and I hope you like it! This is my go-to method for prepping a simple block of tofu into something I know Eddie will love. He's interested in tossing it into some Thai sweet chili sauce next, and I want to try it with Saigon sriracha (it's a bit more neon than Rooster sriracha and is sweeter) with vegan mayo.
I also have plans on making some udon or ramen and serving this on top. It's just such a fun texture and would be a great contrast and protein for so many dishes.
Yield: 6 tofu cutlets (serves 2-3)
Vegan Tofu Katsu & Rice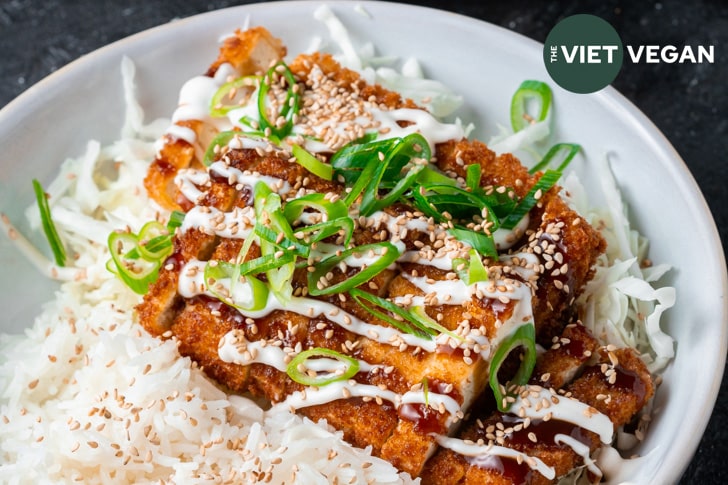 This tofu katsu is a perfect and easy way to prepare a simple block of tofu into a crispy delicious cutlet that can take on any sauce! This recipe uses the traditional simplicity of shredded cabbage, tonkatsu sauce and vegan mayo, but alternatively, you can serve with Japanese curry, shredded cabbage and rice (curry package in photo above).
Ingredients
Oil for frying
1 block extra firm tofu (400g), drained and pressed, at least 15 min**
Dry dredge mix
2 tbsp potato starch (can sub cornstarch instead)
1/4 tsp garlic powder
1/4 tsp onion powder
1/4 tsp white pepper (can sub black pepper)
Wet mix
3 tbsp vegan yogurt, sour cream, or mayo (I used plain coconut yogurt)
1 tsp yellow mustard
1/4 tsp garlic salt (use garlic powder if using vegan mayo)
1/4 tsp black pepper
To coat
~1.5 cups panko crumbs (start with 1 cup, add more if you need more), use gluten-free panko to make this recipe GF)
To serve
Steamed rice
Taiwanese or green cabbage (2 leaves, shredded per portion)
Tonkatsu sauce (Bull-dog sauce is GF I believe!)
Vegan Mayo (if you have vegan kewpie mayo, use that!)
Green onion, tops finely sliced for garnish
Toasted sesame seeds for garnish
Instructions
Prepare the tofu cutlets
Prepare tofu by draining well and pressing for at least 15 min to remove excess moisture. I used a tofu press for ease, but letting it press between two cutting boards with a heavy book on top is a classic move too!
Meanwhile, prepare your dry dredge and wet mix in two separate shallow plates, and then add panko to a larger third shallow dish (I use a 1/4 sheet pan for this).
Once tofu is adequately drained, slice the block in half, and then each half into 3 thin cutlets to get 6 pieces total.
Pat the tofu cutlets dry with a clean, lint free tea towel or paper towel.
First dredge in potato starch dry dredge mix, coating each cutlet well.
Then coat with a thin layer of wet mix, making sure to scrape off any large globs. You want a nice, even coating.
Finally, press the cutlet into panko crumbs, coating each side well. Set aside (I just leave it in the same panko coating dish since my sheet pan is large enough), and repeat until all 6 cutlets are dredged, coated in wet mix, then panko.
Frying the katsu
Heat a shallow pan with about 1 cm or 1/2 inch of oil, heat to about 350F (medium heat) or until it's hot enough that a piece of panko begins to fry steadily if you drop it in. You can deep fry this if you'd like, but I opted for a shallow fry. See notes for air-frying or baking options.
Fry the panko crusted cutlets until golden on each side, about 2-3 minutes per side.
Remove and let drain on a wire rack or a paper towel-lined plate.
Skim the oil of any stray crumbs or they'll burn or darken your oil.
Continue frying until all cutlets are golden brown!
To Serve
Slice the tofu katsu cutlets into thin strips and serve over a bed of shredded cabbage. Drizzle with tonkatsu sauce, vegan mayo, and finish with sliced scallions and toasted sesame seeds.
Serve with steamed rice and enjoy!
Notes
**For extra texture, you can do Mary's Test Kitchen's double freeze method, or a single freeze method, but I didn't do this. Just a bonus!
If you'd like to bake or air-fry, preheat oven to 400F/200C and spritz the panko-crusted cutlets with cooking oil. Bake for 10-12 minutes until browned, then turn, spritz again with cooking oil, and bake for another 10-12 minutes or until browned. It won't be as golden brown as the fried version, but the edges will still be browned and the overall result will still be crispy!