This fall favourite is a careful balance between tart and sweet,
baked until golden and apples tender, to get the perfect vegan apple crisp.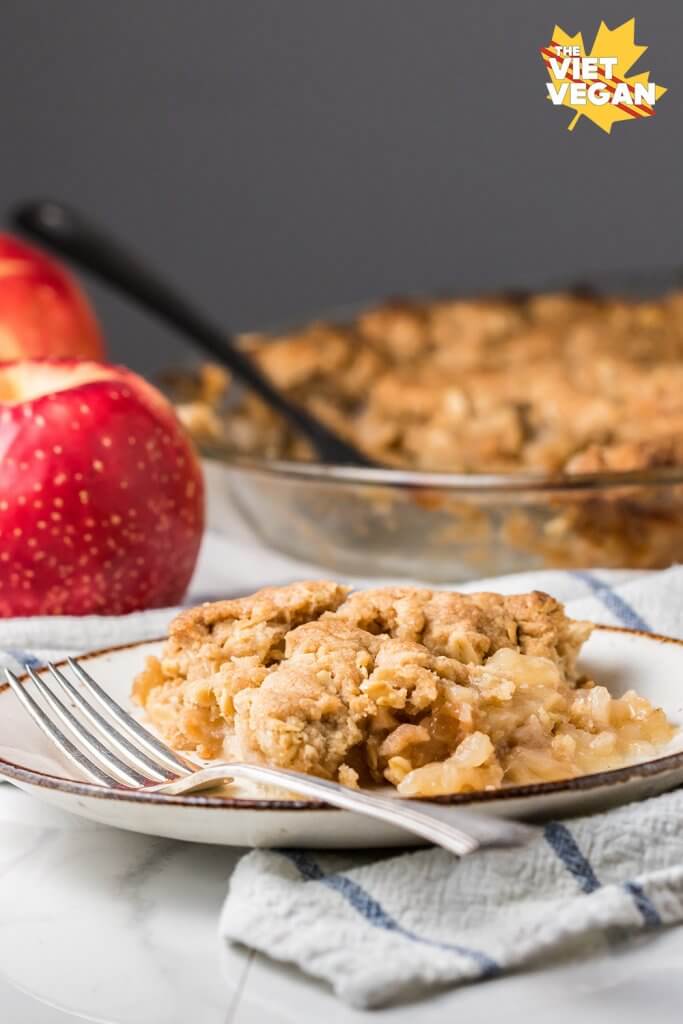 It's been a little while since I last posted a recipe, sorry about that. Frankly I've been eating a lot of pretty random meals and not many of them recipe-worthy. I have a few savoury soups coming up that I'll share, but for the most part, it's been some sort of vegan protein (baked tofu or some Gardein fishless filets) alongside some air fried Brussels sprouts, broccoli, or some blanched green beans. Not the most exciting subjects for my Instagram either, so it's been relatively quiet there too.
I've been taking some time to decompress after a pretty stressful summer, but mostly I think I was avoiding dealing with things for a while. I had let some things in my personal life go, and it was finally time for me to brush off the dust and get things up and running again. The only problem was that I had hit the ground running before I was ready, so I pretty much instantly got knocked back down.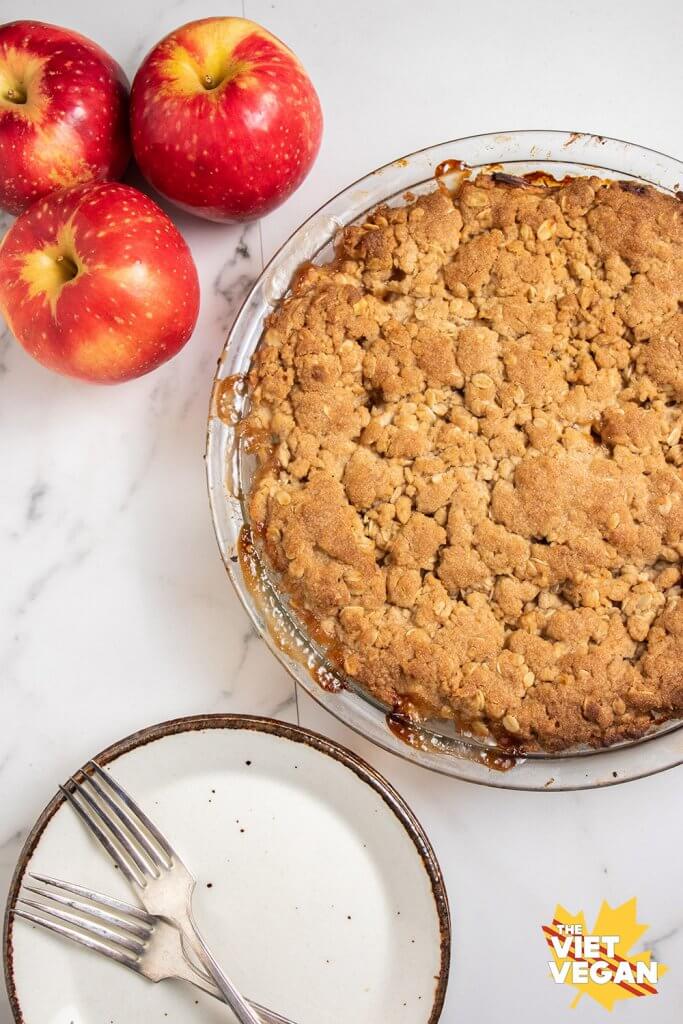 I've taken some time to recoup, spending time with family, time alone, escaping in some worlds here and there. I used to just compartmentalize and get things done and trying to recover in the downtime, but after a certain amount of time, the time I could be up and running between breaking down got shorter and shorter. I had to finally just sit and let go.
Life is too short to be running at full speed all the time, and that stressful feeling of always having to get things done was not the feeling I wanted to have for the rest of my life. Life will always be busy, it is always demanding, but the one thing I was determined to change was to stop letting it control my mind and body to be constantly in that fight or flight mode. It sounds so new-age and radical, the idea of just living life a little slower. I liked the feeling of accomplishment after all the hustling, but not the hives and exhaustion that came after a particularly stressful bout of it.

So I am now transitioning to a slightly slower lifestyle. Lowering my expectations of myself because life is short and I don't want to live every day as a hustle. Testing recipes at my own pace instead of trying to meet the demands of the "standard" youtube cooking channel and blog. I might not make as much money, I might not be as successful, but I won't be stressed out all the time and aging faster than I should be. So maybe that's okay in the end.
In any case, my slower pace meant that I could test this recipe several times before I got it out to you. A simple vegan apple crisp, not too much fuss, not too many ingredients, and relatively fool-proof. Oats to make the streusel extra crisp, a touch of brown sugar to add caramel flavour, and of course, plenty of cinnamon to bring out the fall deliciousness of apples.
Plus it'll help you eat all those apples you picked that are sitting in your fridge, awaiting to be used up.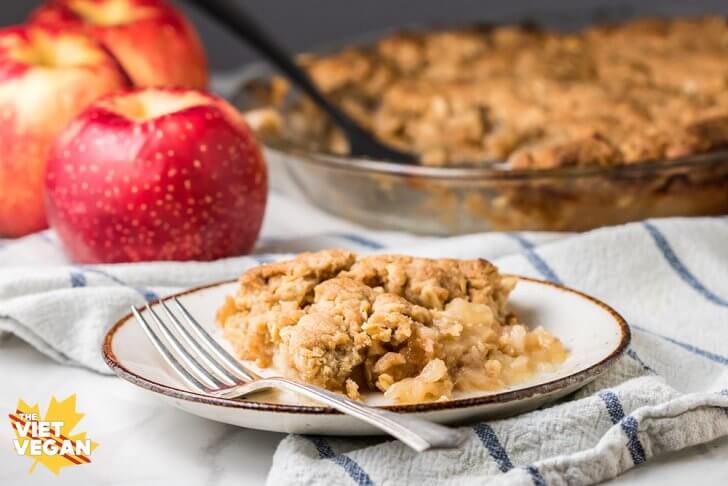 Yield: 6-8 servings
Vegan Apple Crisp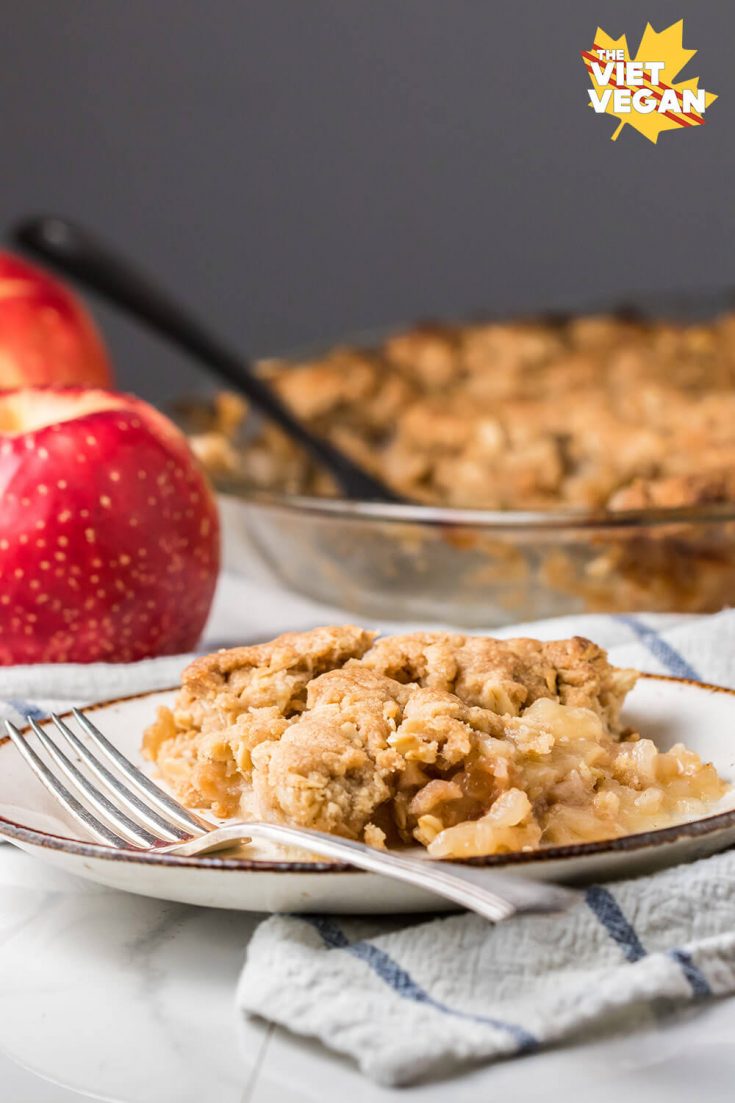 Ingredients
Streusel Topping
1/2 cup rolled oats
1 cup all purpose flour
1/4 cup brown sugar (This was originally 1/2 cup but I've since reduced it to half because I'm old now and it's too sweet for me hahah)
1/2 cup cold vegan butter (I used Earth Balance)
1 tsp ground cinnamon
Filling
1 lb tart cooking apples* (4-5 medium apples), cored and peeled, thinly sliced
1 tbsp lemon juice
2 tsp cornstarch
1/2 tsp ground cinnamon
1 tbsp brown sugar
1 tbsp vegan butter
Instructions
Preheat oven to 350F.
Make the streusel topping by combining rolled oats, flour, brown sugar, vegan butter and ground cinnamon. Mix until a homogenous mixture. Set aside.
Prepare the filling by tossing the sliced apples with lemon juice, cornstarch, ground cinnamon, and brown sugar. Layer into a 9-inch glass pie pan and dot with vegan butter (about 1 tbsp broken up into chunks).
Top with the streusel and gently press to evenly coat the apples, leaving little gaps for the liquid from the apples to bubble closer to the middle.
Bake for 35 minutes until the top is golden and the filling is bubbly.
Let cool for 10 minutes before serving, then enjoy! Bonus if you find some vegan vanilla ice cream or whipped cream to scoop on top.
Notes
*I used Macintosh and SweeTango apples here, but Red Prince, Idared, and Spy are also great options. You're looking for apples with some tartness to balance out the sweetness of the dish.