This vegan hamburger helper (vegan beef stroganoff) recipe this is the savoury, creamy, luscious 30-min pasta of my dreams!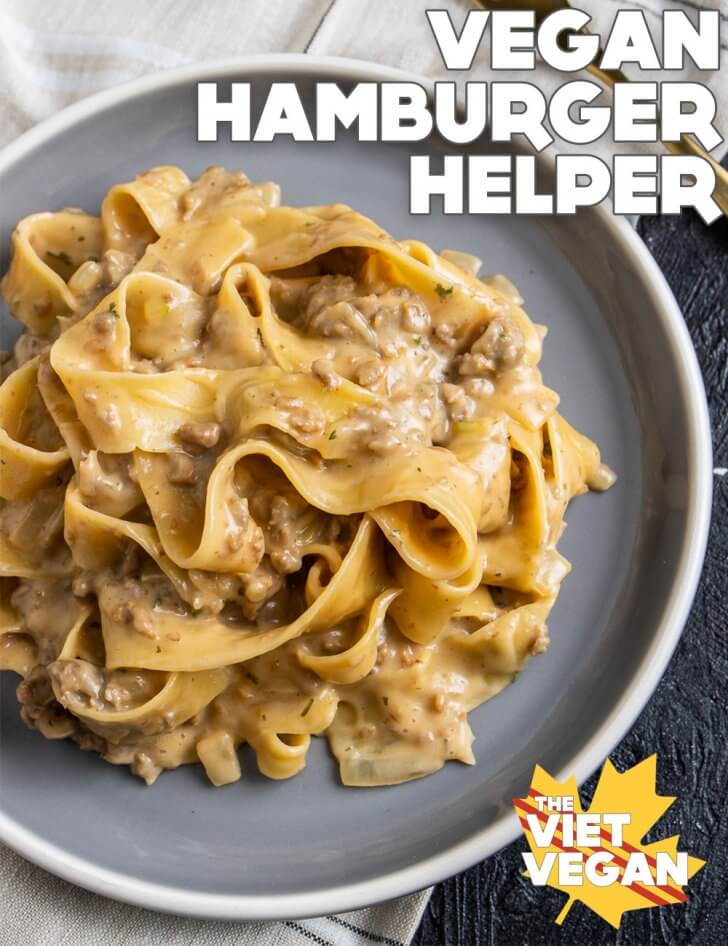 I didn't realize how much I missed Hamburger Helper until Eddie asked me to try veganizing it, and oof! The experiments I made with playing around with this recipe were a delicious time. I forgot how much of an easy recipe this was; honestly I don't even know why it's a boxed meal at all, since it's so easy.
The main components of flavour come from whatever meat substitute you use (be it lentils, Yves ground, Lightlife ground, or Beyond Beef), a broth paste/strong vegetable broth, a touch of onion, and sour cream. That's it! Of course onion and garlic help round out the savoury with some sweetness and aromatics, but the vegan broth I use is so punchy and savoury, it's delicious! I used Better than Bouillon (found most affordably at Costco for me), and that does the majority of the heavy lifting for flavour in this dish.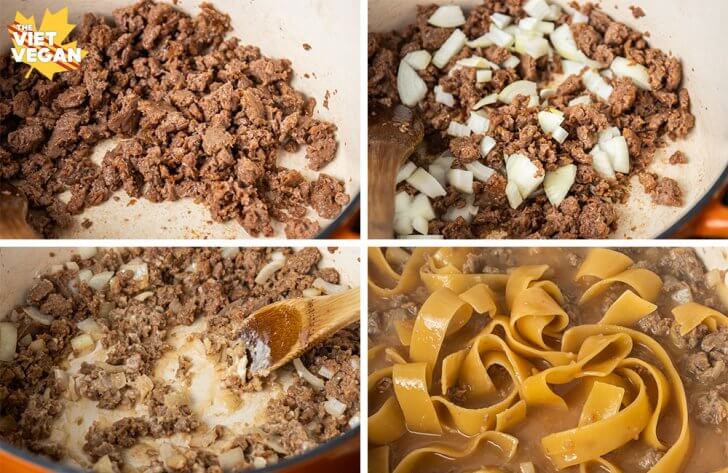 To create the creamy sauce, you make a roux (much like any mac and cheese or alfredo sauce), which involves cooking flour in some fat and loosened up with pasta water, to better emulsify with the vegan sour cream. The roux then creates a silky sauce with the broth paste, pasta water, and sour cream. So easy, so luscious, and so quick to pull together.
If you want to add mushrooms, add sliced creminis and cook with a touch of extra olive oil when you add the onions. The mushrooms will release some moisture which will help lift up flavour from the vegan meat substitute you use. Speaking of which, if you'd rather a less processed version, I've tried this with green lentils (I cooked 1 cup of dry lentils to substitute) and it was just as luscious and tasty! Luckily the bouillon paste is so flavourful that you still get that savoury, nearly beefy flavour even without the vegan ground.
I think it would also be so creamy and delicious with puy or black/beluga lentils, so that's definitely something I will be trying soon. They're relatively cheap, chock full of protein, fibre, and other healthy pulse-related nutrients. Plus: lentils are really good for the earth, so not only are they less processed and thus less adversely impactful on the environment, they replenish nitrogen back into the soil.
I've added a note to the bottom of the recipe if you'd like to make this as a one-pot meal (much like my one pot pasta), but honestly, I preferred the consistency of the dish using pasta water and cooking the pasta separately, but it's ultimately up to you! I find it a bit silkier made separately, but sometimes you just can't be bothered to wash another pot, which I get!
Since stroganoff (and hamburger helper) are typically made with egg noodles or wavy short noodles, I tried this recipe with a collection of different pastas: parpadelle (the closest thing to an egg noodle), mini lasagna noodles, GoGo Quinoa gluten-free macaroni noodles, and strozzapreti. They were all delicious, so it ultimately is up to you! I think my faves are either the parpadelle or the lasagna noodles.
This whole meal pulls together in less than 30 minutes from start to finish, and you could add some frozen peas, mushrooms, or even some zucchini to round out the meal with some veggies. So I hope you try this vegan hamburger helper recipe and let me know how it tastes for you! It's been a regular dinner lately since I've been testing it, I just love how comforting and creamy it is. So good!
Yield: 2-3 servings
Vegan Hamburger Helper (Vegan Beefless Pasta)
This is my veganized take on boxed Hamburger Helper, but made vegan! Creamy, tender pasta with lots of tender beefy flavour thanks to Beyond Meat beefless ground (but you could easily swap for cooked lentils!)
Ingredients
200 g pasta (~2 cups, or enough to serve 2-4 people), cooked al dente
Salt for the pasta water
1 pack of Beyond Beef (340 g)*
1 medium onion (90 g), diced
2 cloves garlic (8 g), crushed or minced
2 tbsp all purpose flour (can sub cornstarch)
1 cup water from cooking pasta
1 tbsp vegetable broth paste (I used Better than Bouillon, but you could also use a bouillon cube)
1/2 cup vegan sour cream (I used Tofutti, but blended silken tofu or your own homemade cashew sour cream would work as well).
1/2 tsp parsley flakes (or 2 tbsp fresh parsley)
Instructions
Bring a medium pot of water to a boil, and salt well (until it tastes like sea water--I used about 2 tsp salt for about 3 inches of water). Cook noodles until al dente, strain the noodles but reserve at least 1 cup of water from the pasta.
In a large pot over medium heat, cook the vegan ground substitute until browned, breaking up the pieces to your desired sized chunks. (See YouTube video for what I did). Stir well to get an even browning, this should take about 5 minutes.
Once browned, add diced onion, and cook until onion is softened, about 3-4 minutes. You might need to splash on some water to deglaze the bottom of the pan and lower the heat if you find that the ground is sticking too much. Add crushed garlic once the onion is cooked, and stir for about 30 seconds, until fragrant.
Add 2 tbsp of flour (or cornstarch), and add just enough water to hydrate the flour to create a roux. Once the flour is hydrated, add about 1 cup of the pasta water and the broth paste, and mix to incorporate.
Add in the cooked pasta and stir to coat. Check that everything is cooked to your liking (pasta and the vegan ground beef), then add in the vegan sour cream and parsley.
Turn off the heat and serve immediately!
Notes
*Instead of Beyond Beef, you can sub 1 cup of lentils, cooked, like green or black/puy lentils.
If you are wanting to make this in one pot instead of cooking the pasta separately, add about 3 cups (750 mL) of vegetable broth (or just water if you're using broth paste like me) for 200 g of pasta after you create the roux. Cover and let the pasta cook for about 10 minutes, stirring every 2-3 minutes. If you find that there's too much water, cook with the lid off to cook out the extra water (but I found 3 cups about adequate). Once the pasta is cooked through and the liquid is mostly just sauciness, add in the sour cream and parsley.