These vegan lemon poppyseed pancakes 
are the perfect breakfast for a taste of spring!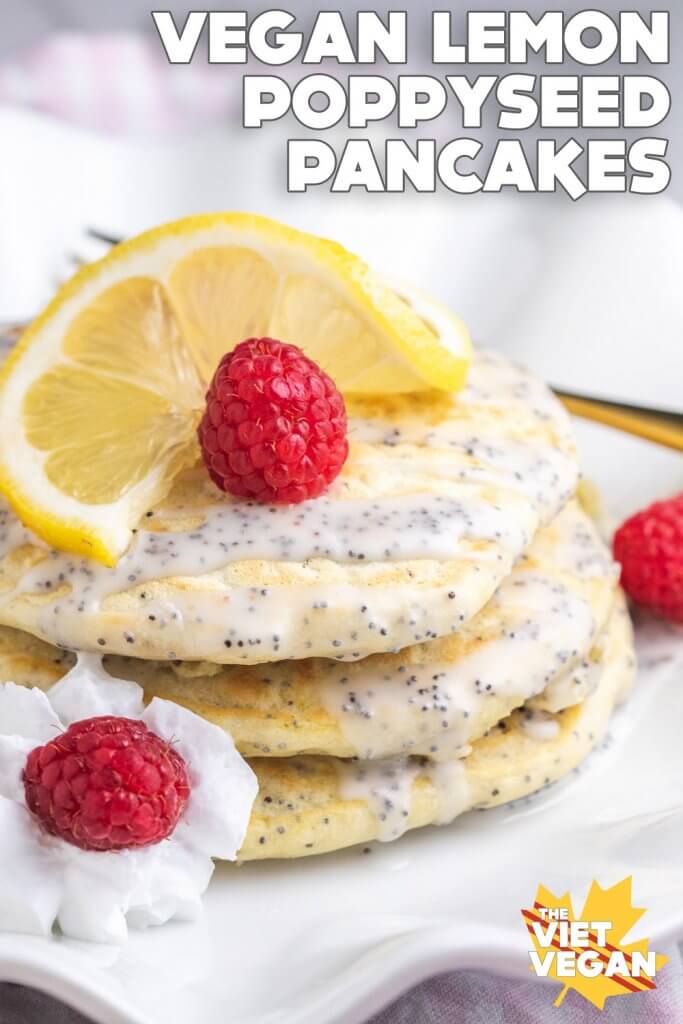 Today, Eddie and I went on a hike at Malibu Creek State Park with a very old friend and I was taken aback by how much I love being surrounded by mountains. Either being on a mountain or being just in the valley between these hulking mounds of land that humble you and remind you that you are not so big that the things you worry about are worth that energy.
I forget how much I enjoy nature because so much of the time I'm just parked in front of a computer and editing or writing all day. I love doing both of those things, but it's obviously always a good thing to step back into nature and get a fresh perspective and soak in some sunshine and clean air.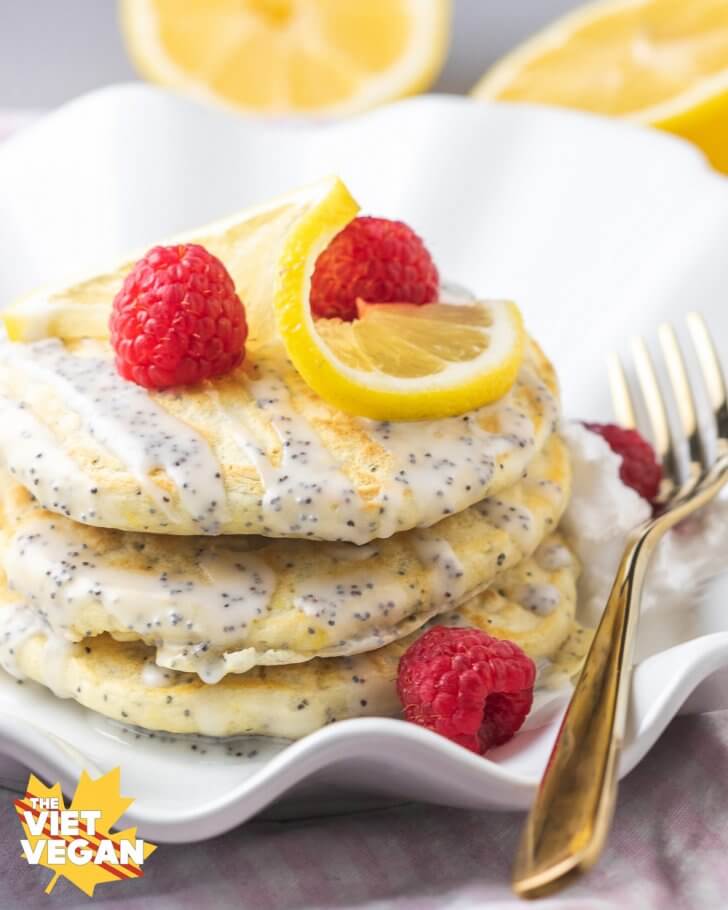 Living where we live now always seems like an odd limbo to me: it's not deep in the country or close to the woods, but it's also not in the heart of Toronto either. I feel the call of both places; to live either surrounded by nature or by a concrete forest.
Honestly both have their perks and I've loved living among both.
Eddie is in the middle of transitioning jobs where I finally may be able to see him more often because he'll be commuting less. We're both feeling that pull towards the opportunities in the city, even though I think we want to be out of the hustle and bustle and more into that damp silence of the woods.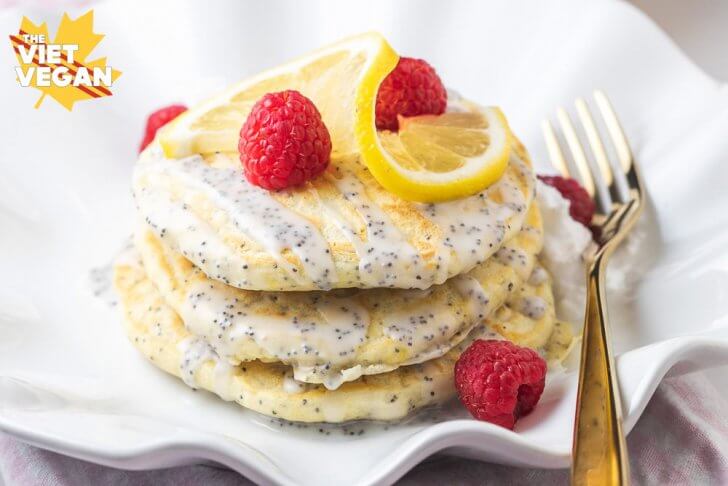 Sometimes I wish we were one of those super well off people who had a house in the country and a condo in the city so we could switch between the two whenever we need to, but that's highly unlikely, especially now that we're saving up for a wedding too.
It's my dream to have a big, ol' farmhouse kitchen with big counters and entertaining space, but then also to be able to take the elevator down and be able to hop onto the subway within a 10 minute walk.
Two very tall orders that we cannot make at the moment.
But who knows, maybe one day we'll get there.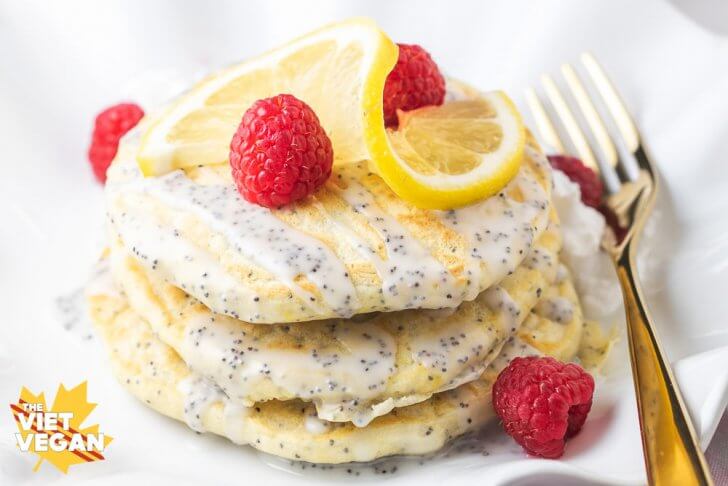 Who knows if I'll ever get my dream house or my dream life, but I think it's pretty safe to say that life is pretty damn good right now if I've got a batch of these lemon poppyseed pancakes. I showed the two different ways I like them in the video (and in the recipe written below). The glaze photographs a lot better but I prefer to eat them with the lemon syrup.
Either way, it's a fresh, lemony good time :)
Yield: 8 pancakes
Vegan Lemon Poppyseed Pancakes
Ingredients
Zest of one lemon
1 1/2 cups soy milk
4 tsp lemon juice
1 1/2 cups all purpose flour
1 tsp sugar
2 tsp baking powder
1 tsp baking soda
1 pinch of salt
2 tbsp neutral oil (I used sunflower seed oil)
2 Tbsp poppy seeds
Vegan butter for the pan
Lemon Poppyseed Glaze
3 Tbsp lemon juice
1/2 cup icing sugar
1/2 tsp poppy seeds
Lemon Poppyseed Syrup
3 Tbsp lemon juice
3-4 Tbsp icing sugar
1/2 tsp poppyseeds
To serve:
Vegan coconut whipped cream
Raspberries
Lemon slice for garnish (optional)
Instructions
In a bowl/measuring cup, combine soy milk and 4 tsp lemon juice, and combine then let sit to curdle and thicken to make a vegan buttermilk.
In a large mixing bowl, whisk together lemon zest, flour, sugar, baking powder, baking soda, salt, and poppy seeds to get rid of any lumps.
Pour the soy milk (vegan buttermilk) mixture and oil into the flour mixture and whisk until lumpy but most flour is integrated. DO NOT OVERMIX. Let the batter sit for a few minutes (5 should be fine) to let the leavening agents work their magic.
Preheat a griddle to 350F (or a pan to medium heat) and brush an even light coating of the vegan margarine. Add 1/4-1/3 cup blobs of the pancake batter to the griddle. Gently flatten with a back of a spoon/ladle to get the desired shape and even out the batter. Cook for about 2-3 minutes until the edges are slightly cooked and bottom is golden. Flip and cook for another minute or two until that side is golden as well.
Glaze/Syrup
Combine the ingredients for either the glaze OR the syrup and stir to combine until all the icing sugar is dissolved.
To serve:
Stack your pancakes, drizzle the syrup or the glaze over the pancakes and add vegan whipped cream and raspberries! Add a slice of lemon for garnish if desired.