This vegan mongolian beef uses soy curls to mimic the unctuous crisp and chewy texture of the original dish but has the same sticky sweet and savoury sauce! Perfect for takeout made in your kitchen with a tiny bit of work. So tasty!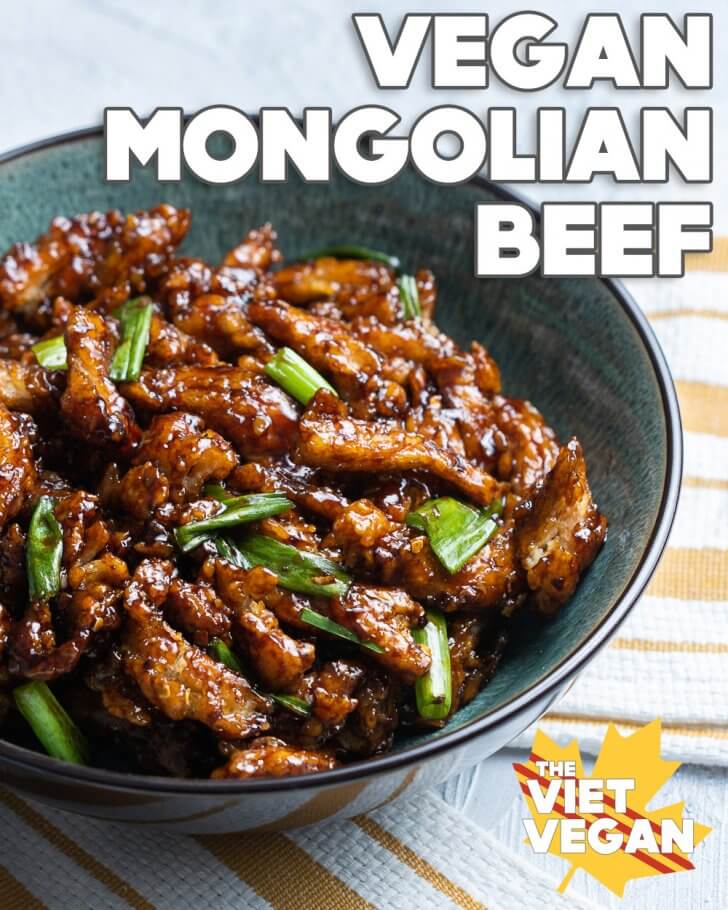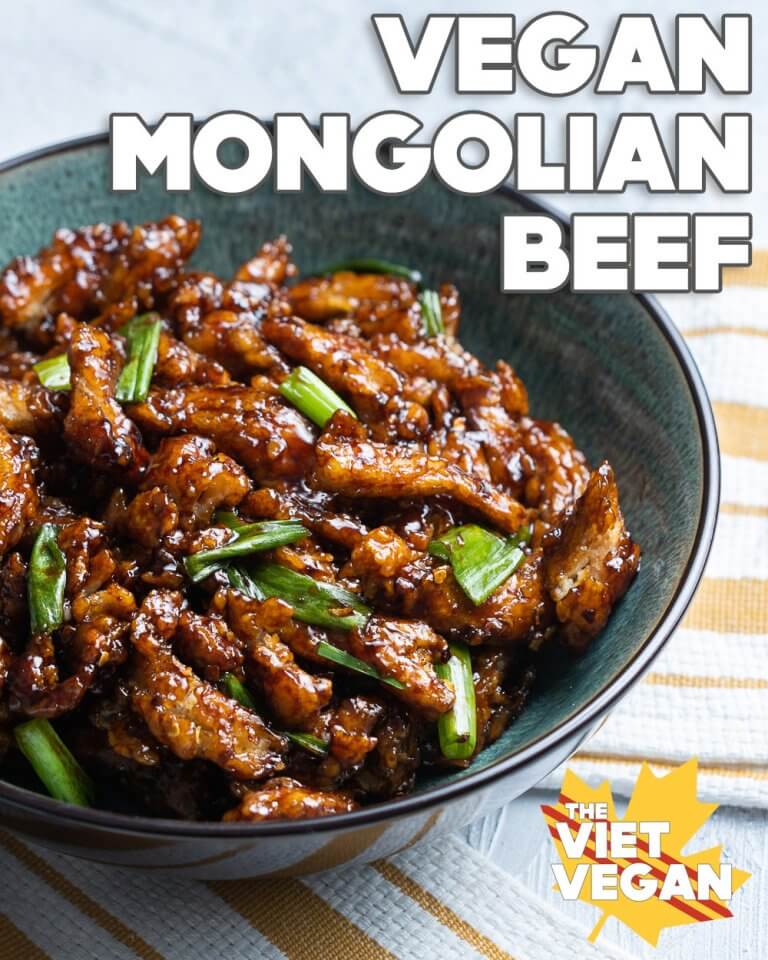 Recently Yamchops sent me some of their premade meals to try (I got some fysh sticks, shepherd's pie, and mongolian beef) and I got to try something that I hadn't had in a REALLY long time: mongolian beef! They used soy curls and had this incredible texture that I didn't understand how they got, because I've cooked with soy curls multiple times before but it's never had that bite to them that resists and also holds onto sauce really well. If I lived closer to Yamchops, I'd probably just get it for takeout or delivery all the time, but since I live out in Hamilton, Yamchops is not quite accessible to me. So for those who have been missing this dish, I did a deep dive into figuring out how to make vegan mongolian beef.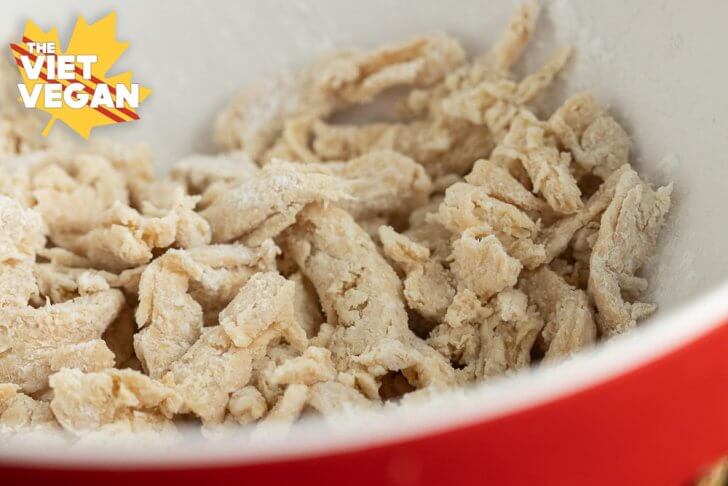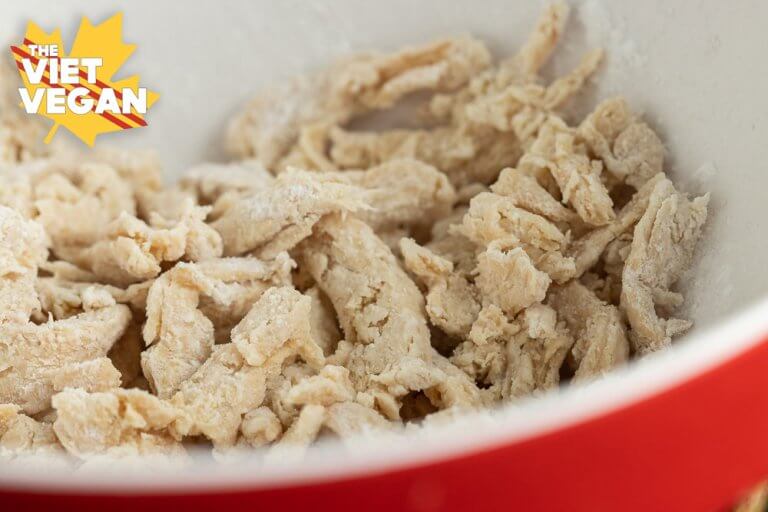 It starts with a protein: traditionally it's made with beef flank, but obviously we're not going to do that. There is a type of TVP that is flattened and is kind of a square shape that I think is very similar to the shape of the slices of beef used for this dish, but I don't really like the texture of that TVP as much as I like soy curls. You could also use tofu, especially double-frozen or single-frozen tofu, tear it up into chunks and squeeze out excess moisture. Or you could use homemade seitan as well, it doesn't really matter which protein it is, as long as you can dredge it and fry it!
I dredged with a cornstarch base as well as a tapioca starch base, both work exactly the same so use whichever one works best for you.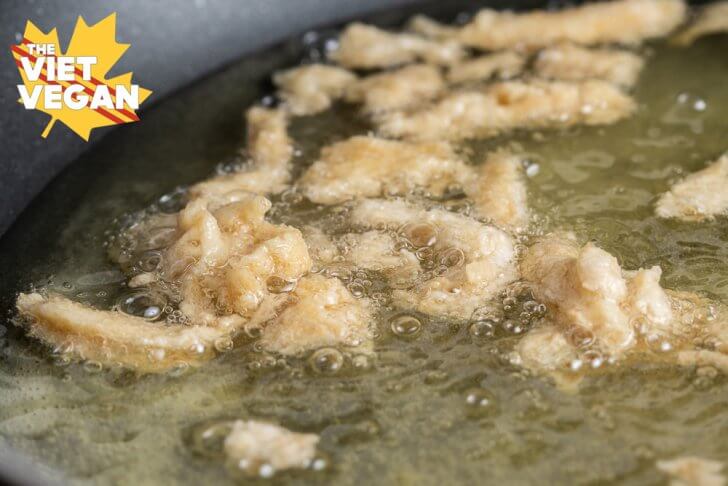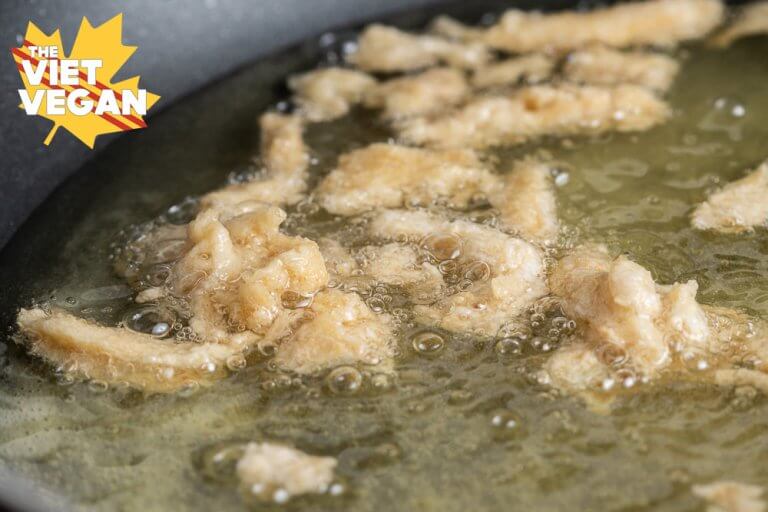 Frying in some high-heat safe oil like canola, vegetable, or sunflower oil, I fried them in small batches so as not to crowd the oil. Adding too many items to fry at one time lowers the temperature of the oil and you might find a lot of them may clump and stick together, while also frying for too long and retaining too much oil from that.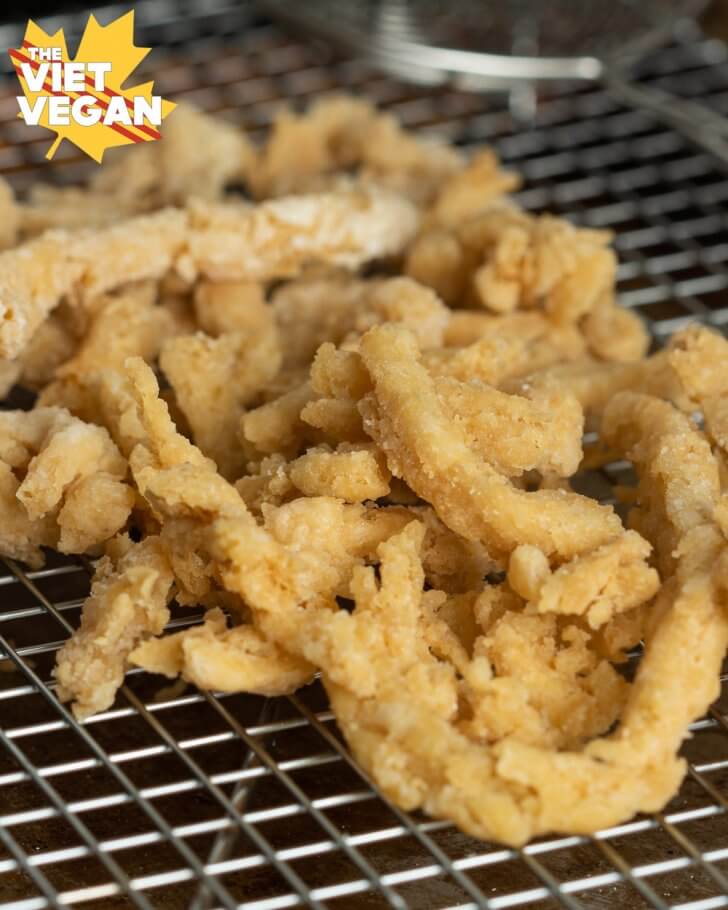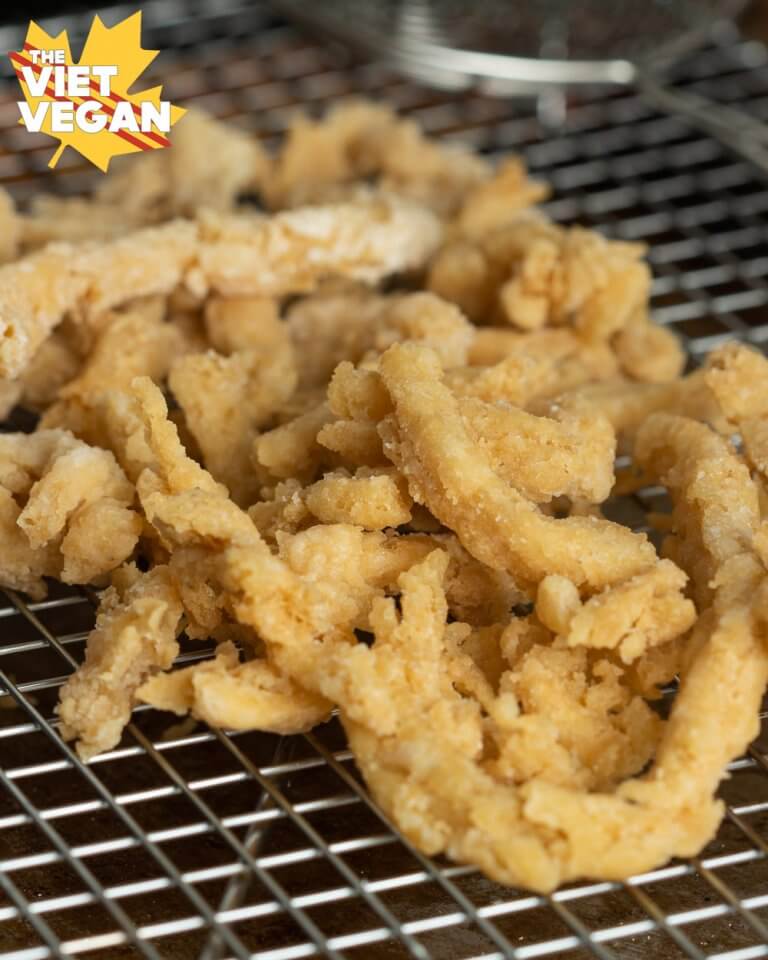 Once you're done frying, the hardest part is done! The rest is whipping together the sauce and that takes less than five minutes.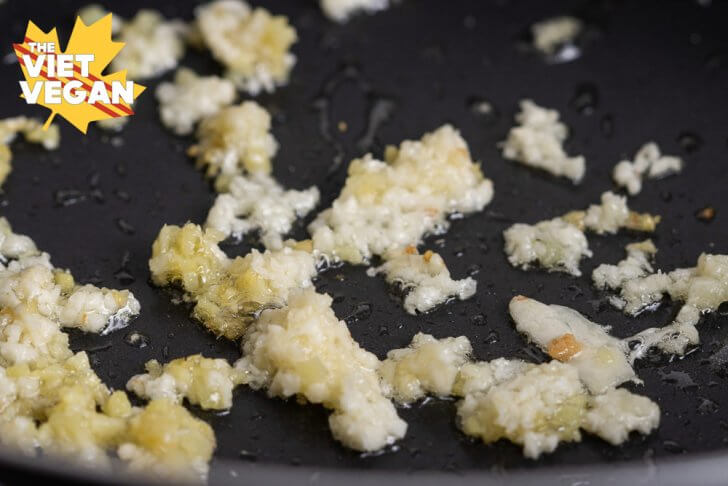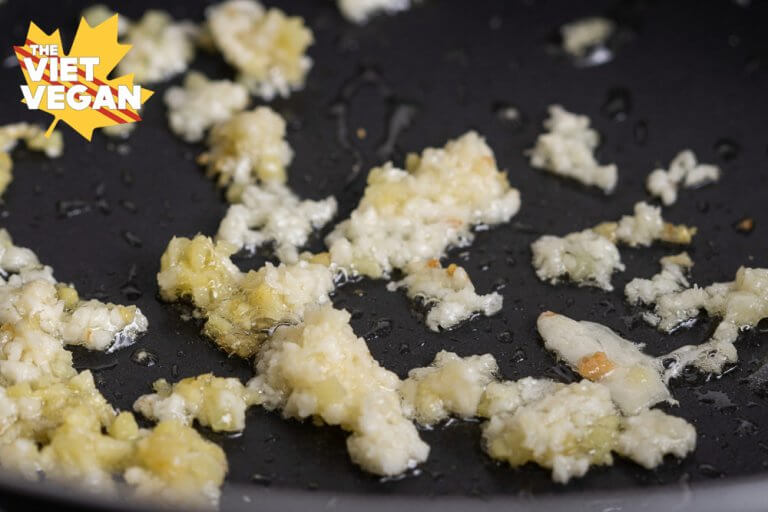 Infusing the oil with garlic and ginger is the beginning of this sauce, then you add a combination of soy sauces, water, and starch to create a slurry that will thicken and become this incredible, thick and sticky sauce that is super delicious and reminiscent of takeout!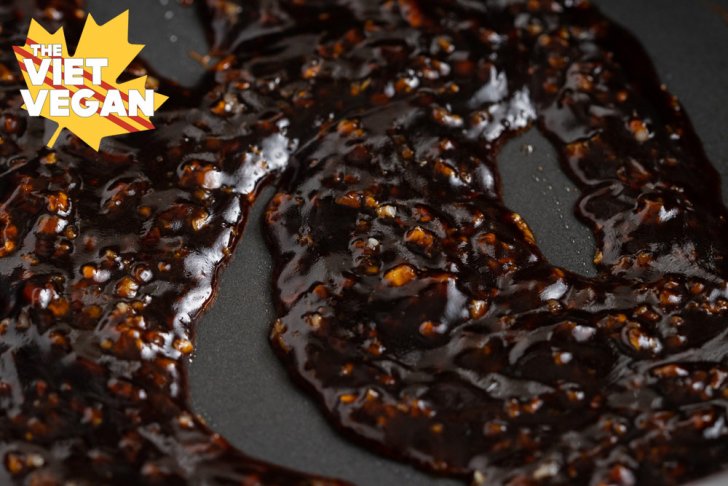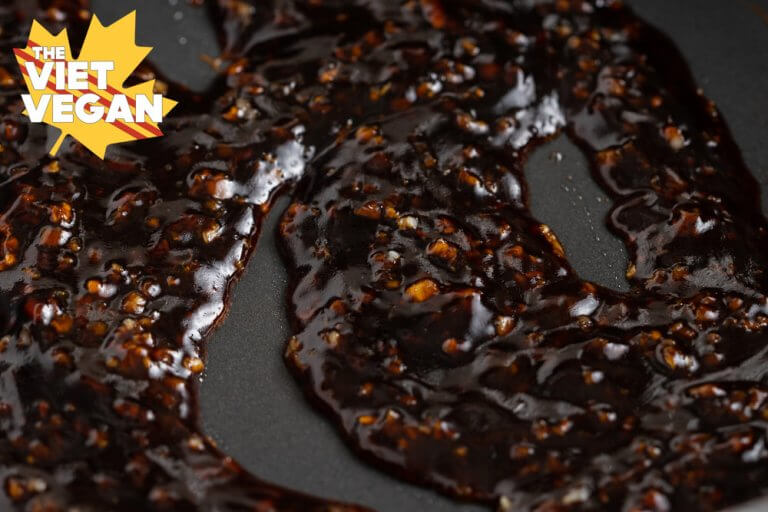 Toss in those fried soy curls and green onions, and even a sprinkle of toasted sesame seeds on top (maybe not traditional but very tasty), and you get homemade takeout that is just as oily and salty as the original XD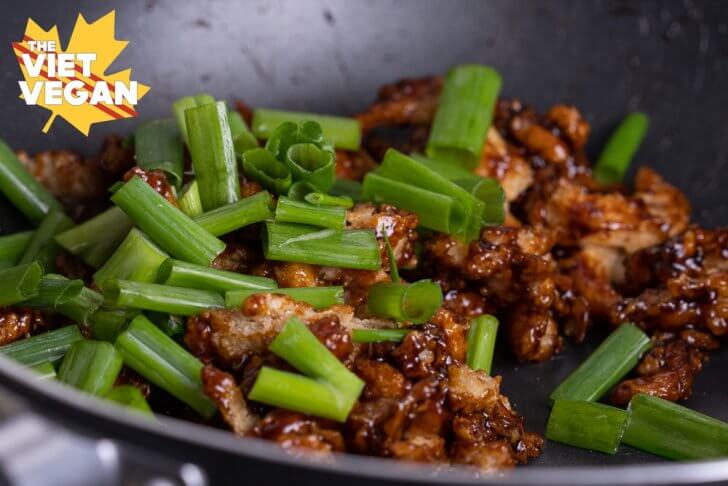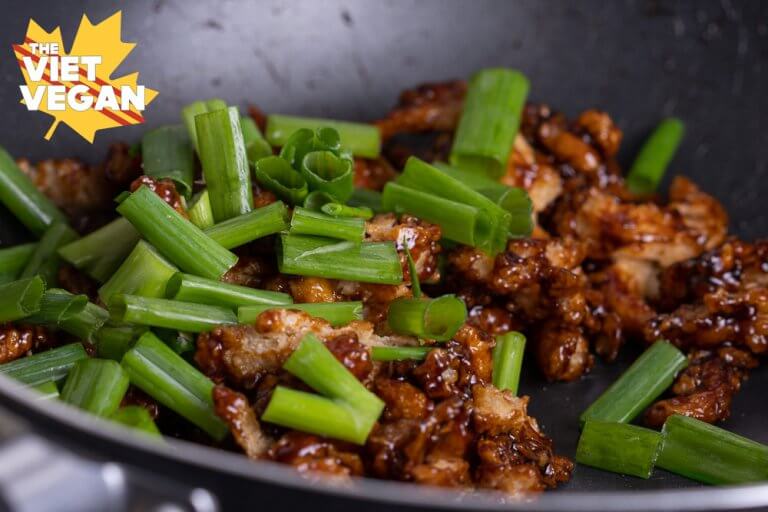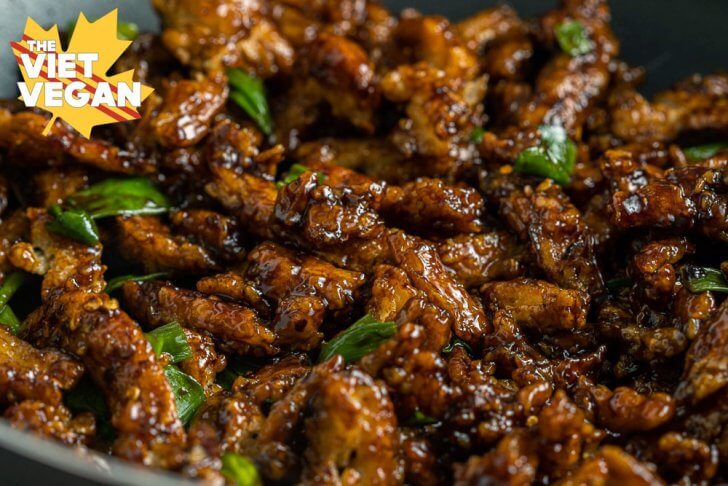 If you want to see the method and how I made this recipe, definitely check out my vegan mongolian beef video on YouTube below, I tend to be pretty descriptive and maybe even a little too detailed with the recipe method, but hey, that's just how I work haha. Better that you have more information than less when it comes to new recipes. XD
Hope you are all safe and staying home <3
Yield: 4-6 servings
Vegan Mongolian Beef with Soy Curls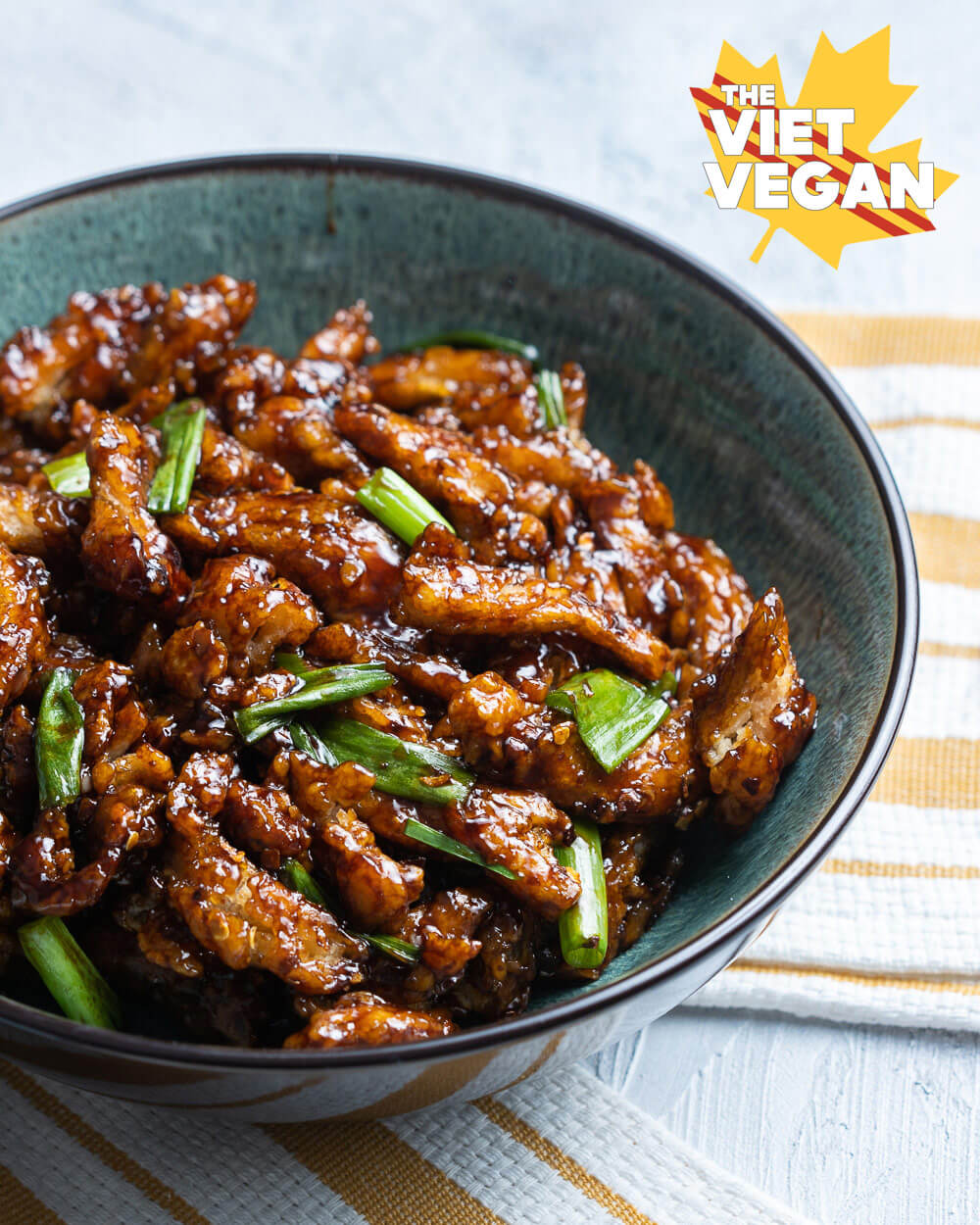 This vegan mongolian beef is a texture bonanza: crispy fried soy curls coated in a sticky sauce that yields such a tasty texture that you will not be able to stop eating this!
Ingredients
Oil for frying (2 inches in a large pot)
227 g soy curls (a full bag)
4 cups boiling water (or just to cover the soy curls)
2 tbsp (15 mL) mushroom broth powder
~3/4 cup to 1 cup (approx 200-256 g) corn starch or tapioca starch
For the Sauce:
1/4 cup (60 mL) soy sauce (I use low-sodium)
2 tbsp (30 g) brown sugar
1/3 cup (60 mL) water
2 tbsp (16 g) cornstarch
2 tbsp (30 mL) dark soy sauce
2 tsp (10 mL) chili flakes (go to 1-2 tbsp if you like it really spicy)
2 tbsp (30 mL) vegetable oil
1-2 inches of ginger (30 g) finely minced
4-5 cloves garlic, finely minced
3 sprigs green onions, greens cut into 1-inch segments (whites not used for this recipe, but you can put them in water to grow them)
Instructions
To Fry The Soy Curls
Preheat your oil in a large wok or pot to 350F (I bring it up to a 6 on my stove) .
In a large bowl, rehydrate the soy curls in boiling water + mushroom broth powder (or just veggie broth if you have that). Let rehydrate for 5-10 minutes, then squeeze as much water out of it as you can.
Dredge the rehydrated soy curls in cornstarch until coated well, shake off any excess and fry in the oil until crispy. Fry in small batches so you don't overcrowd the oil and bring down the temperature too quickly (otherwise you'll fry for too long and it'll be really oily). Gently stir the soy curls in the oil while cooking to turn and cook them evenly, and remove to let drain on a wire rack or paper towel once golden and crisp. Repeat in batches until all soy curls are cooked.
To make the dish
Prepare the sauce by combining soy sauce, brown sugar, dark soy sauce, cornstarch, water, and chili flakes in a bowl. Stir well to combine and try to dissolve most of the sugar. Set aside.
Using either the same wok (removing all but 2 tbsp of oil) or in another pan with oil, and frying ginger for about 2 minutes until fragrant. Add the garlic and fry for another minute. Add the sauce mixture to the pan and stir constantly to cook through. Let the mixture come to a bubble and thicken for about a minute.
Add the fried soy curls to the sauce and stir well to coat. It might not look like the sauce is enough to coat everything, but as the soy curls soften slightly with the sauce, the sauce should be able to coat all the soy curls. As soon as everything is coated, add the green onions and stir to cook the greens through.
Serve and enjoy! I like eating this with some rice and some stir-fried garlicky greens :D You can top with toasted sesame seeds for a little extra nuttiness too!
Notes
If you're opposed to frying, you could bake the soy curls instead until they're crisp, they just won't be the same level of crispy. It'll still be tasty but not quite the same. If you don't want to fry or bake that crispiness at all, you could omit the cornstarch step altogether and just add the soy curls directly to the sauce, but it will be very soft. Still tasty, but the texture won't be the same (and the texture is kind of what makes this dish so wildly good).